Fun fact: I basically moonlight as a housecleaner. Being an Airbnb host means that I sometimes clean our rental unit a dozen times a month. I actually don't mind it; I have dreams of running a bed & breakfast / resort / retreat center someday, and making this little place cozy and cute gets it out of my system a bit (until I have a spare several million dollars to make the resort dream come true)
Since I spend so much time inhaling fumes from cleaning products, I've been working on switching all of them to ones that I don't have to worry about. At some point, I plan on doing a deeper dive and sharing more scientific information with you about that. For now, The EWG has some great information on the topic.
When navigating the cleaning products aisle, you might notice a lot of  "green washing"- there are a lot of not-at-all natural products that label their products to look like they're made of nothing but love and freshly squeezed lemons. They are not.
Similarly, when you search for "natural cleaning products" on Amazon, a lot of items come up that are marketed as natural cleaners, but are definitely not. There are some middle ground ones that might have fewer harmful ingredients, but many still have artificial fragrances, which I'd like to do without entirely, if at all possible.
So how are we supposed to weed through them all?
I recently discovered one that I think I'll be sticking with from now on. That's right, ONE. One cleaner that does everything, including laundry! You get a big bottle of concentrate, and empty bottles that get filled with the concentrate and water, according to their use. Each bottle has a line indicating the water and soap fill lines, so it couldn't be easier.
The brand is Branch Basics, and I'd love the company even if it wasn't founded by women. But it is, so I love it even more.
When I first looked at the set, I thought it looked expensive. But then I did some math, based on what cleaning products I was "making" with the concentrate. Here's around what I was paying when I was buying all of these products separately (based on sizes similar to Branch Basics) –
Other cleaning products, bought separately:
laundry soap: $12 (for 60+ loads)
window cleaner: $7
all purpose cleaner: $7
bathroom cleaner: $7
foaming hand soap: $4
oxygen boost: $10
total: $47
A set from Branch Basics includes all of the above, and after filling all of my bottles, I had only used HALF of the concentrate, which means I will get to fill them all twice! And it costs $69. Which means I got all of the above products for $34.50.
FOR A LIMITED TIME, USE COUPON CODE ZENBELLY15 TO GET 15% OFF A BRANCH BASICS STARTER KIT! Shop Here and enter the coupon code at checkout.
Here's a handy visual guide to how much you get from each bottle of concentrate: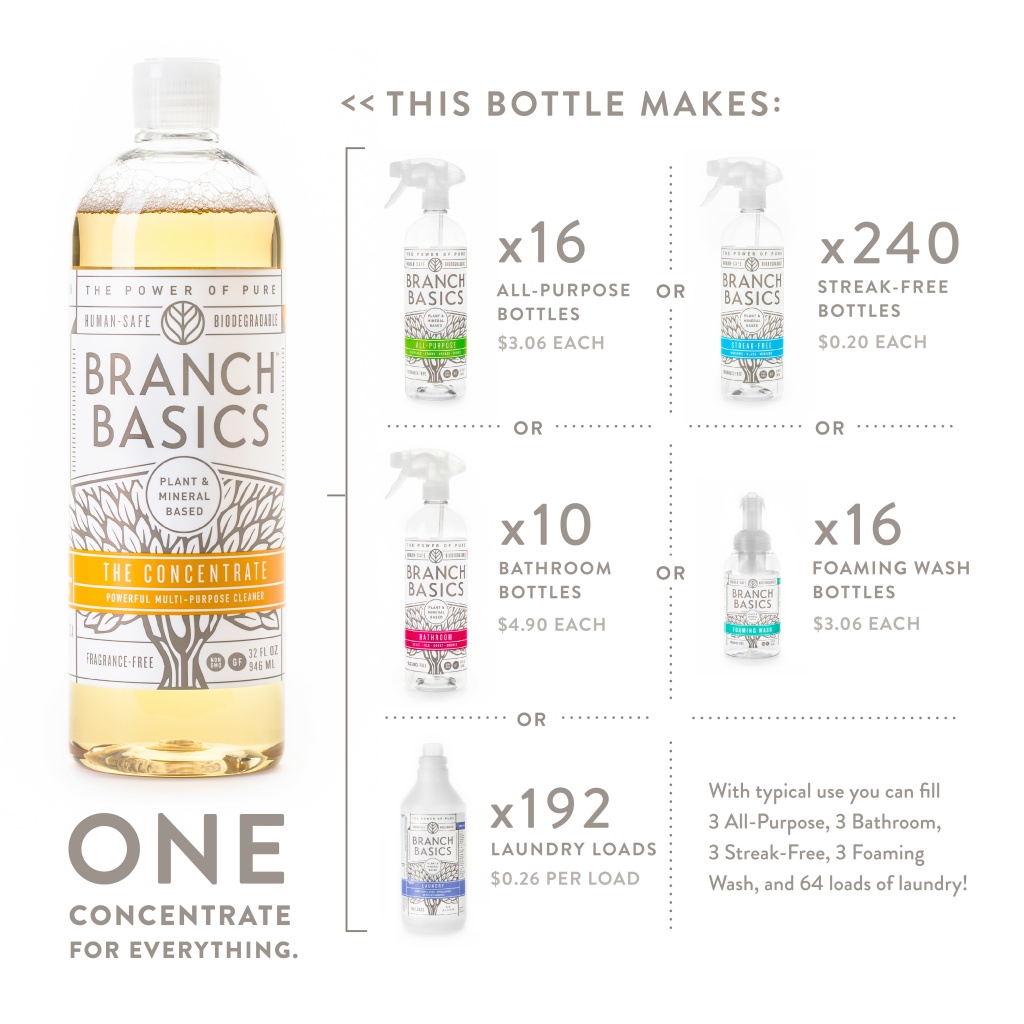 The oxygen boost is great for adding to laundry and as an abrasive for tougher to clean areas like grout, but you can buy a set without it if you prefer. In fact, you can buy all of the items separately, based on what you need. I definitely plan on buying a few extra hand soap bottles so I can put one in each bathroom and kitchen (ours and the Airbnb)
Browse all their products and bottles here.
And if you're looking for a refillable spray mop, this one looks awesome! I'm definitely getting one to replace my Swiffer spray mop, which you can't refill unless you drill a hole in the top. Not that I've attempted that 😉
Bonus: less waste! The bottles are refillable, so the only thing you're tossing (recycling, I hope!) is the bottle of concentrate.
Now, while I'm not a fan of artificial fragrances, (I can hardly handle walking down the cleaning aisle of most supermarkets) I do love for my house to smell lovely after I've cleaned it. Branch Basics products are unscented, but if you prefer scented soaps and cleaners, that's an easy fix: Just add a few drops of essential oils. I actually prefer this, since it means I can scent each product exactly as I like; I love Peppermint for the bathroom, eucalyptus and orange for the laundry, and grapefruit and lavender for all purpose and hand soap. If you don't have a friend who sells EOs (trust me, you'd know it if you did!), you can shop with my friend Felice here.
Have questions about switching to safer cleaning products, skincare products, or makeup? Drop them in the comments!
All of the links on zenbelly.com are for information purposes, however some are affiliate links to books, products or services. Any sponsored posts are clearly labelled as being sponsored content. Some ads on this site are served by ad networks and the advertised products are not necessarily recommended by Zenbelly.