When people make an effort to change the way they eat for the better, there can be a bit of a snowball effect. Often people soon start looking for safer swaps for the products they use on and around themselves. I know in my case, it was somewhat slow-going. I leaned towards more natural options for cleaning products, but with skincare, I wanted what worked.
With food, I've often said that before one of my gluten-free recipes is published it needs to be good, not good for gluten-free. My standard for products is similar: They need to work as well as, if not better than their conventional counterparts.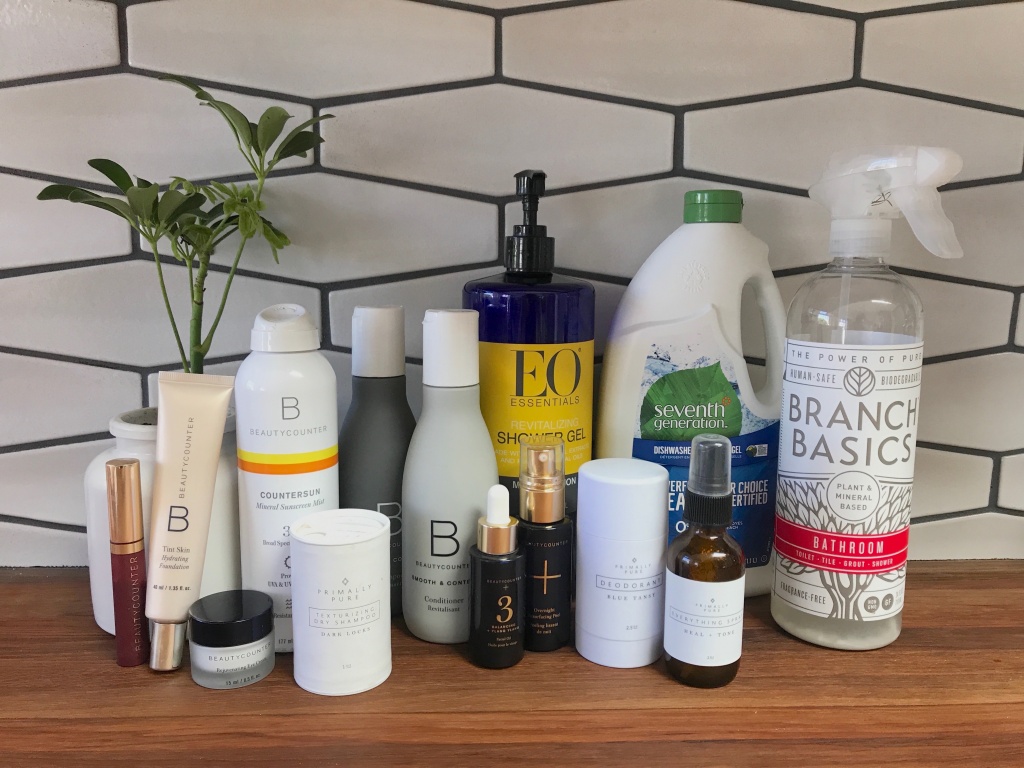 Fortunately, there are now companies out there that are really doing it right: producing highly effective products that are made with cleaner, safer ingredients. If you're not sure about the safety of the products you're using, you can enter them into the EWG Skin Deep database. Skin Deep contains information and online hazard assessments for tens of thousands of products, based on the ingredients they include. Each product has a rating, with the lower number ratings being the safest. If a product you use isn't in the database, you can enter in either all of the ingredients on the label, or just the ones that you're unsure about.
After several years and so many products tried, I feel really good about just about everything in my house. Since I'm finally at that point, I thought it might be helpful to share with you what you'll find in my bathroom vanity, in the shower, under my kitchen sink, and in the laundry room. Oh and in the bedroom too, but don't worry, this post is G-rated.
Under the kitchen sink:
All purpose cleaner, bathroom cleaner, window cleaner – Branch Basics. This stuff has been a total game changer for me: You get a starter kit, which includes a big bottle of the concentrate along with spray bottles that you fill to varying amounts based on their purpose. The kit also includes a hand soap dispenser and a laundry soap bottle. Once you have the starter kit, you just need to re-up with the concentrate when you run out, the bottles that get filled are reusable. (scroll to the bottom of this post for a coupon code!)
The concentrate, and therefore all of the solutions, are unscented. Since I like pretty smells, I just add some essential oils to each bottle, depending on the cleaning purpose. I love lemon for the all purpose cleaner, peppermint for the bathroom, and eucalyptus and lavender in the laundry soap.
Dishwashing detergent – Seventh Generation detergent gel. I buy a 6 pack of it on Amazon because then I don't have to think about it for about a year. It's readily available in stores though too, I believe.
Dish soap – for hand washing dishes – I just bought this, after years of buying the "environmentally responsible" Kirkland brand stuff. I'm guessing if I like the Seventh Generation stuff for the dishwasher that I'll like it for the dish soap as well (hopefully because I bought a 6 pack!)
In the laundry room:
I recently ran out of my bottle of Branch Basics laundry soap, and bought the giant bottle of stuff I used to buy at Costco. Lawdy was I surprised at how much the smell bothered me! I won't let that happen again, and set up a monthly subscription with Branch Basics so I get a bottle of the concentrate and a jar of Oxygen Boost each month. That way I don't have to worry about running out! I use and recommend Branch Basics for all of the cleaning in the house, but if you want to just use it for laundry, you can purchase a laundry kit.
In the bathroom vanity:
I am going to be 42 this year (update 8/1/20 – just turned 43), so the skincare products I have in my bathroom is of the anti-aging variety. The absolute best regimen I've used is the Countertime Collection. I love the entire line, but here is more about what I use for each step:
Cleanser – My former face cleanser, coconut oil, wasn't toxic by any means, but it wasn't doing my face any favors either. I still use an oil cleansing method, but now I use the Countertime Lipid Defense Cleansing Oil. My other favorite, which is also a multi tasker, is the Lotus Glow Cleansing Balm. It is a makeup remover, cleanser, deeply nourishing overnight mask, and even what I use on my hands when they're so dry that nothing else works. I've heard several people say that it works as a remedy for eczema as well.
Exfoliators / Masks – This Overnight Resurfacing Peel has been a total game changer. It has made my skin smoother and brighter, and makeup blends into my skin so much better than it used to.
I also love the Kaolin Micro Exfoliant from Annmarie Skincare. I like to keep this one in the shower and use it when I wash my face in there.
The #3 Balancing Mask with Charcoal is one of the products that really sold me on the brand. It's the first thing I grab when I feel a breakout brewing, or just when I feel like my skin needs a little love. It's the best thing I've found for reducing blackheads as well!
Moisturizers – My current regimen is Rejuvenating Eye Cream, Rejuvenating Radiance Serum + #3 Balancing Facial Oil in the morning, and Rejuvenating Night Cream and Eye Cream at night. (About 10 minutes after applying theOvernight Resurfacing Peel)
Using facial oils has made a big difference for my skin. Being someone with a history of breakouts, it was a bit scary to rub oil on my face, but the truth is that oils don't make your skin oily like you might think they do. Oils help balance sebum production, provide antioxidants, and reduce inflammation. I personally love the#3 Balancing Facial Oil, but the #1 Brightening Oil is a fan favorite. (And an Allure Best of Beauty winner!) And the #2 Plumping Oil is great too, and smells amazing. Really you can't go wrong.
My other favorite facial oil is the Anti-Aging Facial Oil from Annmarie Skincare.
Makeup – Most of my makeup is from Beautycounter; I use the Tint Skin Hydrating Foundation and the Dew Skin Moisturizing Coverage, usually mixed together in different ratios depending on the time of day and where I'm going. Tint Skin is full coverage (while still feeling light) and is build-able. Dew Skin is very sheer and has SPF, so is great for daily wear. In the morning if I'm just running errands or taking the dog to the beach, I'll wear either all Dew Skin, or Dew Skin with a drop of Tint Skin added if I feel like I need a bit more help evening out my skin tone. If I'm going on a date or filming videos, I'll do the opposite; mostly Tint Skin with a drop of Dew Skin. They can both be used on their own, of course, but I love them the most combined!
I also use Beautycounter eyeshadow and brow gel, as well as their lip gloss, and bronzer. Oh and how could I almost forget the most important thing: the concealer pen. Those dark circles under my eyes and the occasional blemish require I never run out of that stuff.
For mascara, I use Tarte Lights Camera Splashes, because it's waterproof and gives my puny lashes lots of help. I personally need waterproof mascara; I somehow can't keep makeup on my face. Most people who can keep makeup on their face love the Beautycounter volumizing or lengthening mascara though.
Deodorant – This might be the hardest thing for people to switch! I have tried so many deodorants, and it's probably the first thing I ever attempted to switch to a safer option of. We're talking pre-paleo days, so like a decade + ago. I have always been weirded out by chemically deodorants, and only recently found one that works, does't irritate my pits, and doesn't have ingredients that terrify me. It's the Blue Tansy deodorant from Primally Pure. I love the floral scent and the fact that blue tansy is anti-inflammatory. (my pits are so sensitive) They also make several excellent deodorant options; including charcoal, lavender, unscented and more. There's almost definitely one that's perfect for your pits!
Sunscreen- I use the Countersun Mineral Sunscreen Stick on my face when I need more than just Dew Skin (which is rare in San Francisco), and when I go on vacation to a place that has sunshine, I always bring the Spray and Lotion as well. All of them use zinc as the sunblock ingredient, plus California poppy for added antioxidants. And since I have a feeling what your next question is: YES it blends in and does not turn you white! Here, look how well it blends into my colorful arm, I sprayed on more than is necessary and was able to rub it in in just a few seconds: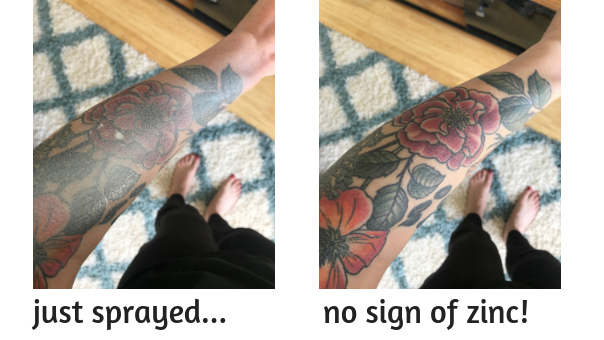 I've seen similar demonstrations on woman of color as well, and it blends in quickly and completely.
In The Shower:
update 6/1/19: I recently learned that Beautycounter will be discontinuing the specialty hair care lines, which includes the Smooth & Control and Volume & Shape products. This is a huge bummer since the Smooth & Control is my favorite shampoo and conditioner ever. I'll update you when I find a new line that I love!
Shampoo & Conditioner- Finding the best shampoo and conditioner for my hair has been a lifelong battle. I know that sounds dramatic, but my hair is difficult, y'all. It's thick (grateful) and wavy-curly-frizzy in a not good way. Full disclaimer: My hair is so difficult that I would use toxic stuff if it meant I could have wash and wear hair. I know that's hypocritical, but the amount of time it takes to dry and tame my hair really cuts into my life. The good news: I have tried both conventional and safer options for my tresses, and drumroll please… the best one I've used is the Smooth and Control line from Beautycounter. That's right! It's a safer option AND the best. It's like us humans with difficult hair were finally rewarded for the time we've put in. I obviously haven't tried the Volume and Shape Collection; Those are words I stay far away from when it's in reference to hair. But if your hair is fine or flat, I'm guessing it's a good option for you.
Dry Shampoo- obviously this isn't IN my shower but while we're talking about shampoo… I use the Dry Shampoo from Primally Pure when my bangs get stringy. It totally absorbs excess oil and gives my hair new life between washings.
Face Wash- As mentioned above, I use the Cleansing Balm to remove makeup and wash my face every night. I also keep a Charcoal Cleansing Bar in the shower to wash my face when I'm in there.
Body Wash- I love this Meyer Lemon + Honey Shower Gel from EO, and also the Everyone Soap, which is a sort of all purpose body wash, bubble bath, and shampoo. Of course either could make a great bubble bath! I use them both to shave my legs as well. They get nice and lathery and have a subtle scent (from essential oils, but they make unscented options if you prefer)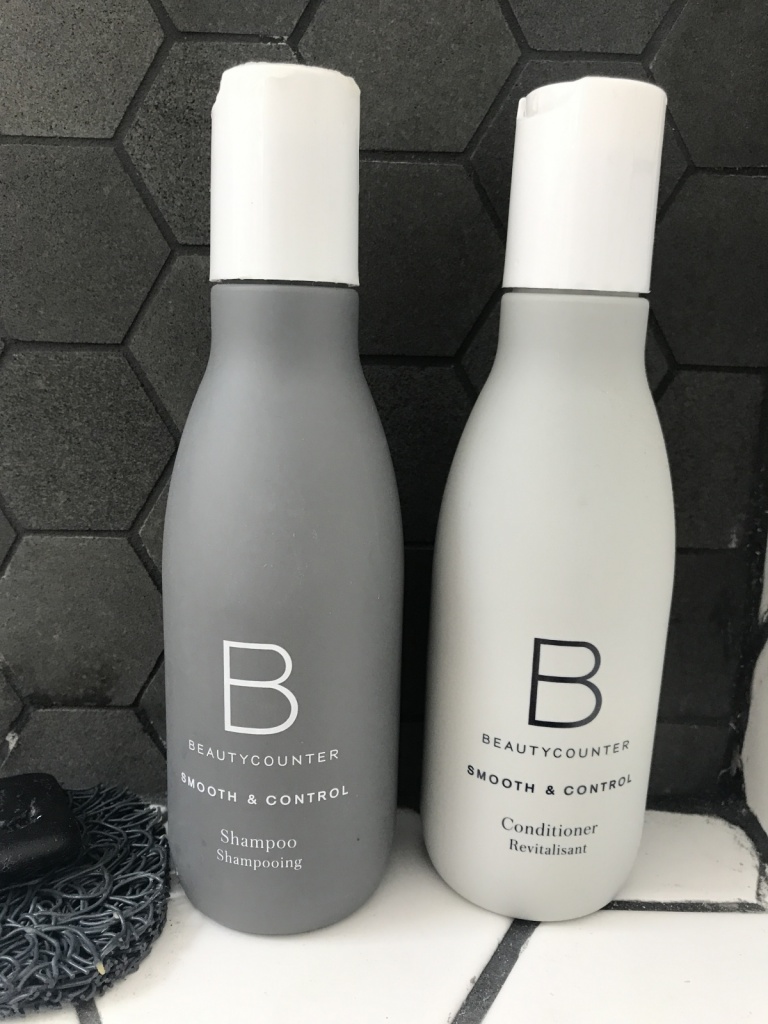 In the bedroom (no I'm not being fresh)
I keep a couple of things in my bedside table that I find myself missing if I don't take them on trips. They are: this Body Butter and Lip Conditioner. The body butter is the most luxurious cream ever, I use it on my hands before I go to bed every night and on my bod after I shower. The Lip Conditioner is what my husband and I call The Good Shit. We have this conversation almost nightly:
Me: Want some good shit?
Simon: oh yeah gimme some of that.
Yep, we're really talking about lip balm.
Seriously though, the stuff is Good, and a jar lasts basically forever, even with two people using it almost daily.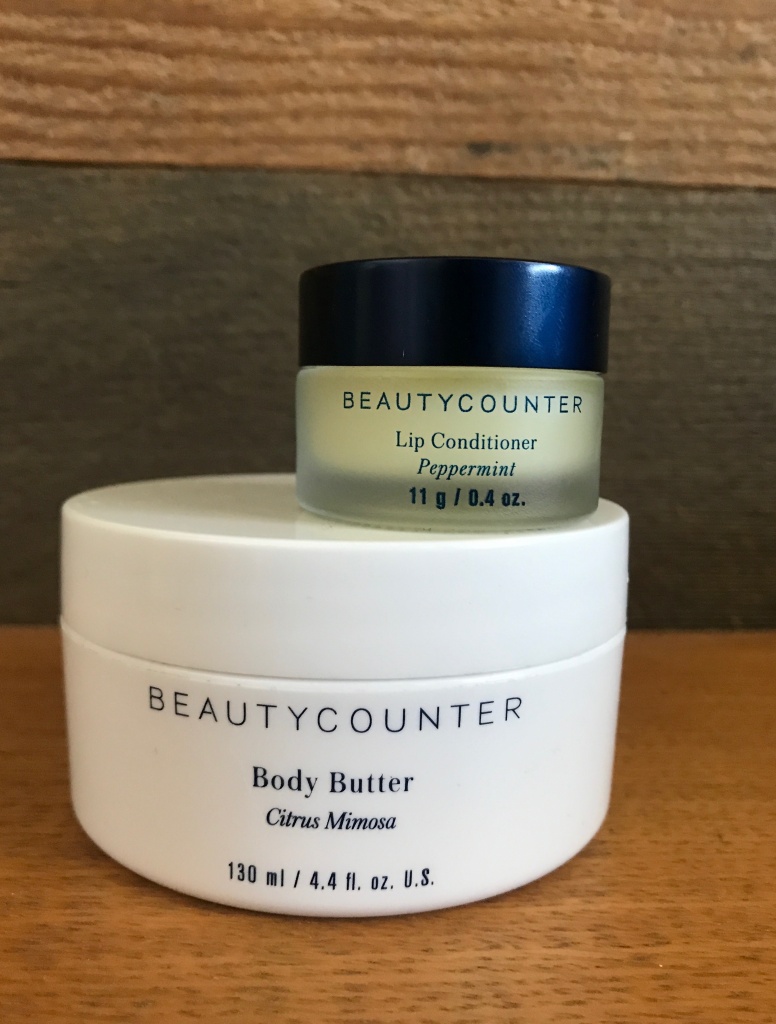 Phew! That was a lot of information. If you're not sure where to start with skincare for YOUR skin, you can always take my one minute skincare survey. Or comment here with any questions!
Your reward for getting to the end of this super long post:
COUPON CODES JUST FOR ZENBELLY READERS!
(Make sure to use them within the next month – until May 22nd – before they expire!)
Branch Basics coupon code: Enter zenbelly15 at checkout for 15% off all starter kits, including the laundry kit! Shop Here.
Primally Pure coupon code: Enter zenbelly10 at checkout for 10% off your order. Shop Here.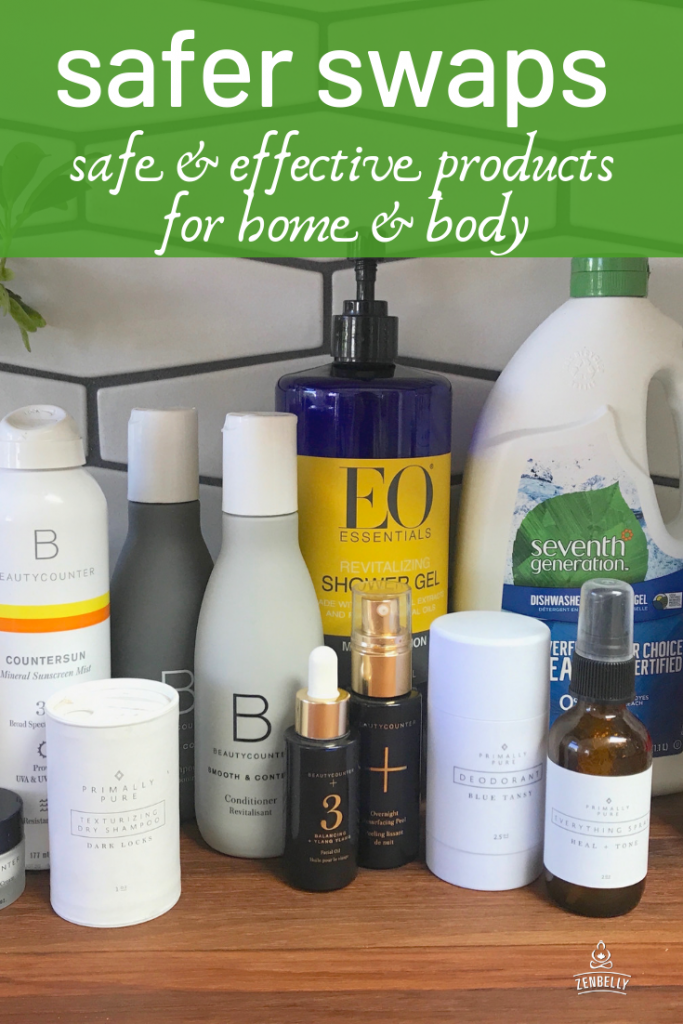 All of the links on zenbelly.com are for information purposes, however some are affiliate links to books, products or services. Any sponsored posts are clearly labelled as being sponsored content. Some ads on this site are served by ad networks and the advertised products are not necessarily recommended by Zenbelly.