What in the fresh hell is happening? A recipe for black bean soup here on zenbelly? Made with actual BEANS?! Have I been abducted by aliens and replaced with a vegan version of myself. (Spoiler: nope)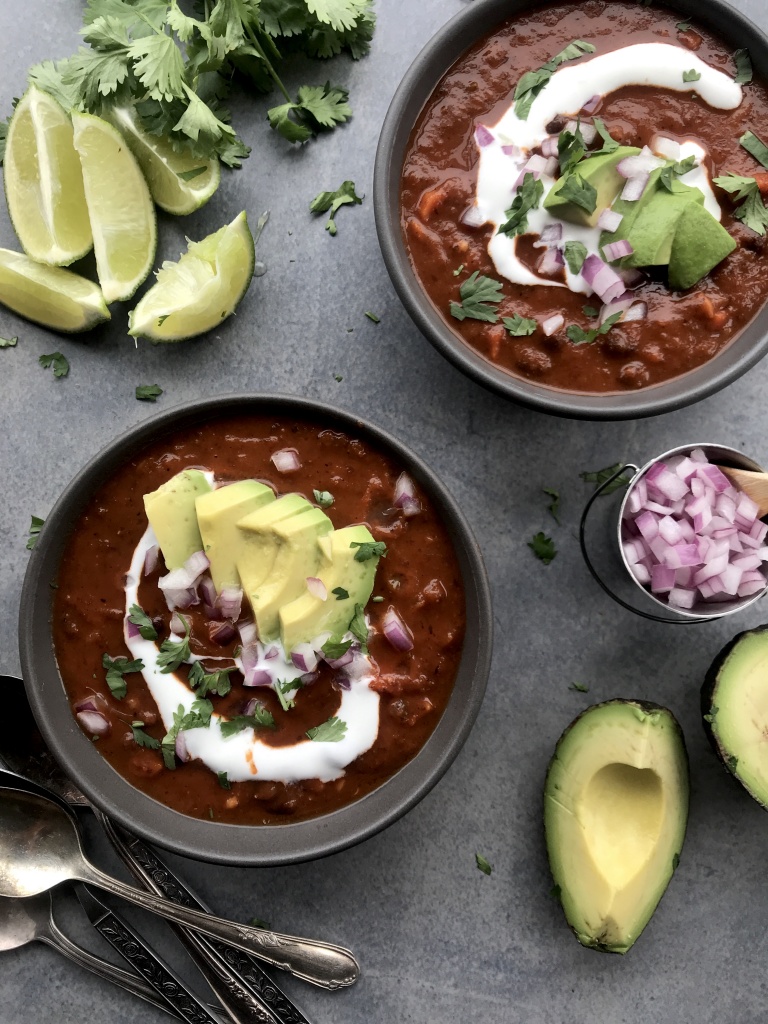 I'll tell you what: I've been craving beans lately. This is highly unusual because I have never in my entire life enjoyed eating beans. When I discovered the paleo way of eating 10 or so years ago, they were the absolute easiest thing to give up.
Even in my bean-hating days, black bean soup was something I've always enjoyed.
Of course I haven't been 100% bean-free for the past decade; I've eaten some hummus and refrieds covered with melted cheese the handful of times I've had a hankering for cantina Mexican. But for the most part, I've avoided them, for two reasons.
I have never liked them
They make me gassy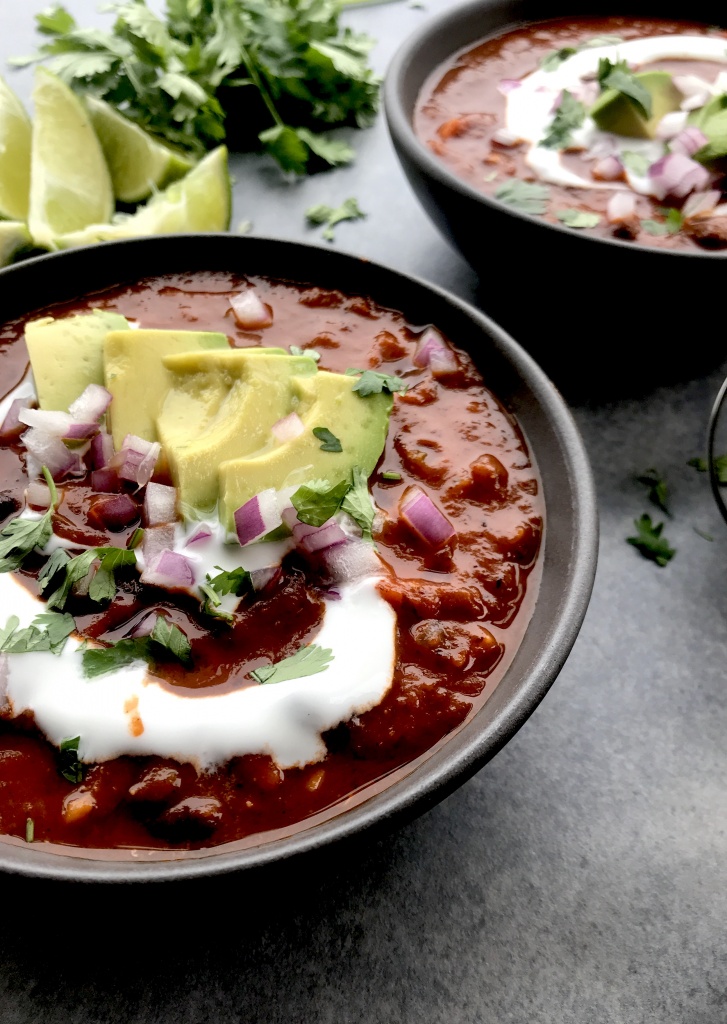 For the past few years, I've been moving away from the labels that tell me what to eat and what not to eat. Paleo was a great template, and worked as an effective elimination diet. Now, I'm more into intuitive eating, and not stressing out about what I consume.
Chris Kresser posted something a while back that really resonated with me:
It's better to eat the wrong food with the right attitude, than the right food with the wrong attitude.
It goes without saying that this concept doesn't apply to actual food allergies or sensitivities. But I am 100% done putting foods into "good" and "bad" categories. It's elitist and it's classist, and lots of foods that paleo puts into the bad category are foods that keep entire civilizations alive.
Seemingly out of nowhere, after disliking beans my entire life – including my 6 years of vegetarianism, so believe me, I tried – I started craving them. I tend to crave foods like a pregnant woman, so sometimes I just ignore those cravings, and they disappear. But this time, it was persistent.
And then I kept seeing Juli of Paleomg post about the Bean Protocol and how it was helping her skin. So I looked more into it, and it seems like I'm craving them for a few good reasons.
Beans can be beneficial for lots of ailments, but the one that jumped right out at me: they can help with hormonal issues.
Since I am starting to have little glimpses of the beginnings of peri-menopause, I figure why not add beans back into my life. Because it's 2020 and I literally cannot put myself on any kind of strict protocol right now, I am not so worried about eliminating the things I would eliminate if I were following the bean protocol: caffeine, sugar, and alcohol. I know that none of those things are great for me, but I know myself. I know how eliminating foods and focusing on my diet on that level adds stress to my life. Definitely not right before an election, nope. Gonna prioritize mental health for now!
But in the interest of listening to my body, I'll start eating some beans. So far, I have been loving the bowls of beans and rice I've eaten. And this black bean soup was delicious and simple to make. As someone with expensive taste in food, I will not argue with my body if it's craving inexpensive protein for once!
How about you? Going to give this black bean soup a try, or are you a hard no on beans?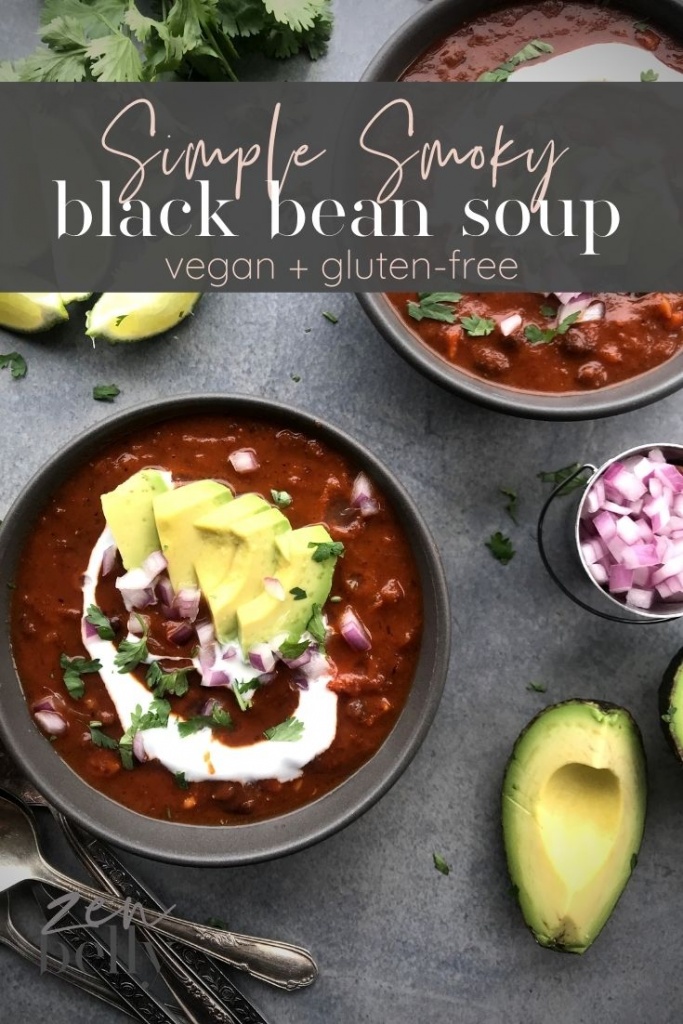 Print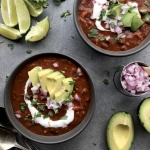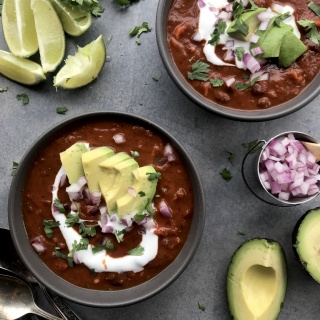 smoky black bean soup
Author:

zenbelly

Prep Time:

20 minutes

Cook Time:

40 minutes

Total Time:

60 minutes

Yield:

4-6 servings

Category:

soup
---
Description
simple, smoky, hearty black bean soup is a great budget-friendly cozy meal. 
---
2

14-ounce cans black beans drained and rinsed (or about

3 cups

cooked beans) 

2

roasted bell peppers

1

14-ounce can fire roasted diced tomatoes

1 tablespoon

avocado oil

1

medium red or yellow onion, cut into small dice

2

carrots, cut into small dice

1

large jalapeño, seeds and membrane removed, cut into small dice

4

–

5

cloves garlic, cut into small dice

1 teaspoon

salt

1 1/2 teaspoons

cumin

2 teaspoons

smoked paprika

1/2 teaspoon

ground chipotle

3 cups

chicken or vegetable stock

1 tablespoon

lime juice
for serving:
fresh cilantro
sliced avocado
pickled red onions (or raw if you're into that type of thing)
sour cream or plain yogurt
lime wedges
---
Instructions
In a blender, puree half the beans (about 1 1/2 cups), the roasted peppers, and the diced tomatoes.
In a large, heavy bottomed pot over medium-high heat, heat the oil. Once shimmering, add the onions and carrots. Sauté for 5-6 minutes, until softened.
Add the jalapeño, garlic, and salt, and sauté for another 2-3 minutes, or until very fragrant. Stir in the smoked paprika, cumin, and chipotle powder.
Add the pureed bean mixture, the remaining beans, and the stock. Bring to a boil and then adjust the heat so it's at a strong simmer.
Simmer for 30 minutes, uncovered, to allow the flavors to meld and the soup to thicken.
Stir in the lime juice and season to taste; it could need a bit more salt depending on the stock and beans you used. If you like it spicy, add more chipotle. 
Serve with cilantro, avocado, picked onions, sour cream, and lime wedges
---
Keywords: black bean soup
All of the links on zenbelly.com are for information purposes, however some are affiliate links to books, products or services. Any sponsored posts are clearly labelled as being sponsored content. Some ads on this site are served by ad networks and the advertised products are not necessarily recommended by Zenbelly.