What a week it's been! We landed back in San Francisco on Monday afternoon after spending a wonderful week up in Vancouver, BC with the kids. It was my first time there, and I was blown away by what a great city it is. I posted lots of pictures on Instagram of our adventures up there, so definitely check them out if you're planning a visit!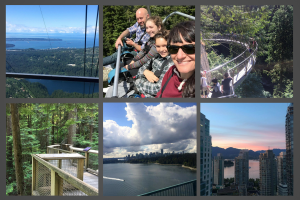 Pretty much as soon as we got back, I jumped right into prepping and shooting the cover for The New Yiddish Kitchen, which releases in March 2016. (But all of the photos need to be turned in by mid-July! Ack!).
I shot all of the photos for The Zenbelly Cookbook, as well as the ones for my recipes in The New Yiddish Kitchen, so I'm pretty comfortable with food photography. But something about shooting THE COVER dishes up a certain kind of stress. Not to mention the fact that it takes many more hours and causes a special kind of headache. I'm not complaining though- Having the opportunity to write a cookbook with my girl Jennifer of Predominantly Paleo has been nothing short of awesome. Still- the process took me three days. 0_O
On Thursday evening, we celebrated the wedding of our dear friends Marcus and Graham, who had a small ceremony at City Hall earlier that day. These are two people who we haven't known for a long time, but it feels like we've known them forever.
They're just the sweetest. A couple of weeks ago, They came over for a Southern feast, most of which Marcus cooked! What a treat. He happens to make the best fried chicken on the planet, which was easily adapted to be grain-free using arrowroot and potato starch. He also brought collards with oxtails, (OMG) and sweet potatoes. My contribution was gluten-free mac and cheese and dessert, which happened to be this very cobbler. (Have you been wondering when I was going to get to that?). It came out great, and I promised to make it again so I could post the recipe, and here it is. But wait! That only takes us through Thursday, and we can't leave out Friday, when SCOTUS declared:
What a wonderful moment for equal rights in this country. It's about time. I basically cried all day- it's a good thing I don't wear mascara when working from home. Okay NOW you can have that recipe I promised- Brown Butter Peach & Cherry Cobbler – Fresh summer peaches and cherries, topped with a brown butter biscuit topping that's sprinkled with flaked sea salt.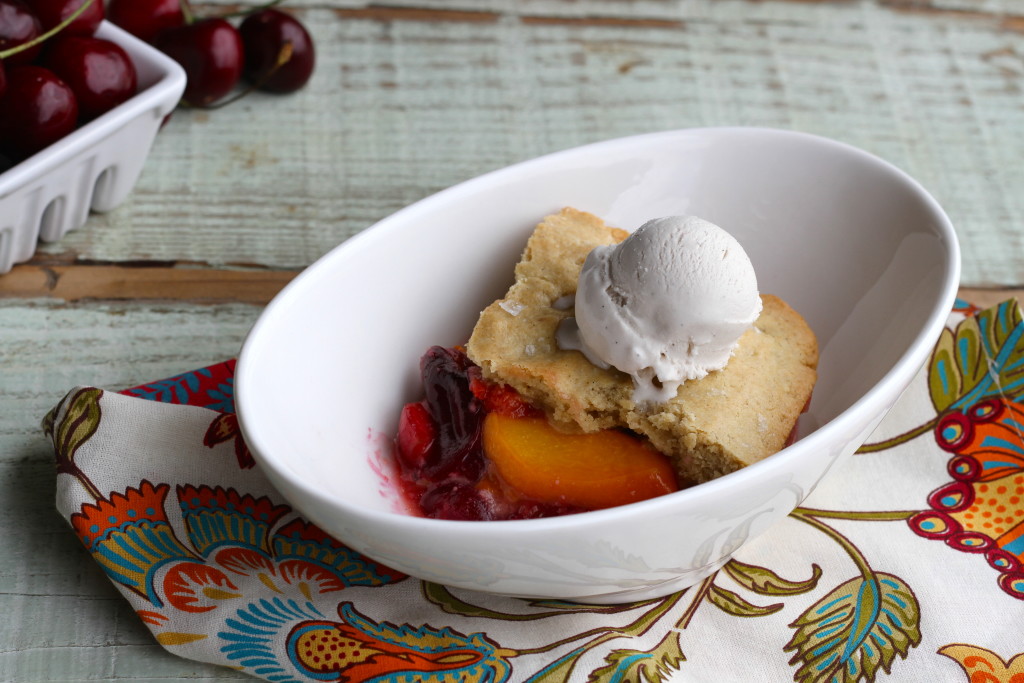 PIN THIS RECIPE: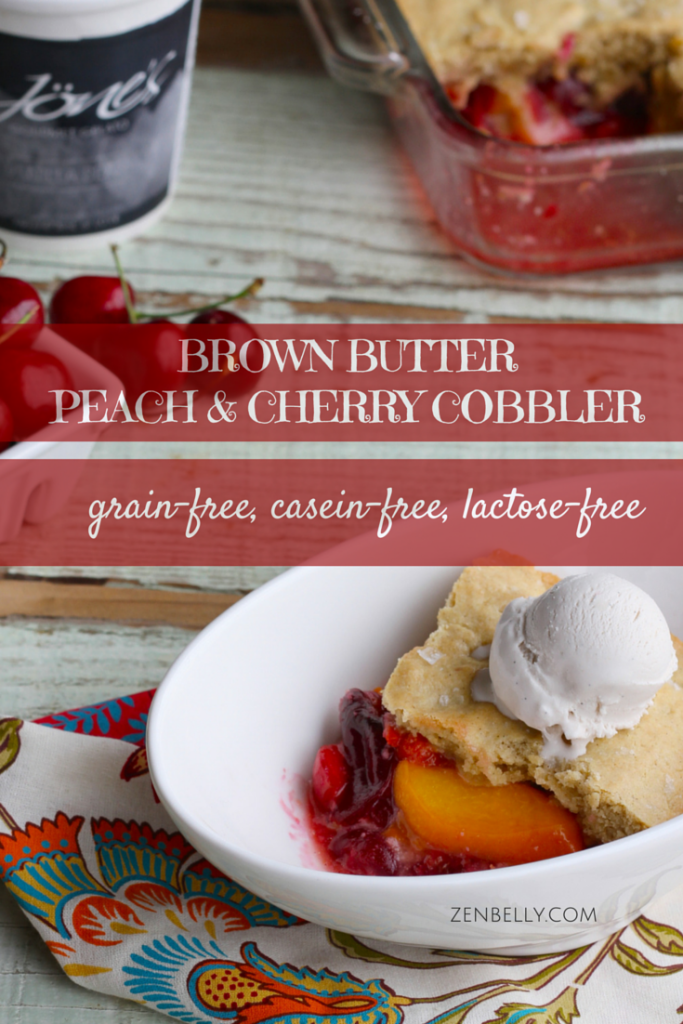 Brown Butter Peach & Cherry Cobbler
prep time: 20 minutes
cook time: 18-24 minutes
makes: one 8×8 cobbler / serves: 8-10
1 1/4 pounds peaches (4-5 peaches) cut into 1/4 inch slices
1/2 pound cherries, pitted and halved
2 tablespoons lemon juice
4 tablespoons maple syrup, divided
3/4 cup + 1 tablespoon arrowroot powder
2 1/2 cups almond flour
1/2 teaspoon baking soda
1/4 teaspoon finely ground sea salt
1/2 teaspoon vanilla extract or 1/4 teaspoon vanilla powder
2 large eggs, beaten
1/4 cup brown butter* (melted or at room temperature and soft)
1/2 teaspoon flaked sea salt
Preheat the oven to 350 and grease an 8×8 baking dish.
In a large bowl, combine the peaches, cherries, lemon juice, 1 tablespoon of the maple syrup, and the 1 tablespoon arrowroot. Mix to combine. Pour into the prepared pan.
In a medium bowl, combine the remaining arrowroot, almond flour, baking soda, and finely ground sea salt. Whisk to combine. Add in the vanilla extract, eggs, brown butter and remaining  3 tablespoons maple syrup. Mix to combine.
Spread the topping over the peach mixture. It will be somewhat like the consistency of cookie dough, so you'll have to do a combination of pressing and spreading it over the fruit.
Sprinkle with the flaked sea salt and bake for 18-24 minutes, or until golden brown. Allow to cool for at least 30 minutes before serving.
Naturally, this is best with some vanilla ice cream on top. Pictured is Jöne's Gourmet Gelato, which is made in San Francisco, and is both Paleo and vegan- Do check it out if you're in the Bay Area!
*I recommend Tin Star Foods ghee and brown butter, which are lab tested to be both lactose and casein free, and are the best damn butters I've ever tried. If you cannot handle any dairy at all, sustainably harvested palm shortening is a good swap. And if you prefer to make your own brown butter, see the instructions in my recipe for Brown Butter Tahini Blondies.
All of the links on zenbelly.com are for information purposes, however some are affiliate links to books, products or services. Any sponsored posts are clearly labelled as being sponsored content. Some ads on this site are served by ad networks and the advertised products are not necessarily recommended by Zenbelly.