Right before I left for vacation in Puerto Vallarta, I got an advance copy of The 21 Day Detox Daily Guide by Diane Sanfilippo in the mail. I was busy with pre-vacation madness, so only had time to quickly flip through it. Plus, I had margaritas and tacos on the brain.
Now, I've done quite a few 21 Day Sugar Detoxes, it's my reset of choice. I have enough experience with them to be able to get through one without looking up the rules or recipes and I have a good grasp on how to adjust them to my own personal goals. Basically what I'm saying is: I didn't really think of myself as the target market for this book, because I'm such a pro. This is not my first sugar-free rodeo *brushes imaginary dust off shoulder*
However, now that I'm back from Mexico and the days of poolside chips and margaritas are behind me (sniffle), I've had a chance to really look through The 21 Day Sugar Detox Daily Guide and you guys, it's really impressive. In true Diane fashion, the book is laid out in an extremely organized and easy to reference matter. It's like a text book, but the kind of text book you wanted in school. You know, one that you can actually learn from because you don't pass out from boredom whilst reading it? Like that. And yes, I know the words Daily Guide are in the title of the book so maybe this is silly to say, but it really is a daily guide. It is designed to take you through each day, which I think will really make it so much more likely that you succeed.
Plus, Diane and I are pretty much food twins, and with the exception of an herb that I will not even mention on the same page as her recipe, we like the same stuff, and her recipes never disappoint. On that note, she was kind enough to let me share one of the recipes from The 21 Day Sugar Detox Daily Guide with you all, and it's one I personally can't wait to make. Because WINGS.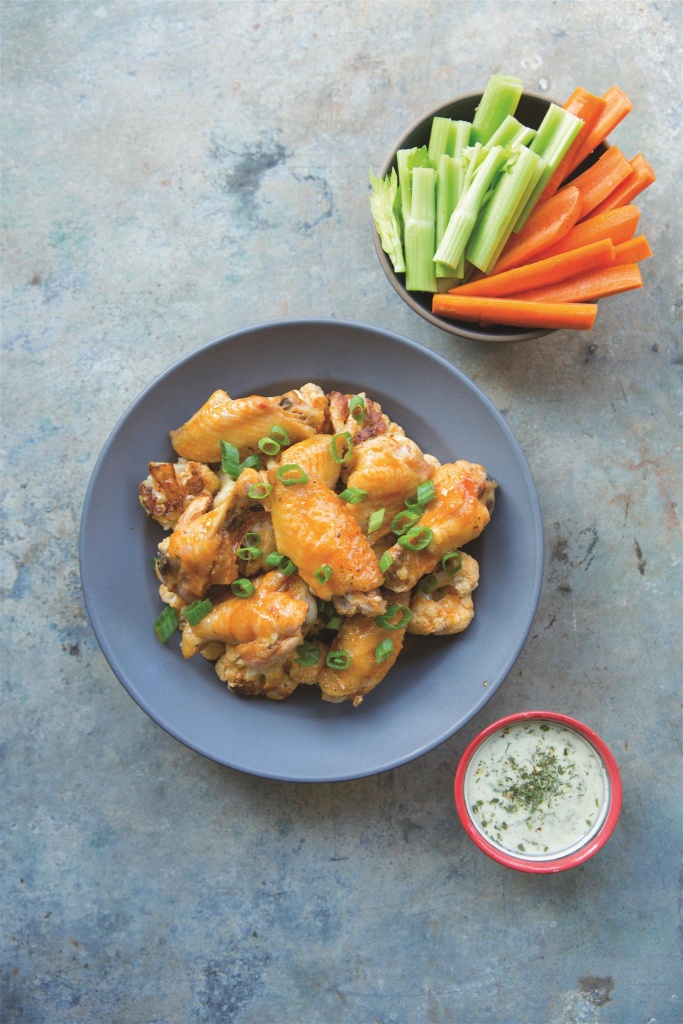 Buffalo Cauliflower & Chicken Wings
Prep time: 10 minutes  
Cook time: 50 minutes  
MAKES: 2 servings
2 pounds chicken wings
2 medium to large heads of cauliflower, cut into florets
2 to 3 teaspoons Trifecta Spice Blend (recipe below)
2 tablespoons chopped green onions, for garnish
For the Buffalo sauce
1/4 cup ghee
3 tablespoons sugar-free/sweetener-free hot sauce (see page 127 in The 21 Day Sugar Detox Daily Guide)
For serving
Sliced carrots
Sliced celery
Ranch Dressing (page 240 in The 21 Day Sugar Detox Daily Guide or HERE)
Preheat the oven to 375°F.
Season the wings and cauliflower generously with the Trifecta Spice Blend. Spread evenly on a baking sheet and bake for 50 minutes.
Make the Buffalo sauce: In a small bowl, combine the ghee and hot sauce and mix well.
Remove the wings and cauliflower from the oven. Toss with the Buffalo sauce and garnish with green onion.
Serve with carrots, celery, and ranch dressing.
Kitchen Tip
If you like your wings extra crispy, broil for two minutes before tossing with the Buffalo sauce.
Trifecta Spice Blend
Makes about 1 cup
10 tablespoons granulated garlic
5 1/3 tablespoons sea salt
2 tablespoons ground black pepper
PIN THIS RECIPE!
All of the links on zenbelly.com are for information purposes, however some are affiliate links to books, products or services. Any sponsored posts are clearly labelled as being sponsored content. Some ads on this site are served by ad networks and the advertised products are not necessarily recommended by Zenbelly.