I created The Zenbelly Cookbook with the home cook in mind, and I'm pretty sure that you're going to love it. But if you need a little sampling, here's a sneak peek of one of my favorite recipes from it: Cilantro-Lime Shrimp!
Cilantro-Lime Shrimp are excellent either roasted or grilled.
If you love this recipe, I bet you'll love a lot of them from my first cookbook, and you can order it HERE. (thank you!)
What can you expect from The Zenbelly Cookbook, you ask? Good question! Here are the things I'm most excited about:
How To's: The beginning pages of The Zenbelly Cookbook are chock full of tips and techniques, complete with step by step photos to go with them. You'll learn everything from how to source quality ingredients, to how to hold a knife, to how to cut up a whole chicken.
Photos: 2 per recipe! Each recipe in the book has an ingredients photo (like the one below) and a plated photo (like the one above) I had so much fun doing both of these shoots, but mostly the ingredients shots. There's something about organizing things neatly that brings me zen. Plus, I love how it gives a visual "before", so you can see all of the ingredients you'll be using. I hope you love them, too.
Recipes! Duh, I know. But I'm so excited to share these recipes with you. While there are some favorites from the blog that just had to be included (like NY Style Pizza Crust and No Joke Chocolate Cake), about 100 out of the 110 recipes are brand new.
Menus: I've included several menus for you, including an adventurous Thanksgiving spread, and a fancy multiple course dinner party menu that you can make 98% of ahead of time. Imagine how impressed your guests will be when you present them with an incredible dinner, all the while being nothing short of cool and collected. HOW DO YOU DO IT?! (Don't worry, your secret's safe with me!)
This week, I'm sharing my recipe for Cilantro-Lime Shrimp. I think you're going to love how a quick brine gives these shrimp that perfect snap, even if you're using previously frozen shrimp.
I like serving these chilled as an appetizer with a tasty dipping sauce, hot over cauliflower rice, or as a filling for tacos in my Plantain Tortillas. This recipe is one that you can make regardless of the weather; they're great either roasted or grilled. They're also great cold, served with a chipotle aioli, as an alternative to shrimp cocktail.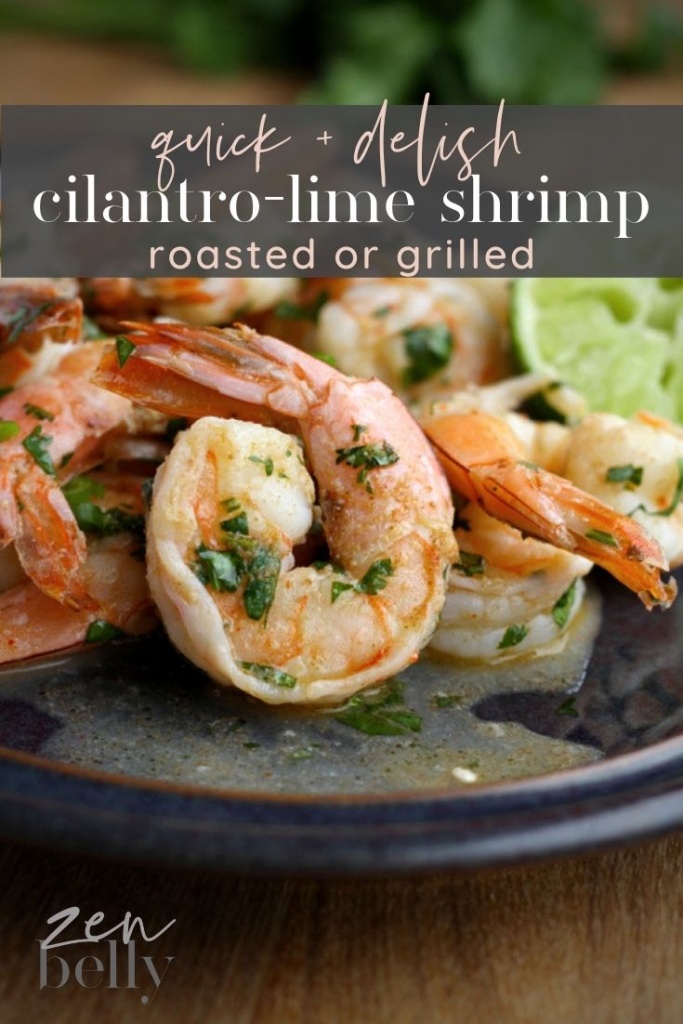 Print
All of the links on zenbelly.com are for information purposes, however some are affiliate links to books, products or services. Any sponsored posts are clearly labelled as being sponsored content. Some ads on this site are served by ad networks and the advertised products are not necessarily recommended by Zenbelly.