I'm so excited to be working with EverlyWell to bring you more information about the EverlyWell at home food sensitivity test!
If you've read the about page on this site or my bio in any of my cookbooks, you know that the reason I'm hanging out in this little corner of the internet is mostly because of a food sensitivity test that I took about 10 years ago. By taking it, I confirmed what I suspected (but feared) was true; that I was reacting to gluten, among with a whole list of other things. The results were bittersweet; I didn't want to give up some of my favorite foods, but was so glad to finally have some answers about why I felt less than great for so long.
I've changed a lot about how I eat since taking that test, but haven't taken another one since. So when I heard about EverlyWell's at home test kits, I knew right away that I wanted to give it a shot! At first glance, I was impressed with how easy they make the process.
Here's how it works:
Purchase Your Kit.
There are over 30 of them available, in the categories of general health, sexual health, energy + weight, men's health, women's health, and genomics.
Collect and Send.
You will receive your kit in the mail, along with clear instructions and everything you need to administer the test.
View Results.
After just a few days, you'll receive an email and/or text notification letting you know they are ready for you to view.
More about the test:
The EverlyWell at home food sensitivity results will tell you how reactive your IgG antibodies are to 96 foods commonly found in western diets. Each food will be rated on a Class scale of 0-3: Class 0 (low reactivity) to Class 3 (high reactivity).
IgG antibodies are generated in response to a trigger but are continuously metabolized (broken down) by the body; therefore, individuals who have since eliminated triggering foods from their diet may not have any elevated IgG reactivity to report. Additionally, foods that are not regularly eaten for any reason may not have any elevated IgG reactivity to report above "low reactivity". This does not mean that an IgG response to the triggering food was never present.
You can see the whole process on Instagram in my story highlights; I took the test live so you could see how easy it was! (And I'm a big baby, and the finger prick really didn't hurt, I promise)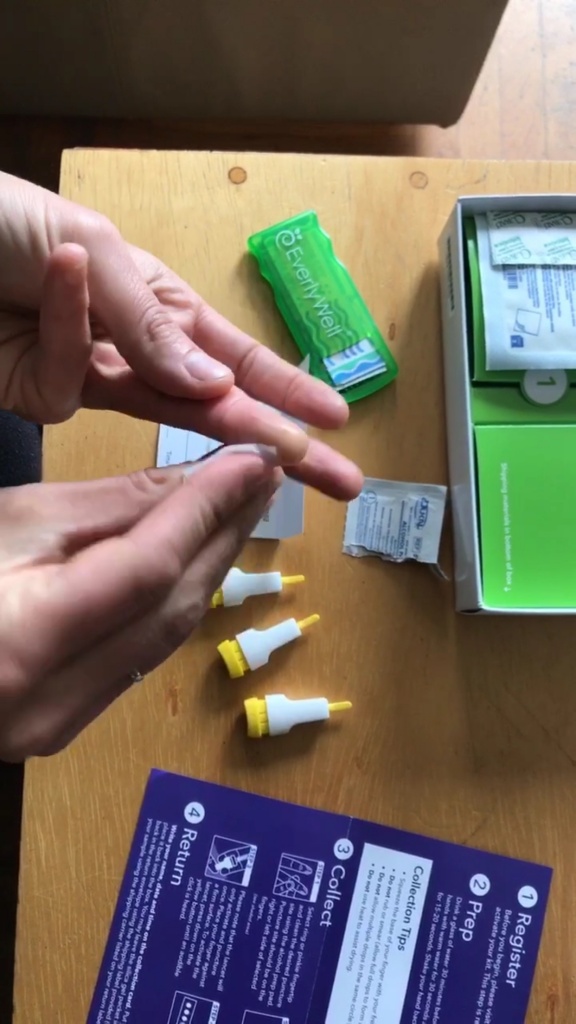 After taking that initial food sensitivity test all those years ago, I changed a lot about how I ate. The main thing I did was eliminate gluten, which is what then led me to follow a mostly Paleo diet. Over the past decade, I've tweaked my diet based on what seemed to work for me. I kept gluten out, and over the years seemed to have varying levels of reaction to it when I accidentally -or on purpose as a test- consumed it.
In recent years, I've been able to reintroduce a little bit of gluten without experiencing the headaches and brain fog I used to get. For me, that hasn't meant that I went hog wild and started eating gluten at every meal; far from it. What it has meant is that when I'm at our neighborhood restaurant that has the world's best (real, fermented) sourdough, I indulge. When I go out to eat, I don't ever order the pasta dish, but I don't ask a bunch of questions about what's in each dish, either. To be honest, it's been weird to answer "Nope" when a server asks if there are any food allergies or sensitivities at the table. Who am I, even?! But I have to tell you, it has been absolutely liberating to go out to eat and just enjoy it.
Given all of that, and feeling like I've more or less healed my gut, I was very excited to try the EverlyWell at home food sensitivity test. I even joked "What if I'm not sensitive to gluten anymore?! What kind of blog will I have? How will I even identify with myself?"
So, what did the EverlyWell At Home Food Sensitivity Test tell me?
Before taking the test, I was pretty sure that I had healed my gut to a certain extent; relatively clean eating for the past decade had to have done something, right? But I would have never thought that NO foods would show up in the High and Moderate categories. That was a total shock to me.
So that means that the foods that I reacted to the strongest to are in the mild reactivity category, which isn't even that much of a reaction. If I had a list of foods in the High and Moderate categories, those are the ones that I'd be focused on eliminating. The foods that showed up for me in the Mild Category are: cheddar cheese, cottage cheese, yogurt, mozzarella, cows milk, barley, bran, almond, sunflower, mushroom, egg white, egg yolk, bakers yeast, brewers yeast, lima bean, safflower, cashew, bay leaf, salmon, and peanut.
What's that mean for me? I'm relieved that my gut is much happier than it was 10 years ago, and plan to continue the way I've been eating – I know that clean eating and taking care of myself is the reason I have fewer food sensitivities than I used to. Plus, I have a sneaking suspicion that gluten makes my skin break out, so even if I don't have any other symptoms when I consume it, I'll be limiting it for that reason alone.
And while I tolerate dairy pretty well from what I can tell, seeing it in so many forms in the above list makes me think I should cut it out for a month or so. I have definitely been eating more dairy than I have in the past, so taking a break from it feels like a good call.
As someone who is in the food industry and so immersed in the culinary world, I'm very happy knowing that I can be more relaxed about food in general; I can go out to eat and indulge without worrying too much, I can sample "real" baked goods as a control for the gluten-free versions of them that I develop. But I'll continue to develop the same types of recipes that I always have. And just because I might not have the sensitivities I used to have, I'm fortunate to have the knowledge that eating clean is the way to go, whether it's absolute necessary or more of a choice. But you know I'll be getting a slice of pizza next time I'm in NYC 😉
If you want to see what foods you're sensitive to without having to go to a lab, definitely try this test from EverlyWell! Make sure to use coupon code zenbelly at checkout to get 15% off your order.
Thank you, EverlyWell, for providing the at home test, and for sponsoring this post!
All of the links on zenbelly.com are for information purposes, however some are affiliate links to books, products or services. Any sponsored posts are clearly labelled as being sponsored content. Some ads on this site are served by ad networks and the advertised products are not necessarily recommended by Zenbelly.