My uncle Allan makes the best stuffing. Hands down. The best. I was a bit shocked the first time I attended a Thanksgiving hosted by someone other than my Aunt and Uncle. Their stuffing was different. What the heck. Thank goodness I've created a paleo stuffing that is reminiscent of his.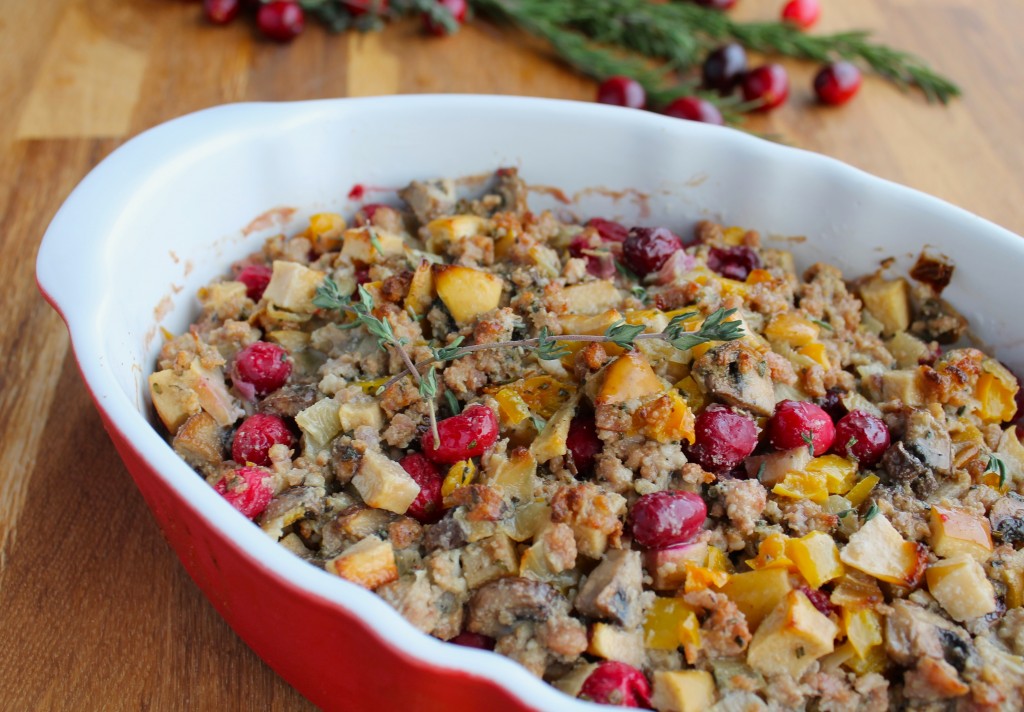 the best ever paleo stuffing might just be the best stuffing ever, period.
Everyone's got that one Thanksgiving dish, right? The one that has to be on the table. If missing, you get all pouty and you might even sulk, because whoever spent the past four days cooking neglected to take the time to make the dish that you look forward to all year.
The nerve.
For me, it's stuffing. I don't even really care what animal is at the center of the table. I've never gotten all that excited about squash or sweet potatoes. Mashed potatoes are always delicious, but it would be a gross exaggeration to say that I get excited about them.
There are, apparently, a gazillion different takes on stuffing (or dressing, if it's not actually stuffed inside the bird. I still call it stuffing. I don't care what Martha says. Dressing goes on salad.) There's the sourdough variety, I'm sure a popular choice here in my beloved San Francisco.
I did for a moment ponder the idea of making a version with a loaf from Bread SRSLY– the best gluten-free sourdough in all the land. (Update: I later did just that, and you can find that recipe HERE) I also considered making Allan's recipe with gluten-free cornbread. That's what I did last year, and it was incredible.


But then I got a message from my friend Johnny, asking for some Paleo Thanksgiving pointers. He was comparing Paleo stuffing recipes, none of which looked like the one I love, and can't have Thanksgiving without. It felt like a challenge I had to accept.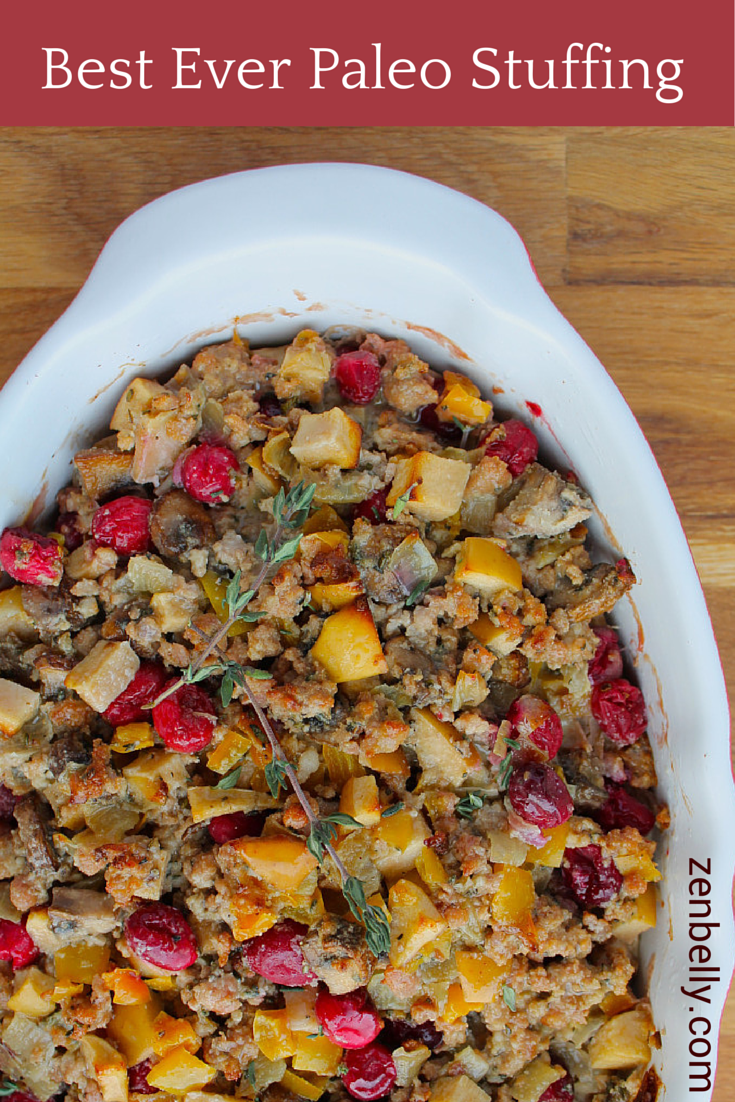 In true compulsive recipe developer fashion, I was in the car in about 15 seconds, list in hand. I could already smell Thanksgiving.
Print
Best Ever Paleo Stuffing (Dressing)
Author:

zenbelly

Prep Time:

30 minutes

Cook Time:

75 minutes

Total Time:

1 hour 45 minutes

Yield:

8-10 servings

Category:

Thanksgiving

Method:

saute, bake

Cuisine:

American
---
Description
It's sweet, it's savory, it's technically a side dish but could easily be the main course.
---
1 pound ground pork
2 cups diced onions
2 cups diced bell peppers
4 cups (about 1 pound) diced mushrooms
2 cups diced apples
8 oz fresh cranberries
1 cup toasted chopped pecans (optional)
~ 2 T duck fat, bacon fat, butter, or coconut oil. (I used duck fat)
1 T fresh rosemary, minced
1 T fresh thyme, minced
2–3 leaves fresh sage (or 1/2 t dried)
sea salt
4 eggs
1/4 cup chicken or turkey stock
2 T coconut flour
---
Instructions
Prepare all of your ingredients and preheat your oven to 350°F.
Melt about 2 teaspoons of your fat of choice in a large cast iron or stainless skillet over medium-high heat.
Add the pork and cook until it just browns, 3-4 minutes. Add a pinch of salt and remove with a slotted spoon and place in a large bowl. Pour off excess liquid from your skillet and add another teaspoon of fat.
Turn the heat down to medium and add the onions. Sauté until golden brown and soft, 6-8 minutes. Add to the bowl with the pork.
Add another teaspoon of fat, and sauté bell peppers for 4 minutes, stirring often. Add to the bowl with the other ingredients.
Throw in yet another teaspoon of fat, turn the heat up to medium-high, and add the mushrooms. Sauté for about 3 minutes, stirring often. Add to the bowl with the other ingredients.
To the large bowl, add the apples, pecans, cranberries, herbs, and a good pinch of salt.
In a medium bowl, beat together the eggs, chicken or turkey stock, and coconut flour. Add a pinch of salt if you're stock isn't salted.
Pour the liquid into the large bowl and mix.
Pour the whole thing into an oven safe casserole and bake for one hour.
Allow to cool for 10 minutes before eating. It will firm up a bit.
---
Notes
Why on earth am I making you sauté all of the vegetables separately? Two reasons: 
It's a lot of stuff, you probably don't have a pan that fits it all.
If you cook it all at the same time, you'll wind up steaming, not sautéing.
Keywords: Thanksgiving, stuffing, dressing, paleo
All of the links on zenbelly.com are for information purposes, however some are affiliate links to books, products or services. Any sponsored posts are clearly labelled as being sponsored content. Some ads on this site are served by ad networks and the advertised products are not necessarily recommended by Zenbelly.