Paleo-ish Cream Filled Chocolate Cupcakes. I've been thinking about making these for a while.
I really want to call them Paleo Hostess® Cupcakes, but I know that's probably a bit of a stretch. (And I'm pretty sure it's a trademark violation) Let's just say that they're about as Paleo as cream-filled, ganache-topped chocolate cupcakes get. (while still tasting like a cream-filled, ganache-topped cupcake that you want to eat.) If the confectioners sugar in the filling bothers you, I'm sure you can find a more Paleo-compliant recipe for that part. I am personally not bothered by it, because really-we're talking about cupcakes here. This is not dinner. At least I'm not categorizing it that way. You do you.
(I'm going with Paleoish.)
I'm not a big fan of labels anyway. Besides, why are we still talking about cupcakes when we should be eating cupcakes?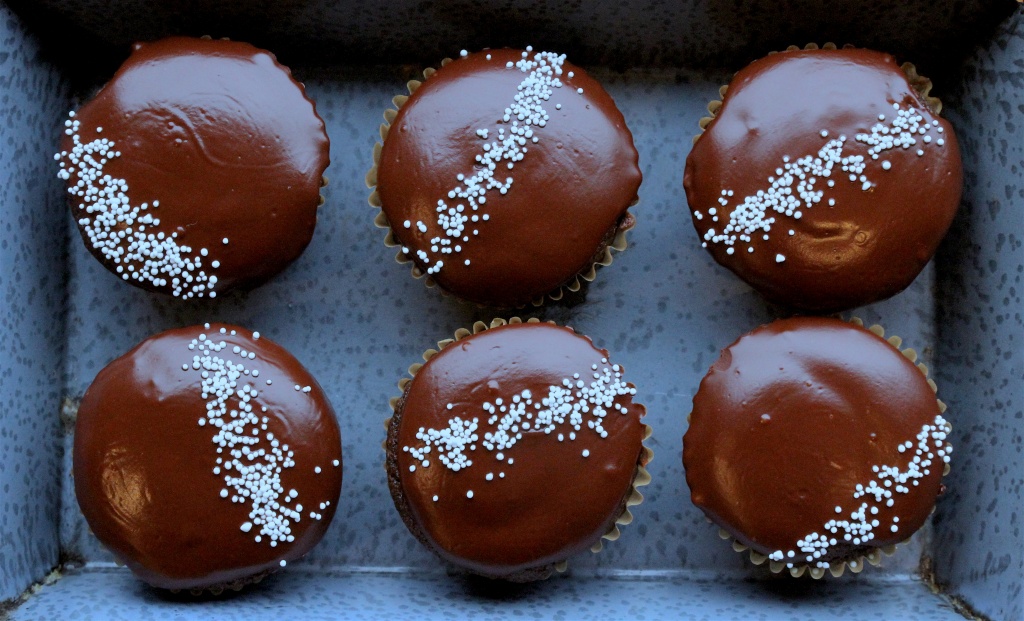 Paleo-ish Cream Filled Chocolate Cupcakes
prep time: 30 minutes
cook time: 15-18 minutes
yield: 12 cupcakes
1 3/4 cups Bob's Red Mill Paleo Flour (or 1 cup almond flour, 1/2 cup arrowroot starch, 1/4 cup coconut flour)
1/2 cup cocoa powder
1 teaspoon baking soda
1/2 teaspoon sea salt
4 tablespoons unsalted butter or coconut oil, melted and slightly cooled
4 large eggs
1 cup maple syrup
1 teaspoon vanilla extract
Preheat the oven to 350ºF. Line a 12 cup muffin tin with parchment liners.
Sift the flour, cocoa powder, baking soda, and salt into a large bowl.
In a separate bowl, whisk the melted butter, eggs, maple syrup, and vanilla extract.
Pour the wet ingredients into the dry and whisk until smooth.
Pour the batter into the prepared tins and bake for 15-18 minutes, or until a toothpick comes out clean.
Allow to cool in the tin on a wire rack. Once cool, use a 1/2-inch or so pastry tip to hollow out the center of each cupcake like so:

Sweet. Now it's time to make the filling!
For the Cream Filling:
1/4 cup palm shortening
1/2 cup softened butter (or you can use all butter or all shortening if you prefer)
1 cup organic confectioners sugar (organic ones tend to use tapioca starch instead of corn, check labels)
1 teaspoon vanilla extract
Beat the butter and shortening in a stand mixer or with hand held beaters until it's smooth. Gradually add the sugar and beat to incorporate, starting on a low speed and speeding it up as the sugar gets mixed in. Add the vanilla and beat on high 2-3 minutes so it gets a bit fluffier, scraping down the sides a few times.
Fill a pastry bag fitted with a small plain tip.
Insert into the cupcakes and squeeze some filling in. You'll see the cupcakes swell a bit – that's when you know they're full. Smooth over the tops with an offset spatula. (You'll have extra filling)
For the Chocolate Ganache:
2 tablespoons butter (coconut oil or ghee works too)
1/3 cup dark chocolate chips
Melt the butter in a small saucepan. Remove from the heat and stir in the chocolate chips until they're melted.
Pour about 1 tablespoon of ganache onto the center of each cupcake and tap the cupcake lightly so it covers the entire top. You can also use an offset spatula to spread the ganache. It will firm pretty fast, so you'll want to do this somewhat quickly. If it hardens too much, just heat it slightly.
If using any sprinkles to decorate, drop them on before the frosting hardens. (India Tree makes great decorations)
Refrigerating these cupcakes will get the ganache quite firm; I find they're best refrigerated until about an hour before serving.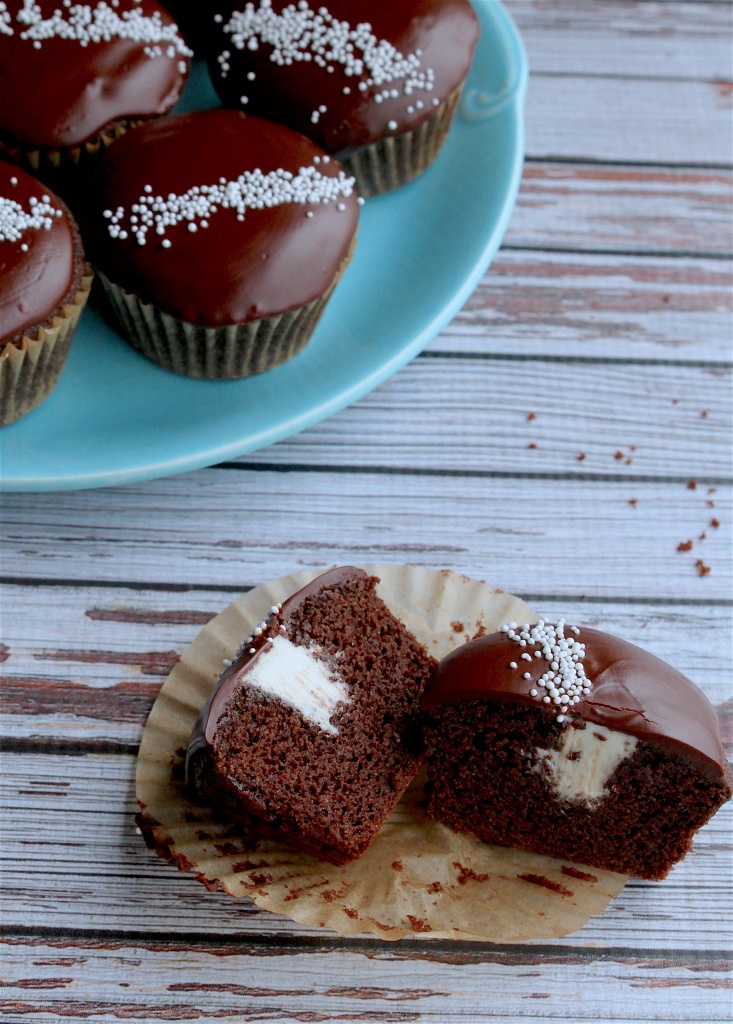 PIN THIS RECIPE: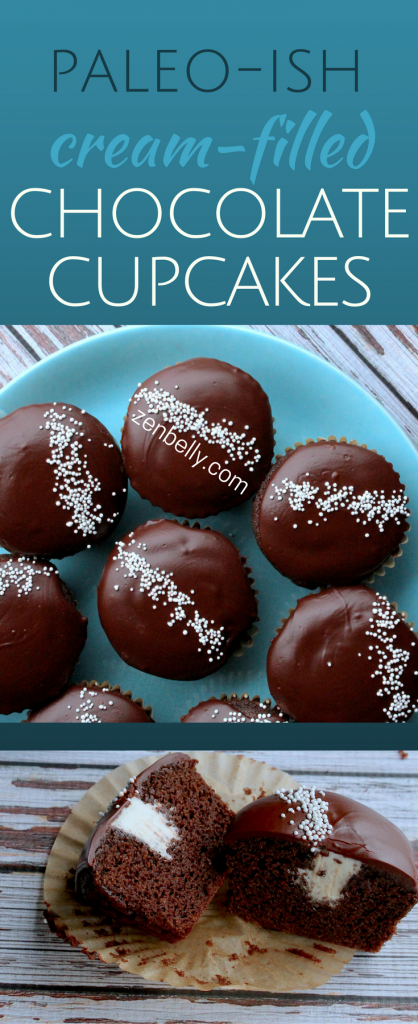 All of the links on zenbelly.com are for information purposes, however some are affiliate links to books, products or services. Any sponsored posts are clearly labelled as being sponsored content. Some ads on this site are served by ad networks and the advertised products are not necessarily recommended by Zenbelly.