I've had this Plum Torte on my mind for a while now. I first saw it in my NYT recipe app, which I use to find inspiration for both what to cook for me and Simon, and what recipes to create with a zenbelly spin.
And finally, we have this lovely plum torte; with a zenbelly spin.
Before we get to the actual recipe, let's talk about exactly what having a zenbelly spin means, since it has changed a bit over the years. This has upset some people, and to be blunt: that's not my problem.
That may sound harsh, but here's the thing: it's been over 10 years since I've been creating recipes to share, and I can't think of many things that haven't changed in 10 years. Can you?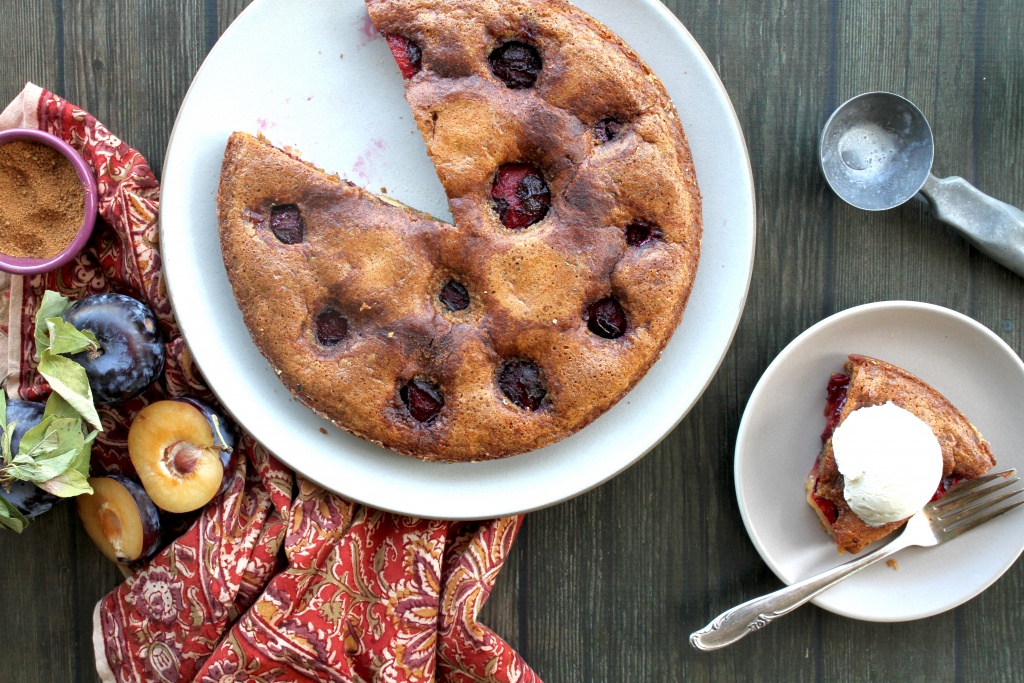 When I started writing recipes for this blog, I was "mostly paleo"; I ate almost completely paleo at home, and loosened the reigns a bit when I went out to eat or someone else was cooking for me. I stuck to 100% gluten-free always. The recipes I wrote reflected how I ate at home.
I went years before I published a recipe with gluten-free pasta on this site, and recipes containing dairy were few and far between. Plus, the dairy called for was usually optional and/or could be swapped for a dairy-free option.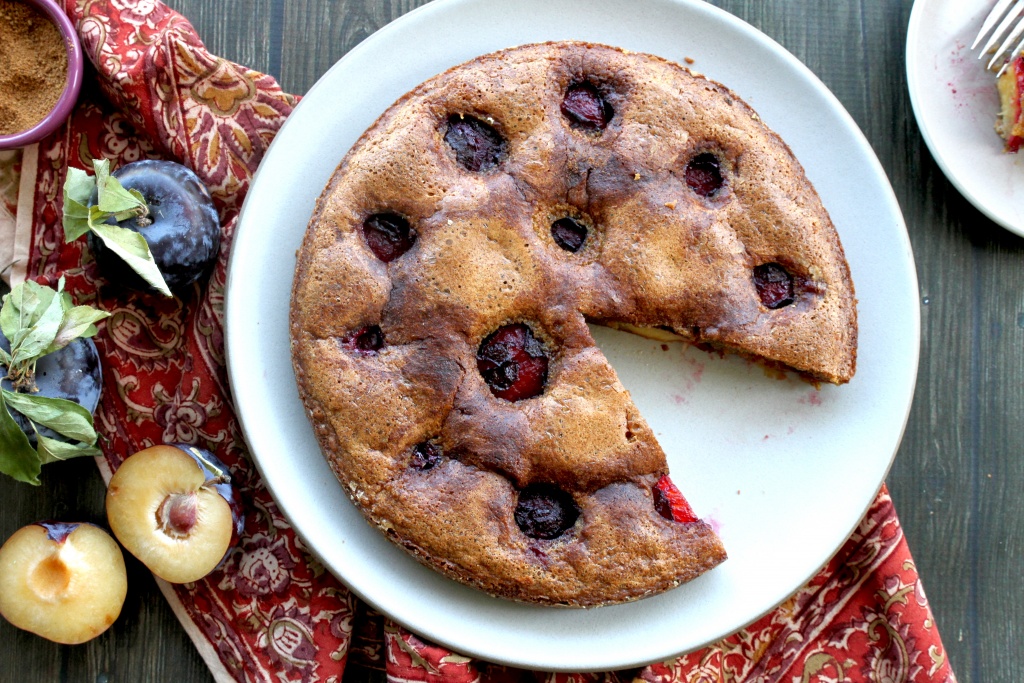 For the most part, that is still the general idea of what you'll find here. I've also started baking with (gasp) cane sugar again on occasion (not this recipe, before you bounce), and I've been eating more gluten-free pasta than I used to. I don't restrict dairy because I don't have to. And I don't have to be strict about avoiding gluten anymore, which I have to say is liberating; going out to eat is a lot more enjoyable and relaxing. I haven't gone so far as cooking with gluten, and will keep this site gluten-free.
Why the change?
A decade ago, restricting my diet the way I did worked for me. It doesn't really work for me now.
The way I eat has adapted along with my relationship with food, and the recipes I write have adapted along with that relationship. The good news (for those of you who consider this bad news) is that all of the recipes I created before are still here on this site. And there are still 3 cookbooks available for purchase that are full of paleo recpes. So even if there's a recipe with cane sugar or rice pasta here and there on this blog, you don't have any less of anything.
The other thing that no longer works for me is attaching morals to food, which I inadvertently did for a long time.
I am aware that some people have to restrict the way they eat because of allergies. Some people have to restrict the way they eat because they are battling illness, and diet helps them manage it. That's one thing, and it's not the thing that bothers me.
The thing that bothers me is the orthorexia that is rampant, in part, because of the "wellness" industry. I'll take responsibility for my part. I've used the word clean when talking about the type of food I ate and cooked. Calling food clean implies that other food is dirty, and in some cases, those "dirty foods" literally keep civilizations alive. That right there is the epitome of privilege and it's not the message I want to be sharing.
I love that people are paying attention to what they put in their bodies, on their bodies, and around their bodies. We know it all has an effect on our health and the environment. If we eat something and it makes us feel like shit, it's a great idea to not eat that thing. That's intuitive eating, guided by us paying the eff attention. If we are terrified of tomatoes or paprika just because they're nightshades, that's not healthy.
Like Tanya Mark, (who I just discovered via this quote and already love for it) says: "You know what's healthier than kale? Having a good relationship with food!" HEAR, HEAR.
If you're still here, thanks for reading. Without further ado: Plum Torte, with a Zenbelly Spin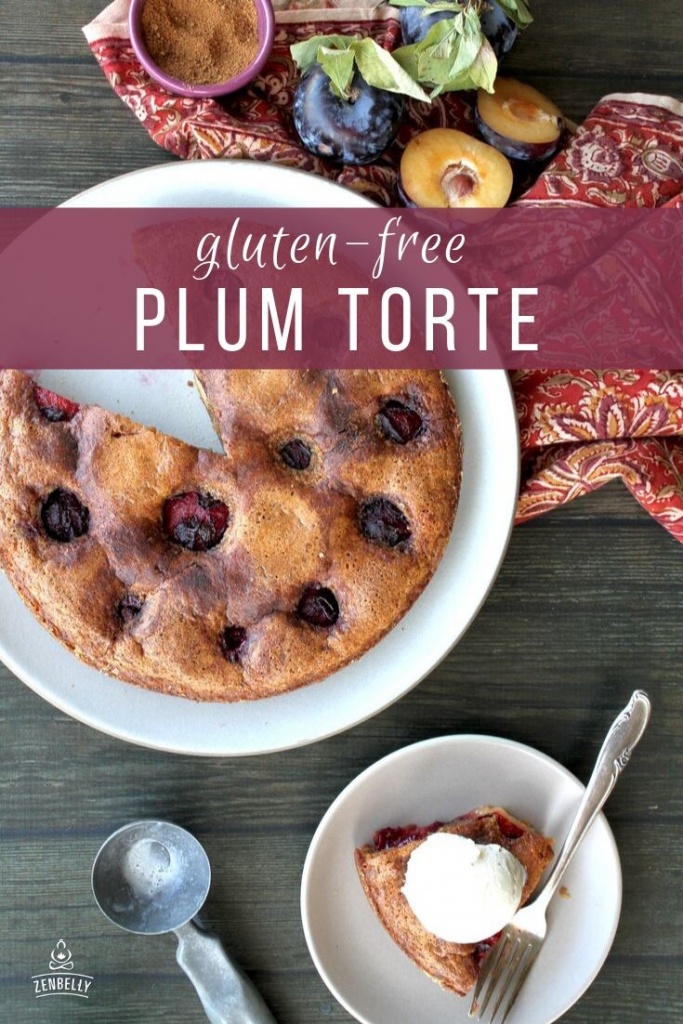 Print
Plum Torte
Author:

Simone Miller

Prep Time:

15 minutes

Cook Time:

35 minutes

Total Time:

50 minutes

Yield:

8 slices

Category:

Dessert

Cuisine:

French
---
Description
The perfect Late Summer / Fall Dessert (or breakfast, I'm not judging)
---
6

–

7

fresh plums, (halved and pitted)

3/4 cup

softened butter or ghee, (plus more for greasing the pan)

3

eggs, (room temperature)

3/4 cup

coconut sugar + 1 teaspoon, (divided)

3/4 teaspoon

vanilla extract

3/4 cup

almond flour

3/4 cup

arrowroot starch (or tapioca starch), (plus more for flouring the pan)

1 teaspoon

baking powder

1/8 teaspoon

salt

1/2 teaspoon

cinnamon
---
Instructions
Preheat the oven to 350℉ and grease and flour a 9-inch springform pan.
Cream the butter and 3/4 cup coconut sugar with an electric beater until lighter in color and blended.
Add the eggs and vanilla and beat until smooth.
Add the almond flour, arrowroot starch, baking powder, and salt. Beat until just combined. Spread the batter into the prepared pan and top with the plum halves, skin side up. Gently push the plums into the batter, but not too much. The batter will rise up around the plums as it bakes.
Combine the teaspoon coconut sugar and the cinnamon in a small bowl. Sprinkle on top of the torte.
Bake for 35-40 minutes, or until a toothpick inserted into the center comes out clean. Allow to cool a bit before removing from the pan. Serve warm (especially with ice cream), room temperature, or cold.
Store in the fridge if you don't eat it all the day you make it.
---
Notes
*If you didn't take your eggs out to get to room temp, you can place them in a bowl of warm water for 5 minutes. They'll warm right up! 
All of the links on zenbelly.com are for information purposes, however some are affiliate links to books, products or services. Any sponsored posts are clearly labelled as being sponsored content. Some ads on this site are served by ad networks and the advertised products are not necessarily recommended by Zenbelly.