For me, the biggest challenge of being gluten-free isn't giving up the bread and the cookies. There are times when I want those things, but since I'm mostly paleo, I don't really eat that stuff much anyway. (Unless of course I visit my friends at Zest Bakery and leave with more deliciousness than I planned on. But that's a story for another day…) The things I miss are the things like pulled pork, which really shouldn't have gluten in it. But it does, almost always. It's hidden in the BBQ sauce, in the form of soy sauce, or worchestire. Not to mention the stuff that's in the sauce that we can all live without- corn syrup, soybean oil, all sorts of thickeners. Blech. Here's my take on all the plastic bottles and cardboard boxes: If it takes you less than 5 minutes to make, you cannot justify buying it! Nope. Don't do it!
Make this sauce instead, and pour it over this pulled pork, and pile it all on some crispy cilantro lime jicama slaw. No actual recipe for that yet, so here's one from Bobby Flay. Love him or hate him, he knows his shit when it comes to all things cilantro or chipotle. Just please use olive oil instead of canola. You can easily use less than what the recipe calls for, and the flavor won't overpower.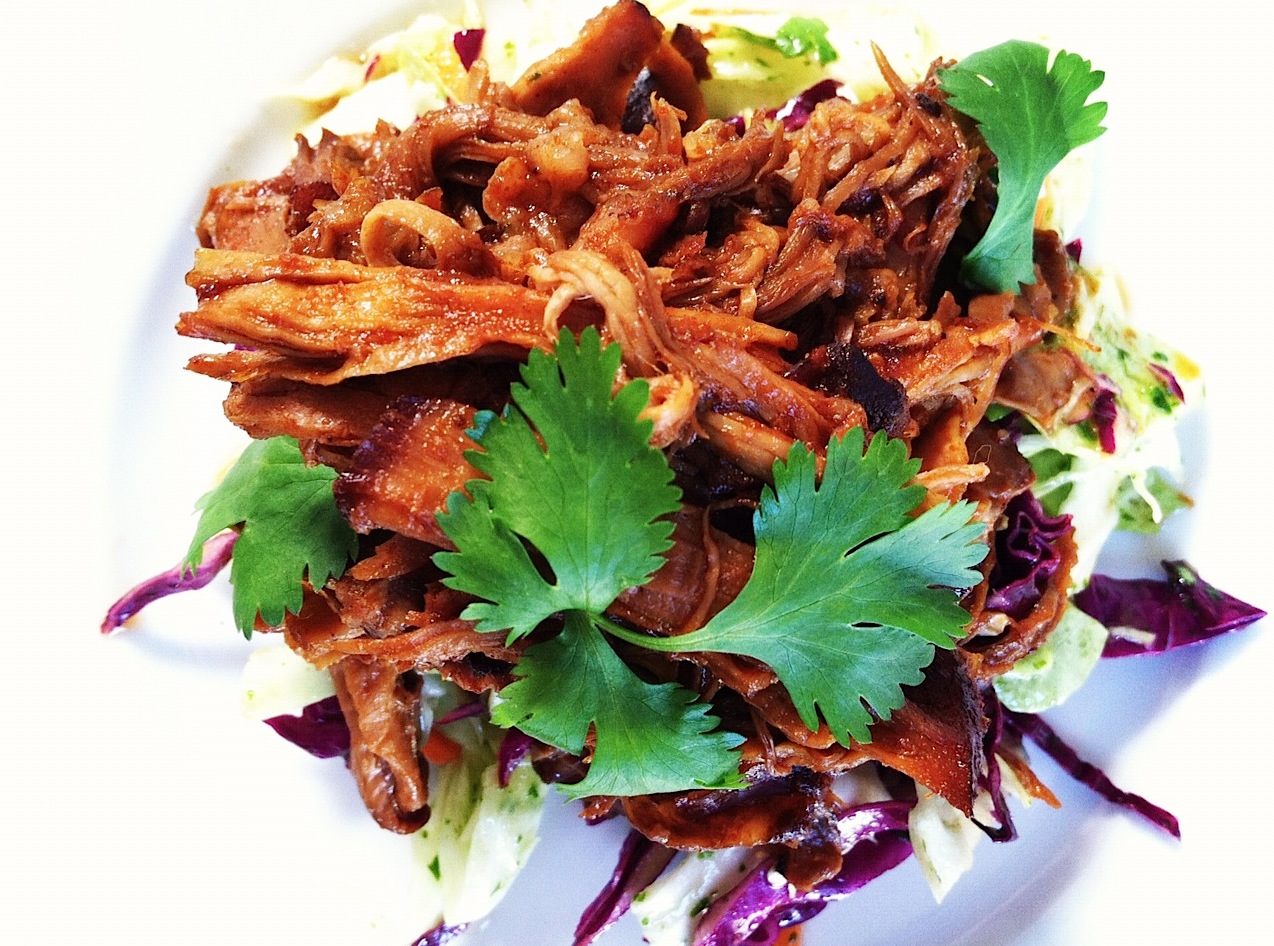 Pulled Pork
1 bone in pork shoulder, 3-4 pounds.
molasses brine
smoky rub
BBQ sauce (either my super easy 6 ingredient BBQ Sauce or this excellent but slightly more time consuming one)
For the brine:
(I like Alton Brown's)
Combine the following ingredients
1/3 C molasses
6 oz salt
1 quart filtered water
For the Rub:
1 Tablespoon each paprika, sea salt, coconut sugar
1 teaspoon each cumin, coriander
1/2 teaspoon ground chipotle
Place the pork shoulder in a large enough container to fit it and the brine. Cover the pork with the brine, cover, and refrigerate, at least 4 hours or preferably overnight.
Remove the pork from the brine and pat dry. Discard the brine. Place pork in a roasting pan and give it a good coating of the rub. You'll have more rub than you need, and it can be stored in a jar with your other spices.
Allow the pork to sit out for an hour to come to room temperature
Preheat your oven to 300
Cover the pork loosely with foil and roast 5-6 hours, or until the pork is very tender, and easily pulls apart.
Once the pork is cool enough to handle, use two forks to pull apart the meat.
Mix in as much BBQ sauce as desired (if any) and some more on the side, if desired.
Serve on a bed of your favorite crispy slaw, as a filling for jicama tacos, with guacamole in romaine lettuce boats, in a bowl, with a fork…
All of the links on zenbelly.com are for information purposes, however some are affiliate links to books, products or services. Any sponsored posts are clearly labelled as being sponsored content. Some ads on this site are served by ad networks and the advertised products are not necessarily recommended by Zenbelly.