Suddenly, I'm obsessed with pumpkin. This is normal for the season, except I'm not usually much of a pumpkin person. I've never disliked it, but it certainly wasn't the dessert I went for on the Thanksgiving table. It always seemed like a total waste of a pie to me. This Pumpkin Panna Cotta is a different story, though!
I couldn't stand the thought of Thanksgiving going by without some kind of pumpkin dessert on the table. But I'm still not a fan of pumpkin pie, not enough to add it to my list of tasks this week. I considered making a pumpkin cheesecake, but a bit of research into that topic reminded me that I'm a horrible baker, and shouldn't attempt such things with an already full plate.
Behold: The Pumpkin Panna Cotta. So simple, even horrible bakers like myself can make it. Most of the time it requires is spent chilling in the fridge; active time is less than 15 minutes. And you can pour it into any size cups you'd like. I'll be using small tea cups (3-4 ounces) since they'll be one of many desserts at Thanksgiving.
I have used both heavy cream and coconut milk for this recipe, and both work great.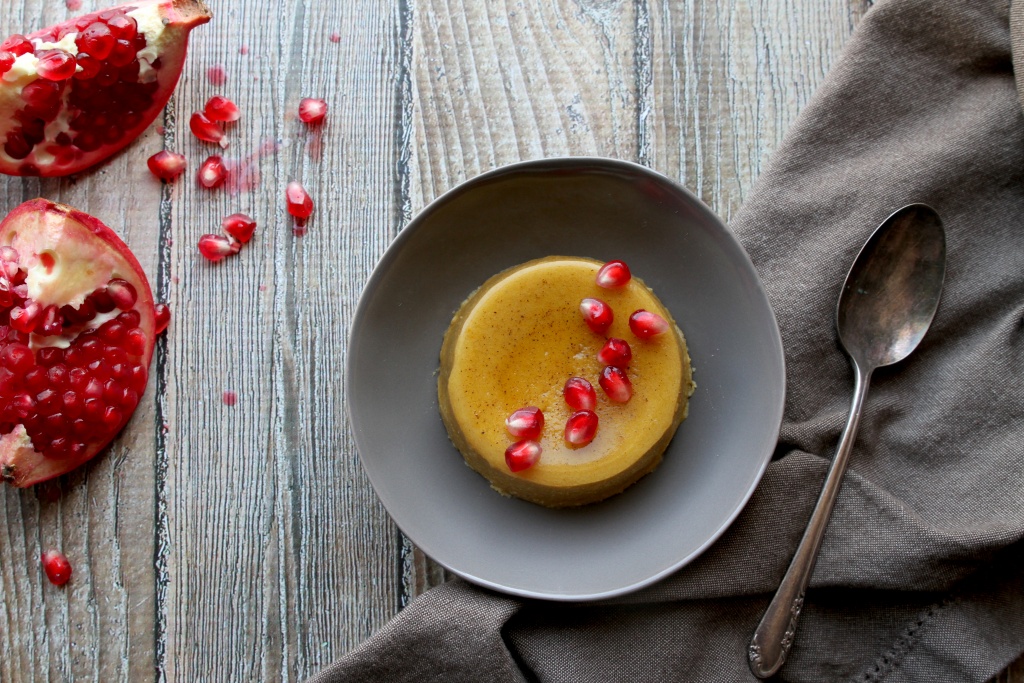 Pumpkin Panna Cotta
makes 8 small portions, easily scaled
2 cups heavy cream or full fat coconut milk
1/4 cup maple syrup
1 teaspoon vanilla extract
1 tablespoon unflavored gelatin
3 tablespoons cold water
3/4 cup pumpkin puree
3/4 teaspoon ground cinnamon
1/4 teaspoon ground nutmeg
1/8 teaspoon ground ginger
1/8 teaspoon ground cloves
freshly grated nutmeg and cinnamon for serving, or pomegranate arils, optional.
In a large saucepan, whisk to combine the cream, maple syrup, pumpkin, ground spices and vanilla over medium heat. Heat until it's hot, but not boiling.
Meanwhile, put the cold water in a large bowl and sprinkle with the gelatin. Set aside for 5-10 minutes.
Pour the hot cream mixture over the gelatin and stir well to combine.
Pour into ramekins, tea cups, or molds and place in the fridge to set, at least 2 hours.
Run a knife around the edge of the panna cotta and turn it out onto a place. Garnish with cinnamon and nutmeg or pomegranate arils, if desired.
PIN THIS RECIPE: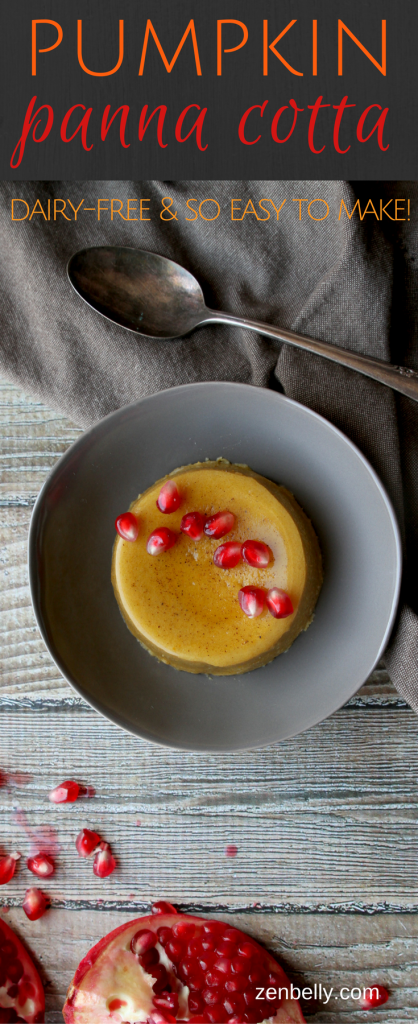 All of the links on zenbelly.com are for information purposes, however some are affiliate links to books, products or services. Any sponsored posts are clearly labelled as being sponsored content. Some ads on this site are served by ad networks and the advertised products are not necessarily recommended by Zenbelly.