As a toddler, my mom used to put Cheerios in the pockets of my overalls in case I got hungry while toddling around. Not kidding. Now, I try to keep my cereal consumption pretty low, but occasionally get the hankering for this Sweet Cinnamon Cereal (or Cinnamon Graham Crackers)
Before going mostly paleo, I LOVED cereal and always had several varieties in the pantry. I've never been into the sweet stuff, I can thank my Mom and my Cheerios habit for that. But I have always loved cereal as a snack, especially an after dinner one.

Since going mostly paleo, cereal has sadly vanished from my life. I know it's for the best, since cereal has little to no nutritional value. And I'm glad that I no longer consider it a staple food item. We're better off without it. Once in a while though, it's a fun snack, and the homemade stuff is really a whole different thing than what you'll find in a cardboard box. And of course this version is grain-free and made with just a handful of ingredients. 
This recipe is great as both a slightly sweet cereal or as cinnamon graham crackers. If you want it even less sweet than it is, just reduce the amount of maple syrup or sprinkle less coconut sugar on top.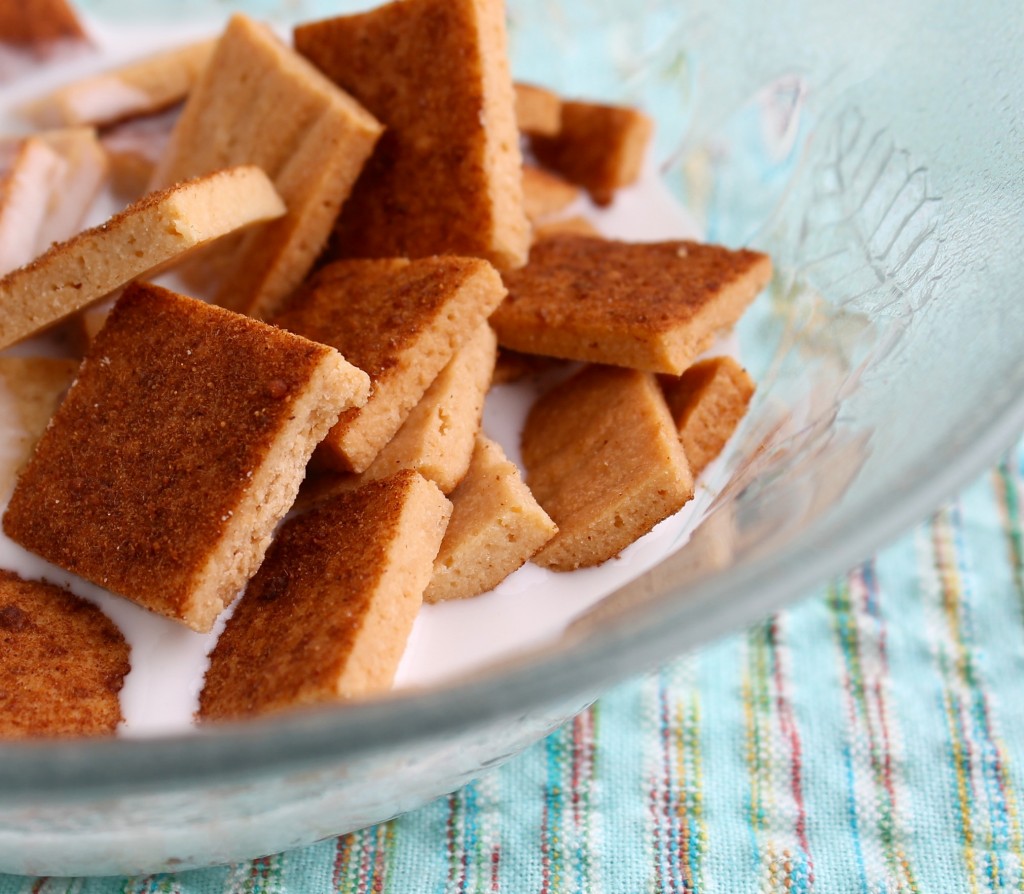 Sweet Cinnamon Cereal or Graham Crackers
makes 12-14 2×3 inch crackers or 6-8 servings of cereal
1 egg
2 tablespoons maple syrup
1 tablespoon coconut oil, melted
1.5 cups almond flour
1/2 cup tapioca starch *
1 teaspoon coconut sugar
1 teaspoon cinnamon
* update: arrowroot powder works as a cup for cup substitute.
Preheat oven to 350˚

In a large bowl, whisk together the egg, maple syrup and melted coconut oil

Add the tapioca starch and almond flour and stir to combine. 

Give the dough a couple of kneads so it's well incorporated.
Turn the dough onto a piece of parchment paper and flatten a bit with your hands.
Place another piece of parchment on top and roll out with a rolling pin until it's about 1/8 inch thick.
Remove the top piece of parchment and cut the dough into 1/4 inch squares for cereal, and about 2″x3″ for graham crackers. (You want to cut through the dough, but leave it where it is, you'll break it apart once it's cooked.)
In a small bowl, combine the coconut sugar and cinnamon, and sprinkle the dough with the mixture.
Slide the dough with the bottom parchment paper onto a baking sheet and bake for 15 minutes.
Turn down the oven to 325˚ and bake for another 10-15 minutes, or until the cereal / crackers are crisp.
Allow to cool (walking away is highly recommended) and break apart at the score marks.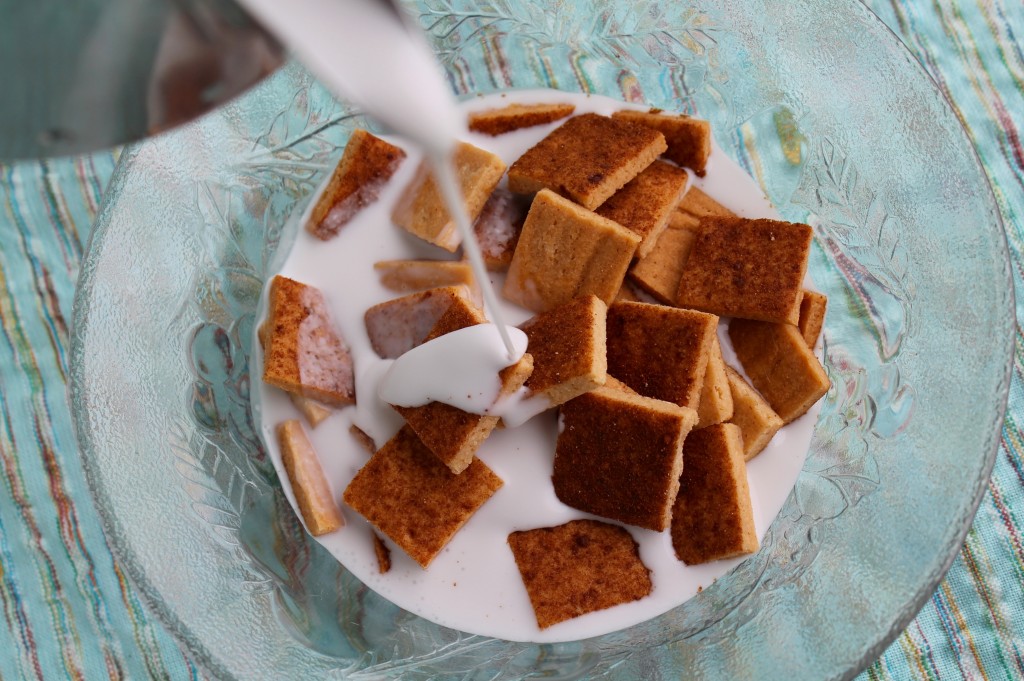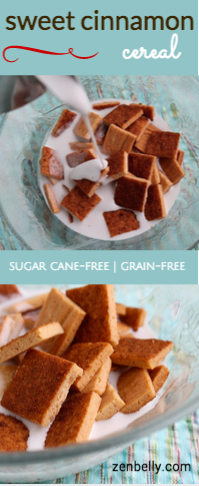 All of the links on zenbelly.com are for information purposes, however some are affiliate links to books, products or services. Any sponsored posts are clearly labelled as being sponsored content. Some ads on this site are served by ad networks and the advertised products are not necessarily recommended by Zenbelly.