Roast chicken is the thing that I think every single home cook should learn how to make, and learn how to make really well. So today, I am sharing my best roast chicken with you, and I'm making it a complete meal with lemony roasted potatoes, all cooked on the same sheet pan.
Let's make the very best roast chicken
When people find out that I'm a chef, the most common follow up question is "What do you like to cook?" Honestly, I hate that question because I never feel like I have a very good answer. But I do have an answer that will always be true, and I don't care if it's not exciting: The answer is Roast Chicken.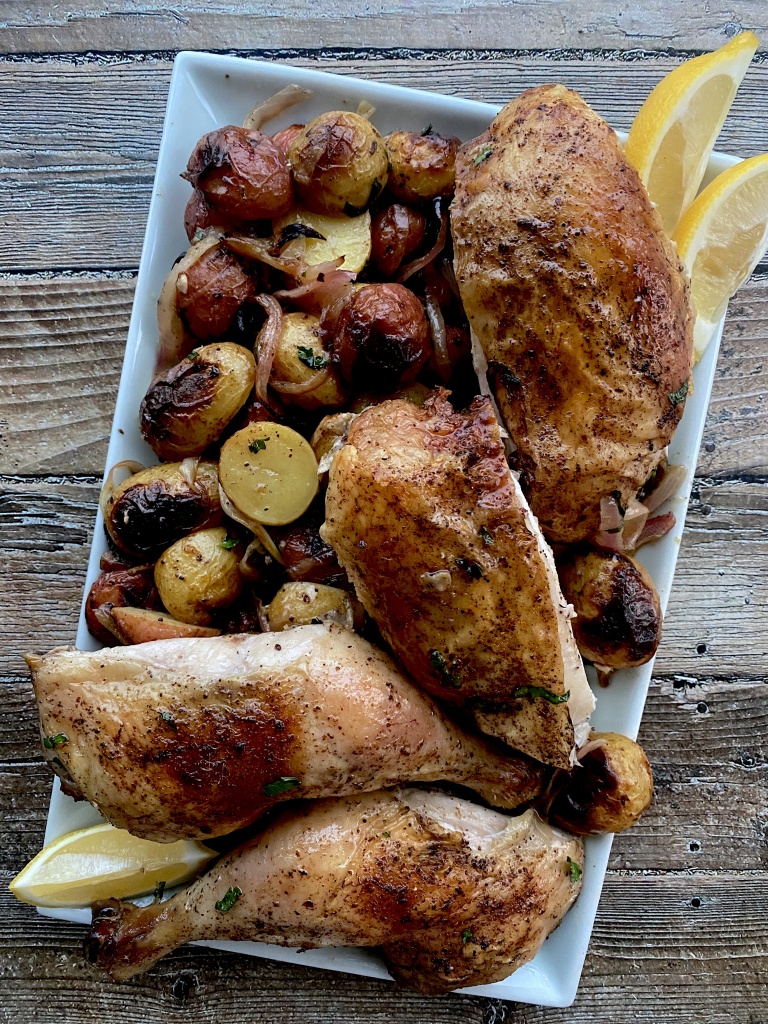 It's also why there is always at least one whole chicken in my freezer, I have a whole bunch of variations of roast chicken on this site, but today I want to cover what you need to know to make the simplest and best roast chicken. Once you have this skill down, you can make it with all sorts of variations and accompaniments.
What makes this the best roast chicken:
Two things: Spatchcocking and Dry Brining
What is Spatchcocking?
Spatchcocking is removing the backbone and flattening the chicken. This is fairly easy once you know how to do it (see the video below) but you can also ask your butcher to do it for you.

What does spatchcocking accomplish?
1. quicker cooking
2. more even cooking
3. crispy skin on the entire bird
4. backbone can be reserved for making broth
When you roast a chicken whole, you will get fine results. But the breast will be exposed to the dry heat, while the thighs will be on the bottom, where there's more moisture. That means that the dark meat, which takes longer to cook, is further slowed down, while the white meat will cook faster.
What is Dry brining?
Dry brining is salting meat in advance, usually 1-3 days. Meat is salted (and sometimes seasoned) in advance, and then refrigerated, uncovered.

What does dry brining accomplish?
1. evenly seasoned meat (as opposed to just the exterior) and more concentrated / less diluted flavor compared to wet brining
2. juicier meat – this means a more forgiving cook; it's harder to dry out your bird if it's brined. This also means that you'll be able to reheat the chicken without it drying out quite so much.
3. crispier skin / exterior – say hello to everyone's little friend, the Maillard reaction. Moisture is its nemesis. Dryer skin = crispier skin!
STAY WITH ME! If you're hell bent on roasting that chicken tonight and dry brining isn't an option, don't dismay. You can still make this, and it will still be delicious. Just season it when you're ready. I encourage you to try it next time, but don't give up on this recipe just because you are planning on cooking it today.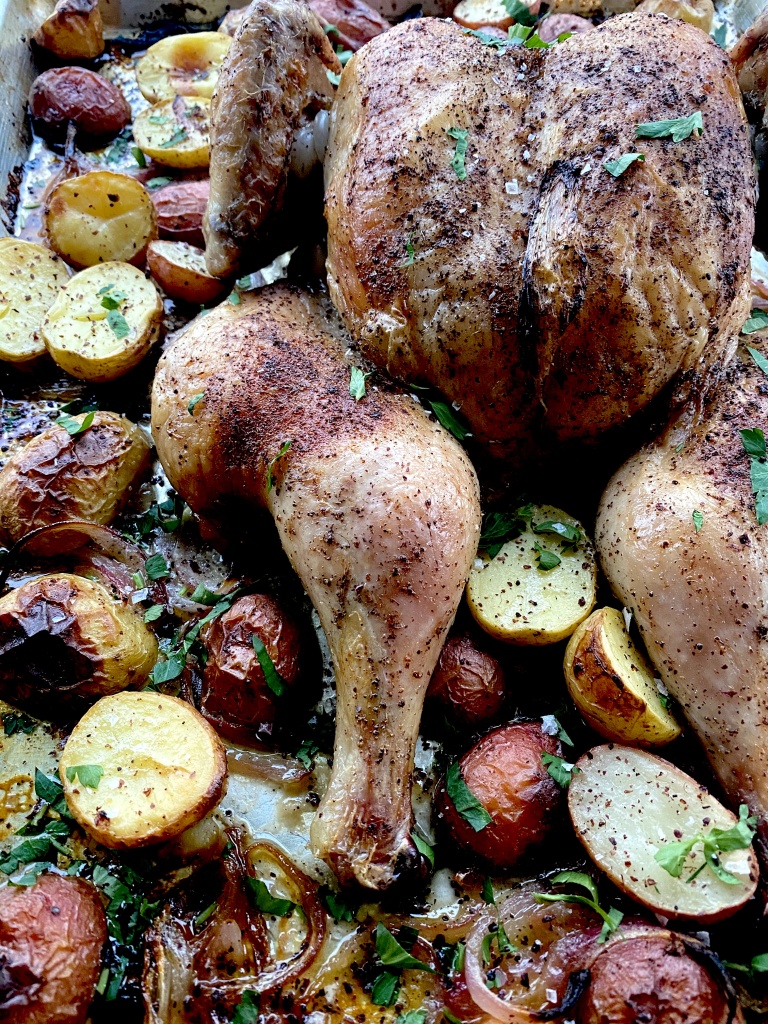 My number one tip with cooking chicken, no matter how you are cooking it, is this: Salt that bird! Don't be scared of the salt. 3/4-1 teaspoon per pound is a good guide to go by.
I recommend using good quality salt because it's better for you and tastes better, and the cost difference when we're talking about quantities used in a home kitchen is minimal. I've been loving Primal Palate's salts, and you'll be supporting a small family run business when you shop with them.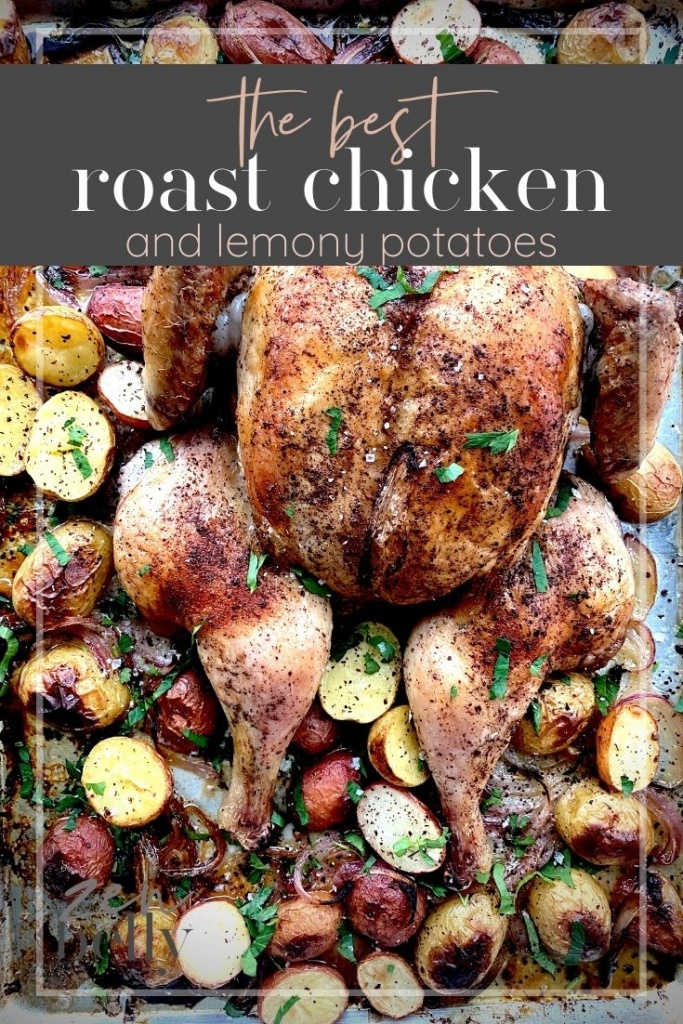 Print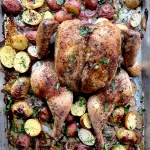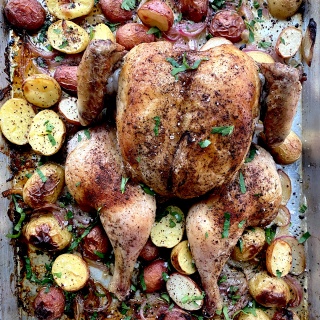 the best roast chicken and lemony potatoes
Author:

zenbelly

Prep Time:

30 minutes plus time to brine

Cook Time:

40-50 minutes

Total Time:

70-80 minutes

Yield:

4 servings

Category:

chicken

Method:

roast
---
Description
The best roast chicken: juicy meat, crispy skin, all cooked on a bed of lemony potatoes and sweet caramelized onions
---
For the chicken:
1

whole chicken, 4-5 pounds, spatchcocked (see video above) 

1 tablespoon

salt 

1 teaspoon

sumac

1 teaspoon

cumin

1/2 teaspoon

garlic powder

1/4 teaspoon

allspice 
(re spices: see note) 
For the lemony potatoes
1

pound baby potatoes, halved (or larger potatoes cut into 1-inch cubes) 

1

medium red onion, sliced 1/4-inch thick

1 teaspoon

salt 

1/2 teaspoon

garlic powder

1/4 cup

lemon juice

4 tablespoons

extra virgin olive oil, divided
For serving, optional: 
chopped parsley or other fresh herbs
flaky salt
sumac
lemon wedges
---
Instructions
One to three days before you plan on roasting the chicken:
Spatchcock the chicken and and season it all over with the salt and spices.  
Place the chicken on a rack placed inside a rimmed baking sheet and place uncovered in the fridge. 
When you're ready to cook the chicken:
Remove the chicken from the fridge and turn your oven on to 425°F. 
In a large bowl, toss the potatoes, onion, salt, garlic powder, lemon juice and 2 tablespoons of the olive oil. Spread it all out on a rimmed baking sheet, making room for the chicken in the middle. (you can use the one that the chicken has been on, just remove the rack) 
Place the chicken in the center, trying to keep the potatoes and onions around it, rather than under it. Rub the remaining 2 tablespoons of olive oil on the chicken. 
Roast for 40-50 minutes, or until cooked through (160 in the breast, 175 in the thigh).

If your potatoes aren't quite tender, you can remove the chicken to a cutting board to rest and return the potatoes to the oven. 

Either way, allow the chicken to rest, loosely covered with foil, for 10 minutes before carving and serving. 

Garnish with chopped parsley or your favorite fresh herb, lemon slices, and additional sumac and flaky salt, if desired. 
---
Notes
Salt is the only real requirement here. Feel free to use whatever flavor combo you love most. I use something different almost every time, depending on my mood. I do recommend getting yourself some sumac if you don't already have some, though. I get mine from Oaktown Spice Shop
Keywords: chicken, spatchcocked chicken, roast chicken, sheet pan
passover
All of the links on zenbelly.com are for information purposes, however some are affiliate links to books, products or services. Any sponsored posts are clearly labelled as being sponsored content. Some ads on this site are served by ad networks and the advertised products are not necessarily recommended by Zenbelly.