To me, a good Bloody Mary should be a drink AND a meal. Or at least a good snack. But before you add all of those fun garnishes, it's crucial that the drink itself is well balanced. That means different things to different people, but a good mix should have some spice, some umami, and some brightness. This recipe makes a pitcher's worth, and it's even better if you mix it up a day or two before serving so the flavors can marry. I like to put out extra horseradish, tabasco and black pepper for each person to doctor their own if they want more heat.
The Perfect Bloody Mary
yield: 6 drinks
For The Mix:
32 ounces good quality tomato juice
1/4 cup fresh lemon juice
2 tablespoons worcestershire sauce
1-2 tablespoons prepared horseradish (good quality store bought or recipe below)
1 teaspoon tabasco
freshly ground black pepper (a few good turns, or to taste)
For the Drinks:
6 shots of your favorite vodka
salted rim options:
smoked salt
celery salt
salt + chipotle + coarsely ground fennel seeds
salt + smoked paprika + dried lemon zest
for garnish choose as many or as few as you desire:
celery spears
pickles: carrots, asparagus, garlic , green beans, etc.
olives
extra-crispy bacon
pickled or otherwise cooked shrimp
lemon wedges
lime wedges
Combine all of the mix ingredients in a large jar and shake well.
If salting the rim of the glass(es), run the cut side of a lemon or lime around and tip the glass onto a plate with the salt mixture.
Fill the glass with ice and add a shot of vodka.
Top off with the Bloody Mary mix and add garnishes to your liking.
To make fresh horseradish: Peel and dice 1/2 pound of fresh horseradish root. Pulse several times in the food processor to get it finely minced. Process for about 5 minutes, adding 1/4 cup white vinegar, 1/8 teaspoon of salt, and water as needed to achieve a smooth consistency. Warning: Making fresh horseradish is is not for the faint of heart. It will make you cry. (But it's so worth it.)
PIN THIS RECIPE: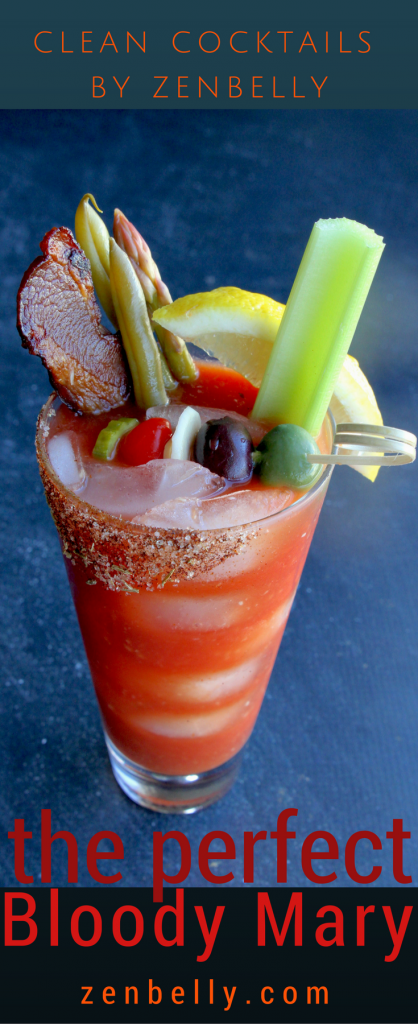 All of the links on zenbelly.com are for information purposes, however some are affiliate links to books, products or services. Any sponsored posts are clearly labelled as being sponsored content. Some ads on this site are served by ad networks and the advertised products are not necessarily recommended by Zenbelly.