Well hello! If you follow me on Instagram, you may have seen the series of questions I asked last week in my stories, about how I could be the most helpful to you all. Generally, I was wondering if people like getting emails each week with recipe ideas, what types of recipes they'd love to get, how much time they have to cook them, and things of that sort.
Based on the feedback I got, here's what I learned:
The majority of you do indeed like getting emails with recipe ideas.
Late in the week is when most people plan for the coming week, so they can shop and cook over the weekend.
People want simple recipes that have lots of flavor, not a lot of ingredients, and don't take longer than an hour to make (30 minutes being preferred / necessary for many)
And while I didn't directly ask, I've seen from other polls and surveys that what to cook is the biggest hurdle for people- the planning! I can 100% relate to this.
So here's my plan to make this blog and my newsletter more helpful to you all:
I am going to try really, really hard to post at least one new recipe per week. I'm going to try to include some skills tutorials too. (I'm a one woman show over here, which makes the camera work on these a bit tricky)
Each week, I will also post a meal plan for the following week. It will be mostly recipes that live on this site, and might also include recipes that are on other sites I love.
If you subscribe to my newsletter, you'll get all of this – the meal plan, plus the most recent recipes that have been published – straight to your inbox so you know where to find it all.
That's it! Pretty straightforward, and this week I'm sharing meal plan #1.
What To Cook Next Week:
SMOKY ROASTED SWEET POTATOES
Make a big batch of these, and they'll cover you for a few meals; they're great added to breakfasts, as a starchy side, or topped with meat and slaw for a complete and satisfying meal. For example:
KALUA PORK. This one's made in the Instant Pot, so the hands on time is practically non existent. And once you have a batch of Kalua Pork in the fridge, you've got several meals at the ready. Did somebody say Taco Tuesday?
PLANTAIN TORTILLAS take a little bit of time to make, but freeze and reheat wonderfully, so they're a great weekend project. You'll definitely thank yourself later when you have a batch of these babies on hand!
Before summer's officially over, make this CHARRED CORN SALAD WITH PICKLED ONIONS AND AVOCADO. I know everyone's all excited about pumpkin everything, but pump the brakes. Summer produce is still here, and once it's gone, it's gone for many, many months. Savor it!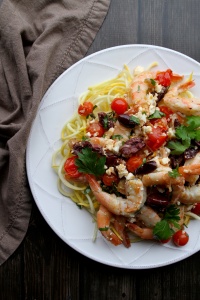 SHEET PAN GREEK SHRIMP over rice, cauliflower rice, zoodles, or noodles. This one only takes 15 minutes to make so is a great one for your busiest night of the week!
All of the links on zenbelly.com are for information purposes, however some are affiliate links to books, products or services. Any sponsored posts are clearly labelled as being sponsored content. Some ads on this site are served by ad networks and the advertised products are not necessarily recommended by Zenbelly.