Guess who makes the best apple pie? My mom. You might think it's actually your mom, but you're wrong. It's mine.
Just ask anybody.

When the Best Apple Pie also happens to be gluten-free, everyone is happy.
So when I decided that I had to recreate the iconic dessert paleo-style, it was of course hers that I was trying to emulate. The result? It's not exactly the same, but it's pretty damn close. It's buttery and flaky and has some bite to it. The crust is good enough to be eaten on it's own, and the apples inside taste like fall itself. They're barely sweeter than a fresh apple, and have just a hint of cinnamon. To me, it's paleo apple pie, perfected.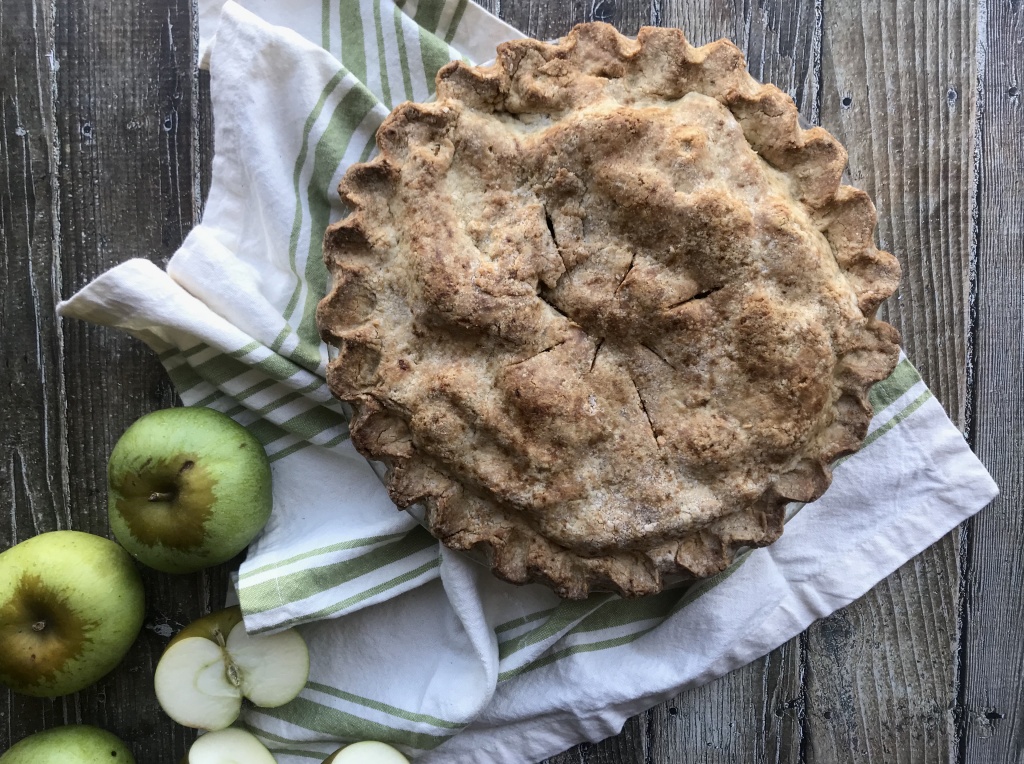 Full disclosure: You are going to find yourself hating me while making this recipe. I wouldn't even attempt to make this pie without swearing. The crust is not easy to work with. You will hopefully love, (or at least like) me again, once the smell of apple pie fills your home.
And you might even do a happy dance when you pull it out of the oven And when you cut into it, you might say something like "Maybe Simone isn't such an (insert expletive here) after all" Okay, ready? Let's make apple pie. (Have a food processor? Head on over to my  easier way to make pie crust, and then come back here and pick up at step 8!)
After the egg yolks and vanilla get mixed in, the consistency will seem too dry to become a crust, but it should be able to do this when you squeeze it in your hand:
Once everything is mixed, the dough is divided into two disks, wrapped in plastic wrap, and refrigerated. While the dough is chillin', peel and slice your apples, and toss them with the apple filling ingredients.
And now, it's time to hate me a little. Take the pie crust out of the fridge and roll the first disk out. (the smaller of the two if they're uneven) Lightly dust a sheet or parchment paper, and dust the dough, too. You'll want about a 10 inch round. Transfer the rolled out crust by picking up the parchment paper and flipping it over into the pie pan. OR, you can try and roll it around the rolling pin and transfer it that way. I tried both, and I found the former easier. This is how mine landed in the pan:
But don't throw it out the window, all is not lost!
And it's ready for the oven! At this point, your kitchen should look something like this:
 
All that's left to do is wait. (and clean) Please note: The following recipe is based on several attempts to get the desired result. There are potentially endless possibilities for substitutions, but without trying them (which I just don't have time for), I cannot speak to how they will change the recipe. If you want or need to make substitutions, please do, and let me know in the comments how it turned out! 
PIN THIS RECIPE!
Paleo Apple Pie
For the crust:
3 cups almond flour
1 cup arrowroot powder, plus more for dusting
1/3 cup  coconut palm sugar
8 tablespoons cold unsalted butter
2 eggs + 1 white
2 teaspoons vanilla extract
1/2 teaspoon sea salt
For the filling:
3 pounds apples (about 8 medium), peeled, cored, and sliced 1/4-inch thick
1/4 cup coconut palm sugar
3 tablespoons arrowroot powder
2 tablespoons lemon juice
1 teaspoon cinnamon (more if desired but cinnamon should be subtle, IMHO)
You will also need aluminum foil, parchment paper, a pie pan and a baking sheet. 
Preheat oven to 350ºF. Place a baking sheet in the oven to heat up as well. (Placing the pie on a hot baking sheet will help keep the bottom crust from getting soggy)
In a large mixing bowl, Whisk together the almond flour, arrowroot, coconut sugar, and salt.
Cut the butter into chunks and add it to the dry mixture. Cut it in with a pastry cutter until it resembles coarse crumbs.
In a small bowl, combine the whole eggs and vanilla and whisk to combine.
In another small bowl, lightly beat the egg white. Set aside. You're saving it to brush on the crust.
Add the wet ingredients (minus the egg white) to the dry, and stir / cut in until incorporated.
Gather the dough into 2 balls and form into disks. Wrap in plastic wrap and refrigerate.
While the crust is resting, make the filling: Combine the apples, coconut palm sugar, arrowroot powder,  lemon juice and cinnamon. Use your hands to mix it all up and get all of the slices coated.
Remove the crust from the fridge. If one is slightly smaller than the other, start with that one. To roll out the dough, dust a piece of parchment paper liberally with arrowroot, and dust the dough as well. Roll out into a 10 inch round. Transfer to the pie pan by picking it up with the parchment paper, and flipping it into the pan. (Alternately, place the pie pan on the crust and gently slip your hand under the parchment to raise it up and flip it into the pan)
Brush the bottom crust with egg white.
Pour the apple filling into the bottom crust and arrange to be as even as possible.
Repeat step 9 with the top crust. Pinch and fold the edges together to form the outside edge, and crimp.
Bake in the center rack of your oven for 30-35 minutes, or until deep golden brown. Loosely cover the pie with a sheet of aluminum foil and bake another 25-30 minutes. Allow the pie to cool completely before cutting.
All of the links on zenbelly.com are for information purposes, however some are affiliate links to books, products or services. Any sponsored posts are clearly labelled as being sponsored content. Some ads on this site are served by ad networks and the advertised products are not necessarily recommended by Zenbelly.