(I know it's silly because it's Tuesday but this is where we are now, and I won't ever complain about a Beautycounter sale!)
Now through Monday, save 15% off SITEWIDE! PLUS get FREE shipping on all orders over $50!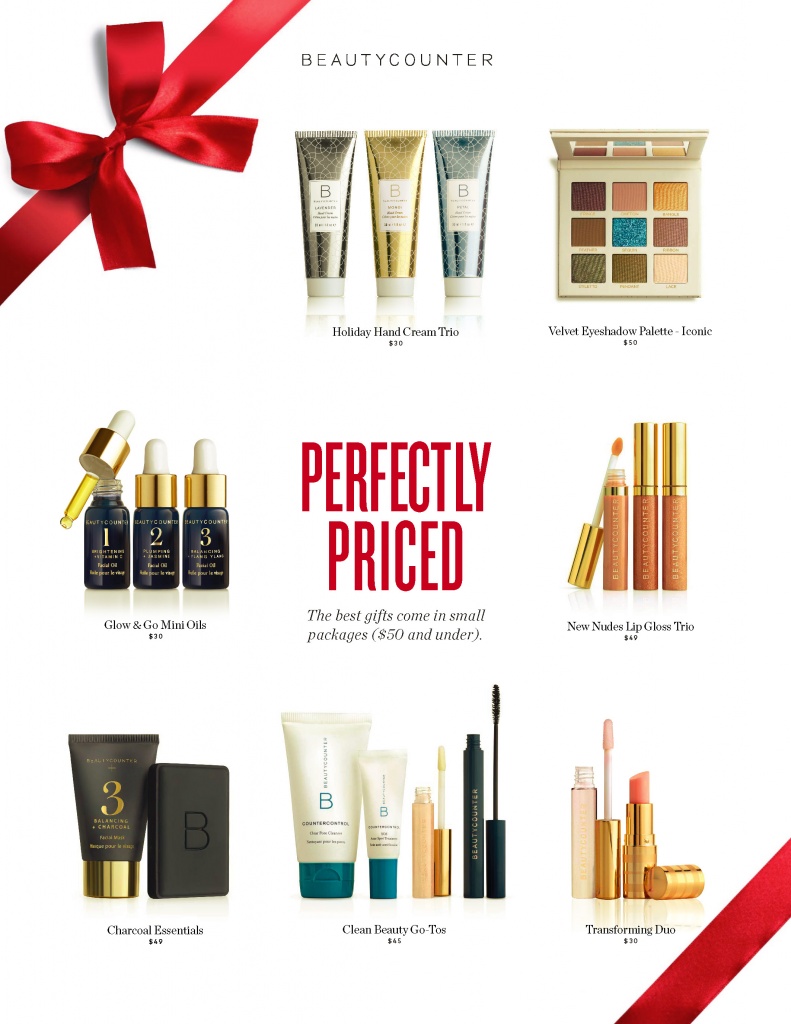 Stock up on your Beautycounter essentials today and get a head start on your holiday shopping! So many safer, high-performing products! Where to start?
Here are some of my Holiday favorites:
1.Instant Awakening Trio ($89 $76.75) – I don't know about you, but the darkness under my eyes gets more noticeable this time of year. (#stress) We all love the best selling Overnight Resurfacing Peel and the Illuminating Cream is becoming a quick favorite as well!! Can we also talk about how awesome the Eye Revive Cooling Masks are! This set is a must to gift to yourself!
2. Transforming Lip Duo ($30 $25.50) – Okay this stuff has earned a permanent spot in my purse, it's my favorite ever lip stuff! It's a transforming lip tint that creates a custom color on everyone. I had no idea that transforming lipsticks were such a thing, but I guess Dior has one that is very popular. I am seriously in love with this set, I am not a huge lipstick person, so this is the perfect amount of color and shine! This is a great gift for anyone.
3. Holiday Hand Cream Trio ($30 $25.50 for 3!) – I ordered two of these as soon as they were available and will probably order more. They are perfect for having in your bag, are carry-on friendly, make great stocking stuffers, teacher gifts, or to throw in a gift bag that just need that one extra thing. LOVE.
4.Mini Lip Glass Vault ($89 $75.65) – You have to have color choices, right? So naturally I love this set of 10 mini glosses. I think everyone can pull off all of these colors. All of the shades are sheer and shiny (this is not sticky gloss, let's rejoice in that fact) and I haven't tried a color I haven't loved. They're all sheer enough to work on everyone.
5. Counterman Travel Set ($45 $38.25) – Men care about their skin and health too!! The set includes a dopp kit with a daily exfoliating cleanser, smoothing shaving cream, cooling aftershave tonic and an oil free face lotion. This set sold out in a day last year! We have more sets this year, but don't wait to buy this one!
Shop the full holiday collection HERE
---
Have you joined Band of Beauty yet?
You don't need to sign up for any kind of membership to buy Beautycounter products, but they have an amazing loyalty program for those of us who shop with Beautycounter regularly:
When you sign up, you get a FREE full-sized product as a complimentary gift (Countermatch Adaptive Body Lotion – $39 value) for signing up, 15% back in products credits for every purchase and FREE shipping on all orders over $100.
If you're going to shop with Beautycounter more than once or twice, this is seriously a must!
Add the BoB Membership to your cart for $29 (one-year membership) to start shopping the holiday collection and racking up your product credits.
All of the links on zenbelly.com are for information purposes, however some are affiliate links to books, products or services. Any sponsored posts are clearly labelled as being sponsored content. Some ads on this site are served by ad networks and the advertised products are not necessarily recommended by Zenbelly.