This berries and cream roulade is the result of a week's worth of aggravation. It's a good thing it's so delicious. And if you're already saying hell no am I going to attempt that, please stay with me. It's A: not that hard and B: I'm giving you an even easier option. And C: it's going to be scrumptious even if it winds up looking like a hot mess.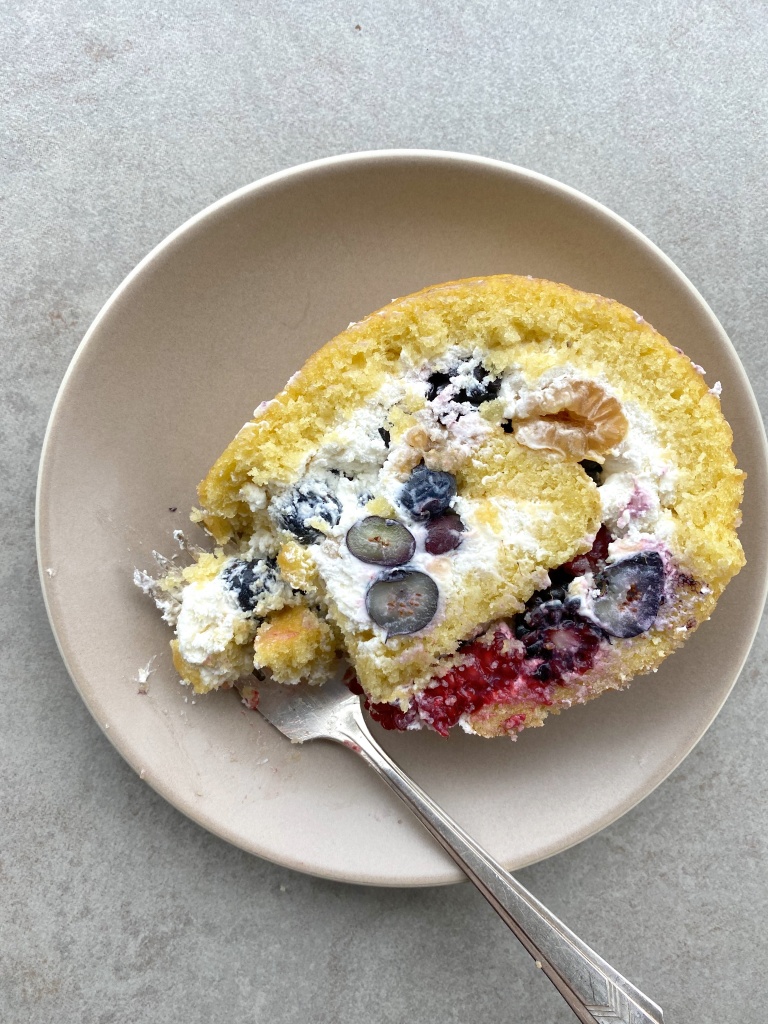 A berries and cream roulade is like summer, all rolled up.
It started when I purposely bought too many berries at the farmers market on Sunday, thinking I'd make some kind of berry dessert with them. A trifle perhaps. Or a berry custard tart. I won't bore you with the details, but the week progressed with much indecision (analysis paralysis, big time), several fails, and way too many wasted eggs and almond flour. I should probably have a cash app set up for donations. Instead, I'm just bitching about it on Instagram.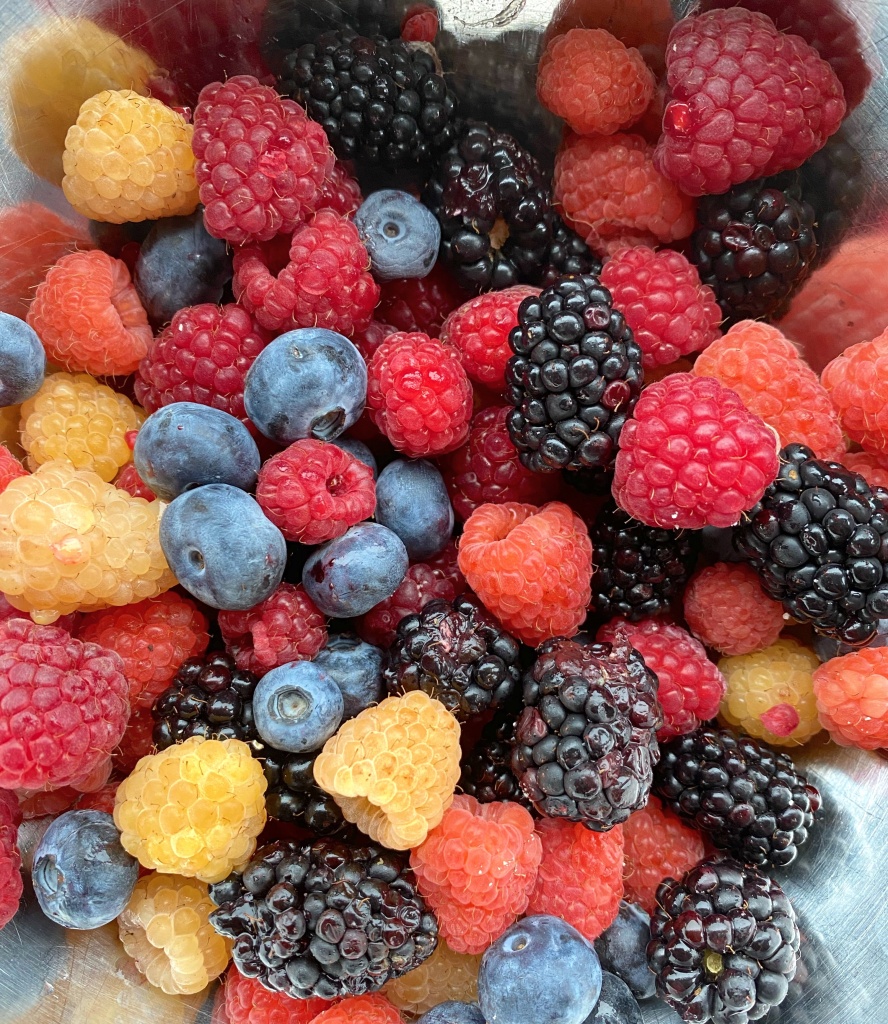 When I made the first cake that was destined to be cut up and layered into a trifle, I thought it looked like a great cake for rolling. But that didn't occur to me until after the cake was already cool. And as you'll see in the instructions, you want to roll up the cake when it's still warm, as a way of giving it some muscle memory, so to speak.
I tried it anyway. This was one of the 234523 times this past week I changed my mind about what this dessert was going to be, if you're keeping track.
It was tasty, but didn't roll quite how I wanted; I've watched too much Great British Baking Show and heard Mary, Pru, and Paul all commenting on how there "wasn't quite enough of a spiral". No Hollywood handshake for me.
Bake, fail, bake, fail all week long and after making this last attempt, was so irritated that I still wasn't happy with it. The cake cracked and the spiral still wasn't perfect. And then Simon came home after being gone all week and ate a slice and said it was really, really good.
It occurred to me that I was being more of a perfectionist than was necessary and I'm not, in fact, competing in the British Bake Off. This berries and cream roulade checked all the zenbelly blog boxes:
gluten-free? Check
dairy-free? Easily done, Check
uses the best of the season? Check
somewhat easy? Check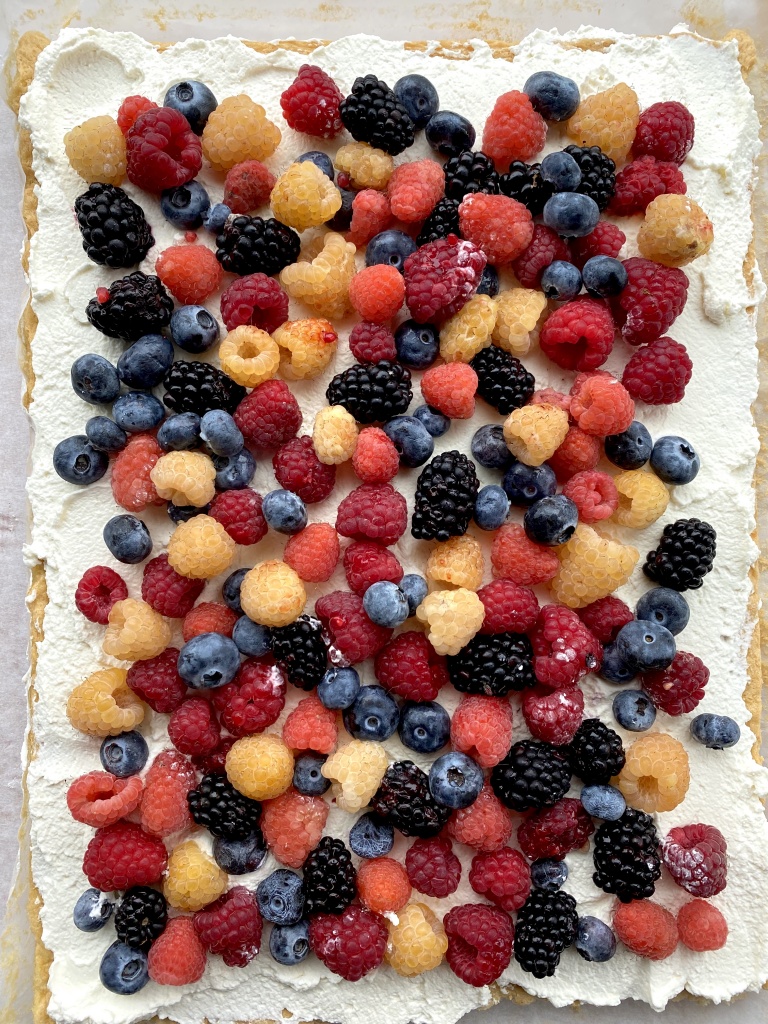 My job is to create recipes for you and this here is just that. A relatively simple recipe, even if the execution is on the tricky side. The end result will be delicious whether it's worthy of a handshake from Paul Hollywood or not. And if you are opposed to even attempting the roll up, just cut the cake in half and slather the fillings between the two layers.
The cake for this berries and cream roulade is an olive oil cake, which might be my new favorite. It's dairy-free, not too sweet, and has a lovely crumb. I'm already dreaming up all sorts of cakes I can make with this terrific cake as the base.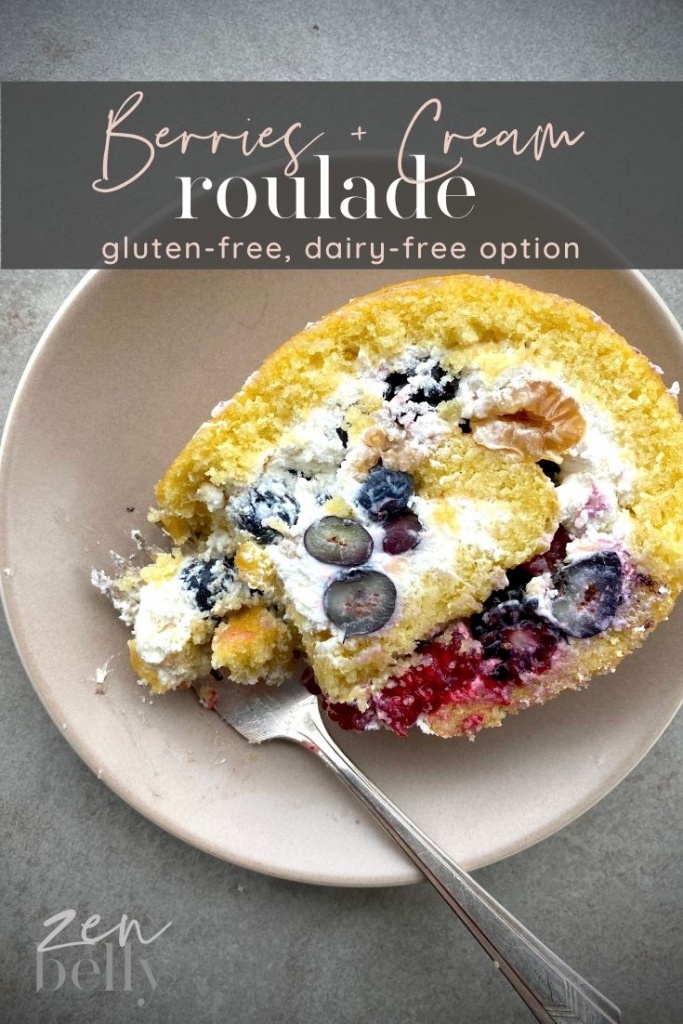 Print
Berries and Cream Roulade
Author:

zenbelly

Prep Time:

30 minutes

Cook Time:

10 minutes

Total Time:

40 minutes, plus time to cool

Yield:

8-10 servings

Category:

dessert

Method:

bake
---
Description
A not-so-difficult summer dessert that can easily be even easier that what's pictured; simply cut the cake in half and stack the layers instead of rolling. 
---
for the cake:
1 1/2 cups

almond flour

1/2 cup

tapioca starch or arrowroot starch

1 teaspoon

baking powder

1/4 teaspoon

finely ground sea salt

1/2 cup

sugar

4

large eggs

1 teaspoon

vanilla

1/2 cup

extra virgin olive oil, plus more for greasing the pan
for the filling
1 cup

heavy cream or full fat coconut milk*

2 tablespoons

powdered sugar, plus more for dusting

1/2 teaspoon

vanilla extract

3 cups

fresh berries (I used raspberries, blueberries and blackberries, but use whatever looks good! If using strawberries, chop or slice them to about the same size as the other berries)
---
Instructions
for the cake
Preheat the oven to 350. Grease a jelly roll pan (15×10) with olive oil, line it with parchment paper, and lightly grease the parchment.
In a medium bowl, whisk together the almond flour, tapioca starch, baking powder, and sea salt.
In the bowl of a stand mixer, or a large bowl with hand beaters, beat the eggs and sugar until lighter in color, fluffy and thick, about 3-5 minutes. Add the vanilla and with the beaters running, drizzle in the olive oil. Fold the dry mixture until just combined.
Pour into the prepared pan and bake for 10 minutes, or until it just bounces back to the touch in the center.
Five minute after removing from the oven, turn the cake onto a tea towel that's been liberally dusted with powdered sugar. Starting at one of the shorter ends, roll the cake up with the towel. (so you have a shorter, fatter roll instead of a longer, skinnier roll). Allow it to cool wrapped up like this. 
Once the cake is cool, whip the cream until stiff peaks form. You want it just past the point of where you'd want whipped cream to be, but don't let it turn into butter! Right before it's where you want it, beat in the powdered sugar and vanilla.   
Carefully unroll the cake, leaving it on the towel. Spread the whipped cream over the entire surface, leaving about an inch at the end (opposite end of where you started the roll from) Cover the whipped cream with the berries, lightly pressing them in. 
Using the towel to help, gently roll the cake back up, making sure the seam is at the bottom. If desired, dust with powdered sugar. 
---
Notes
*if using coconut milk: refrigerate the can overnight and then open the side that was on the bottom, without shaking first. Pour off the liquid (you can save it for smoothies or soups or anything else) and use just the thicker fat that's in the bottom of the can. 
Keywords: roulade, berries and cream roulade
All of the links on zenbelly.com are for information purposes, however some are affiliate links to books, products or services. Any sponsored posts are clearly labelled as being sponsored content. Some ads on this site are served by ad networks and the advertised products are not necessarily recommended by Zenbelly.