I am very excited.
In about a month, Simon and I will be spending 3 days in Austin for PaleoFX. While there, I expect we'll hear some inspiring talks from amazing speakers, see some old friends and meet some new ones. Oh and I'll be doing a cooking demo, which I'm equally excited and horrified about.
Trying to decide on a dish to demo is the exact type of situation that sends me directly into a mindset I like to call holycrapI'msooverwhelmed. How am I supposed to pick ONE dish to demo with all of the choices I have? Do I do something simple? Complex? Meat? Vegetable? Pasta? (just seeing if you're paying attention). This is about the time I start asking my friends what they would do, and usually don't take any of their advice (I'm overwhelmed, remember?)  Johnny from Eating For Idiots said I should do something that people tend to think is difficult, but is actually quite simple, like mussels. Brilliant!
So I didn't totally take his advice, but it was surely my inspiration for what I did decide to do for my cooking demo. It's one of San Francisco's signature dishes, and one of my favorites. Fish and shellfish quickly simmers in a light fennel scented tomato broth. It's quick. It's simple. And it's perfect for either a weeknight meal or an elegant dinner party.
I hope to see you at Paleo FX next month!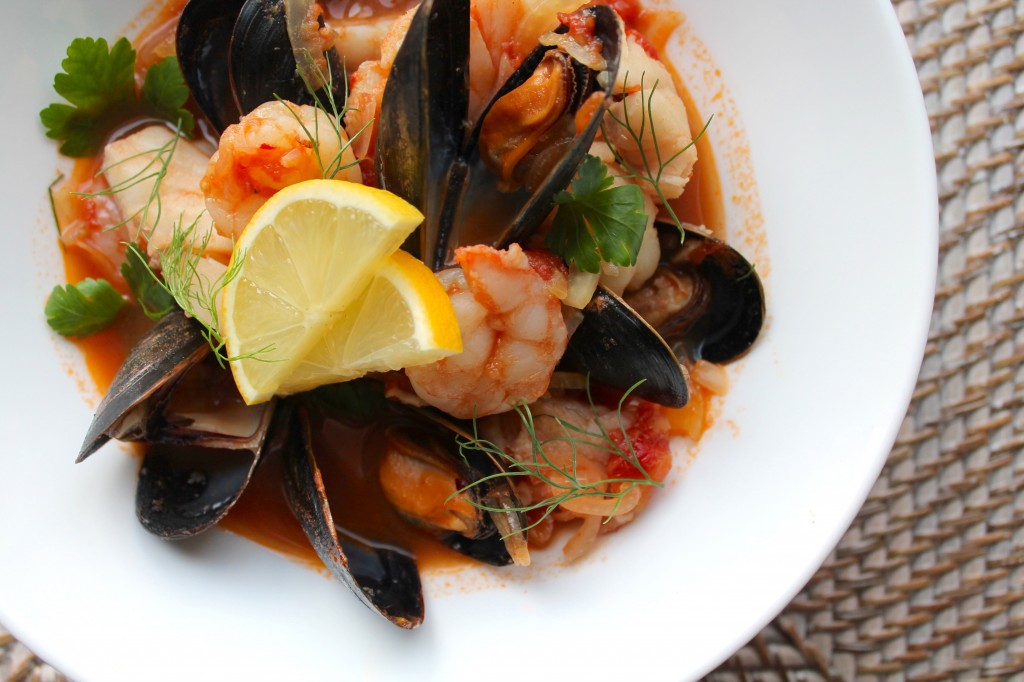 Cioppino
serves 2
¾ pound firm white fish (cod, halibut etc)
¾ pound mussels
½ pound medium or large shrimp, cleaned and deveined
1 cup thinly sliced fennel (about 1 medium bulb, fronds reserved)
1 cup thinly sliced shallots (about 2-3 shallots)
1.5 cups chicken stock
1.5 cups jarred tomatoes
¾ cup white wine
1 teaspoon Red Boat fish sauce
½ teaspoon salt
½ teaspoon red pepper flakes
1 tablespoon butter (or any good fat is fine)
1 lemon
In a medium stock pot, heat the fat and saute the fennel and shallots for 5-6 minutes over medium heat until golden brown, stirring occasionally.
Sprinkle with salt and red pepper flakes and stir.
Turn up the heat to medium-high and add the wine, chicken stock, fish sauce and tomatoes.
Simmer for 8-10 minutes, stirring once or twice.
Add the mussels and continue to simmer until the shells open, about 2 minutes.
Add the shrimp and fish, and simmer for one more minute, or until they are cooked through. It cooks quick!
Turn off the heat, and squeeze in half the lemon
Serve garnished with reserved fennel fronds and wedges cut from the remaining half lemon. (Toss any mussels that don't open)
All of the links on zenbelly.com are for information purposes, however some are affiliate links to books, products or services. Any sponsored posts are clearly labelled as being sponsored content. Some ads on this site are served by ad networks and the advertised products are not necessarily recommended by Zenbelly.