Every time I make latkes (which is much more often than once a year, due to catering) I get this song stuck in my head. And now, you can too! You're welcome / I'm sorry.
The first time I ever heard that song was on my second date with Simon, when for some reason I can't now remember, he sang it to me. Clearly at that moment, I knew he was the one.
And if you're wondering whether or not potatoes are paleo: At the risk of sounding like a total jerk, I just don't have time. Seriously, I need about 72 hours in each day this month. But let me google that for you. (feel free to ignore the first article that comes up from The Ultimate Paleo Guide, it's completely outdated and false) As always, I invite you to make your own decision regarding what works best for your unique health goals and needs.
Another fun Google search would be something like "latke recipes", which I'm guessing will yield about a gazillion variations. The possibilities are virtually endless with these fried little nuggets of potato joy, but I'm a big fan of keeping it simple, in this case.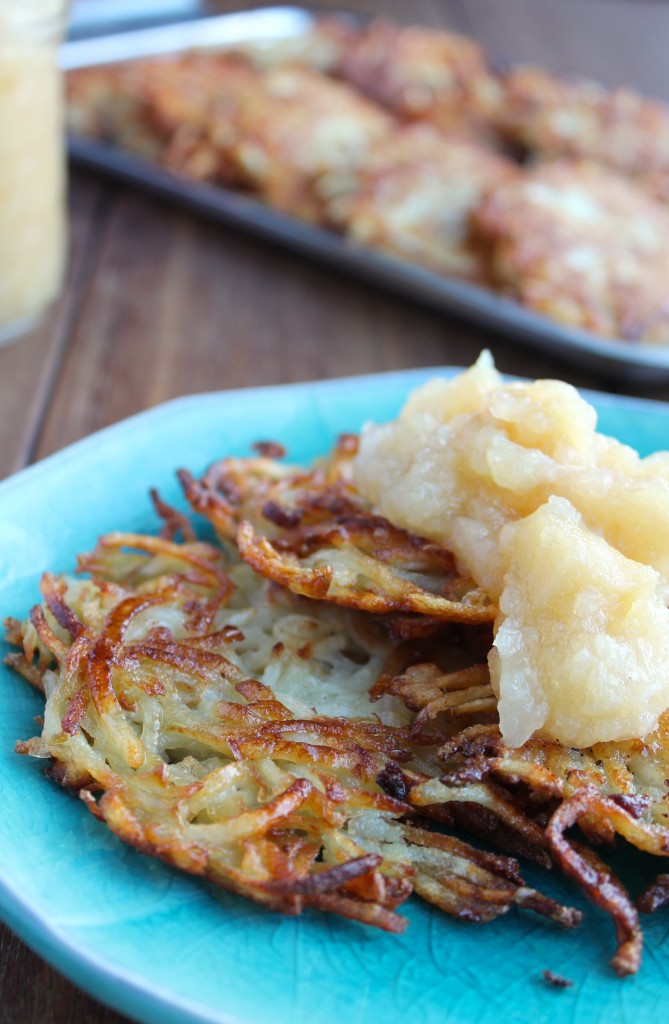 Latkes
prep time: 15 minutes, plus an hour for the potatoes to sweat
cook time: 30 minutes
yield: about 3 dozen 3 inch potato pancakes
5 pounds russet potatoes (organic!), peeled or scrubbed
1 large (3/4 pound) onion
1 tablespoon salt
5 ounces (about 1 cup) potato starch
4 eggs
2+ cups fat for frying; duck fat being the #1 choice, or you can use light olive oil or avocado oil.
Grate the potato and onion with the shredder blade of your food processor, or with a box grater
Place the shredded potato and onion in a large colander and with your hands, mix in the tablespoon of salt.
Place either in the sink, or over a large bowl. The potatoes and onion will release a lot of liquid.
In a large bowl, beat together the eggs and potato starch.
After about an hour, squeeze (and I mean SQUEEZE) as much liquid as you can out of the potatoes and onion and add to the bowl with the eggs and potato starch. Mix well. (Again, your hands are probably the best tools, here)
In a large skillet, heat 1 cup of the oil over medium heat. To test if it's hot enough, drop in a shred of potato. It should sizzle right away.
Once the oil is hot enough, drop quarter cupfuls of the potato mixture into the pan, and flatten into a pancake shape. Press down with the back of a metal spatula to further flatten. This will also help them bind.
Fry for 4-5 minutes, or until the edges are brown. Flip, and cook for another 2-3 minutes, or until golden brown.
Add more oil as needed, and make sure you let it get hot again before adding another batch of latkes.
Transfer to drain on several layers of paper towels (putting a paper bag underneath the paper towels will allow you to use less of them)
If eating right away, keep in a warm oven until they're all ready to eat. Alternately, freeze of refrigerate until ready to eat.
To reheat, bake in a single layer in a 450 oven for 5-7 minutes, or until sizzling hot.
Serve with apple sauce, either made on the stove top or in the instantpot and sour cream, if you eat dairy.
All of the links on zenbelly.com are for information purposes, however some are affiliate links to books, products or services. Any sponsored posts are clearly labelled as being sponsored content. Some ads on this site are served by ad networks and the advertised products are not necessarily recommended by Zenbelly.