I have no idea what came over me when I decided I needed to make this sweet potato pecan pie. It's not even my kind of dessert, really. I blame it on the Fall, which is when I tend to randomly get obsessed with foods I don't normally like, and am suddenly hell-bent on recreating them.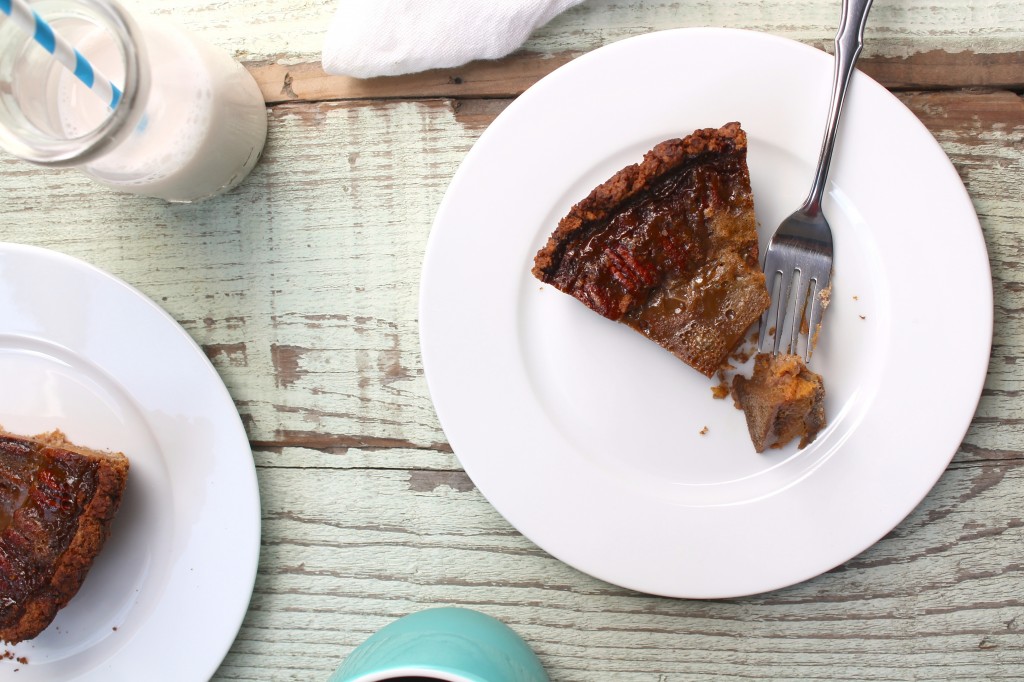 sweet potato pecan pie
When the idea of sweet potato pecan pie hit me like a ton of bricks last week, I immediately got online and started researching recipes. Holy. Sugar. Batman.
One of the recipes I looked at had:
1/2 cup cane syrup in the sweet potato filling
and
1/2 cup granulated sugar
1/2 cup firmly packed light brown sugar
1/4 cup light corn syrup in the topping.
My teeth hurt just thinking about it.
And no, the above isn't from a Paula Dean recipe, in case you're wondering. When scrolling through recipe searches, there are some that I just don't open, based on the "chefs" that wrote them. Paula is on that list. She gets no love from me.
My version of this recipe is still nowhere near sweetener free; that just won't happen with this type of pie. But since sweet potatoes are already sweet, I added just a little honey to the filling, and cut back on the sweetener in the topping by more than half. And I only used a touch of corn syrup. Just checking if you're still reading. 😉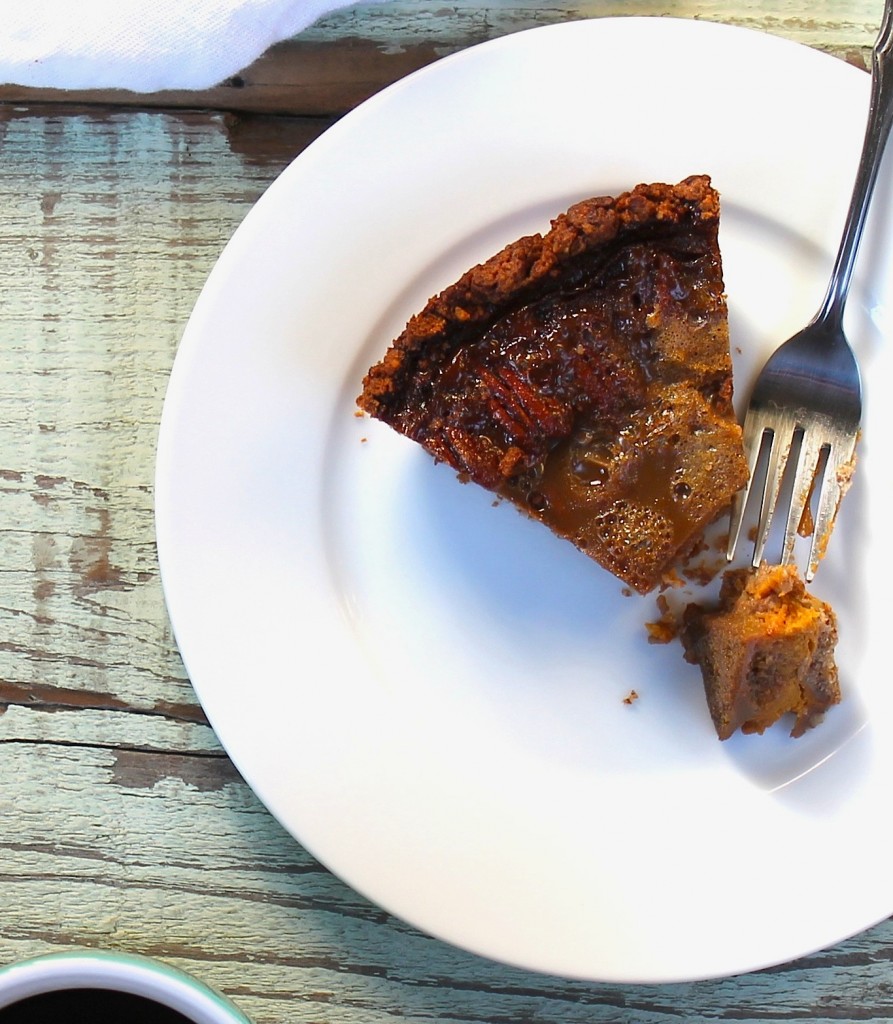 sweet potato pecan pie
For the crust:
1 ½ C pecans
1/2 cup plus 2 tablespoons arrowroot (plus more for dusting)
1 tablespoon coconut flour
⅛ t salt
2 tablespoons butter, (coconut oil for a dairy-free version)
2 tablespoons honey
1 egg yolk
For the sweet potato filling:
1 1/2 cups cooked mashed sweet potato
2 T honey
1 t cinnamon
½ t ground ginger
½ t freshly grated nutmeg
1 egg
For the pecan topping:
1 cup pecans
3 eggs
1/4 cup honey
1/4 cup coconut sugar
1 teaspoon vanilla extract
Make the crust:
Preheat oven to 350.
In the bowl of your food processor, pulse the pecans with the arrowroot, coconut flour and salt 8-10 times or until they are as finely ground as you can get them without turning it to butter.
Add the butter, egg yolk and honey and blend until combined.
Press the dough into a pie pan and set aside. Wipe out the bowl of your food processor. (you'll use it again)
Make the filling:
Blend the sweet potato, 1 egg, spices, and honey in the food processor until well combined. Spread into the prepared crust.
Top the crust with the remaining 1 cup of  pecans; you can either arrange them decoratively, or just pour them on.
In a medium bowl, beat together the 3 eggs, honey, coconut sugar, and vanilla extract. Pour the mixture over the pecans.
Bake for 30-35 minutes, or until the crust is browned. Cover it loosely with foil and bake another 15-20 minutes, or until the filling is set.
Allow to cool before serving.
All of the links on zenbelly.com are for information purposes, however some are affiliate links to books, products or services. Any sponsored posts are clearly labelled as being sponsored content. Some ads on this site are served by ad networks and the advertised products are not necessarily recommended by Zenbelly.