Are you a card carrying member of the paleo police? Well then jackpot. I'm totally busted. The following recipe for gluten-free sourdough stuffing is not grain-free, and is made with actual bread. Gluten-free bread of course, I haven't jumped the shark.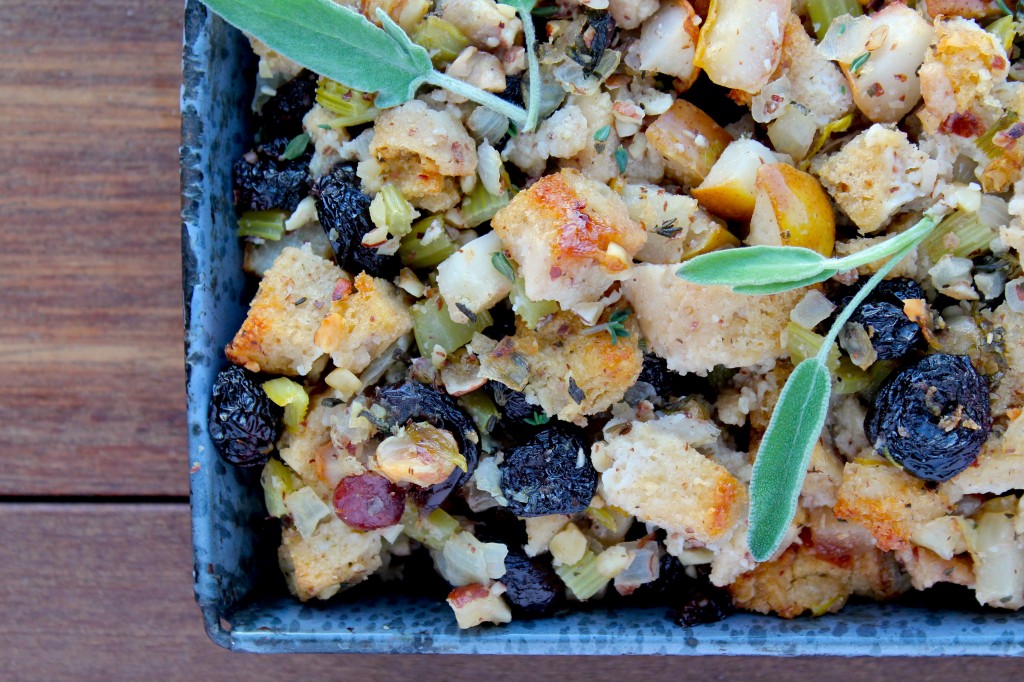 gluten-free sourdough stuffing
If you've been to this blog before, you probably know that I am mostly paleo. I'm not religious about it, and I've found a balance that works for me. I strongly believe that food should bring nourishment and joy. For me, one really can't exist without the other.
So I woke up on Monday with a hankering to create a sourdough stuffing for this years' Thanksgiving, just because. So I headed to the best little market in the sunset, Noriega Produce, and picked myself up a loaf of Bread SRSLY gluten-free sourdough. (If you're not local, you can have this extremely legit San Francisco sourdough shipped to you).
Please note that I'm not suggesting that you purchase a loaf of highly processed  gluten-free bread with 37 ingredients for this recipe. We're still talking real food here, yes? Get the good stuff. It's worth it!
If my other favorite stuffing wasn't mostly pork, I might have added prosciutto to this one. But for the sake of balance, I thought it would be nice to have a meat-free option. It would be a lovely addition, though, if you'd like to add some to yours.
And yes; I know that technically if it's not actually stuffed in the turkey, it's called dressing. I really can't explain why, but unless it's going on a salad, that word just doesn't feel right to me. No one ever says "My favorite dish at Thanksgiving is dressing", even if their favorite thing is stuffing that's cooked in a casserole dish instead of in a turkey. Right?!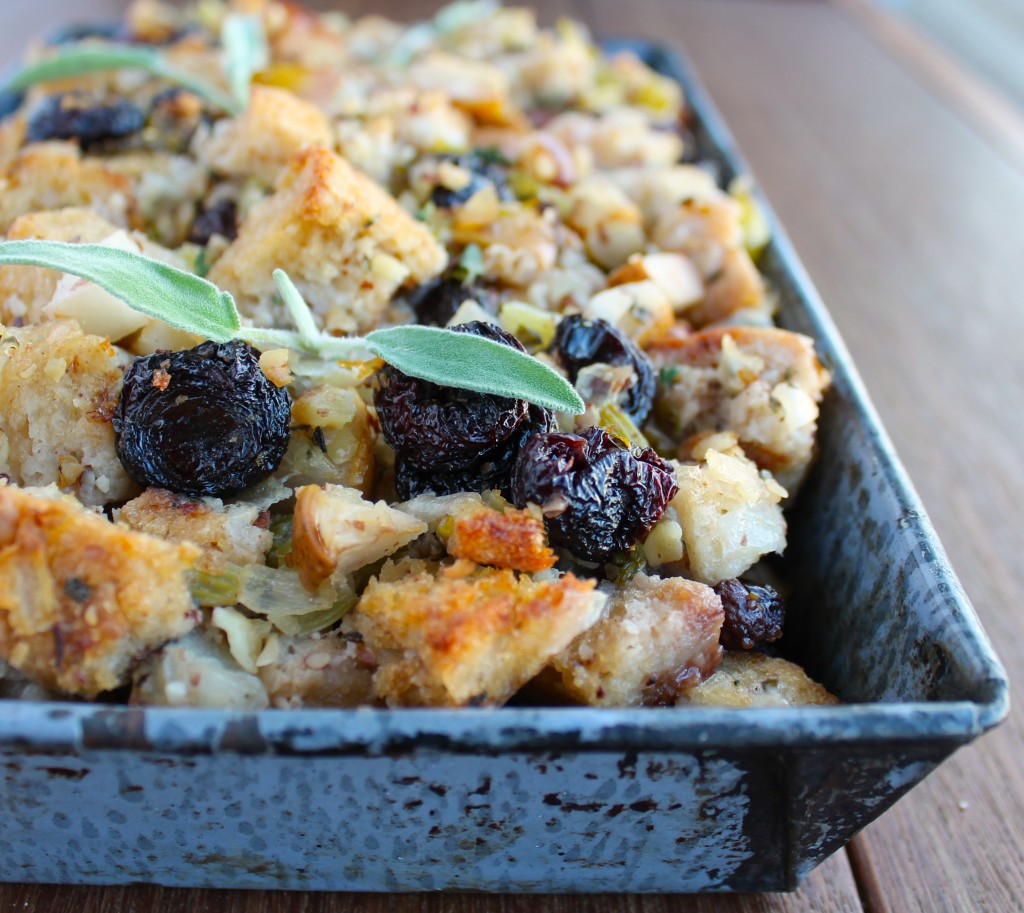 gluten-free sourdough stuffing with cherries, pears & hazelnuts
makes one 9 x 13 inch pan
1 loaf gluten-free sourdough bread, cut into 1/2 inch cubes, about 8 cups
5 ounces hazelnuts
8 tablespoons butter, divided, plus more for greasing the pan
1 extra large onion (about 1 pound), small dice
8 ounces celery (about 1/2 bunch), small dice
2 pears (about 1 pound), small dice
8 ounces dried cherries
2 cups chicken or turkey broth
1 tablespoon fresh sage, minced
2 tablespoons fresh thyme, minced
1 teaspoon salt
preheat oven to 350. Butter a large baking dish.
Toast bread cubes for 10-15 minutes, until well toasted.
Chop the hazelnuts by hand, or pulse them several times in a food processor to get them finely chopped. Toast in the oven for 5-7 minutes, or until fragrant. Set aside.
In a large skillet, melt half of the butter over medium heat. Add the onion and celery to the pan and stir to mix with the butter. Add the salt after a few minutes, which will help bring the liquid out of the vegetables. You want them to sweat, not brown, so turn down the heat if they are cooking too fast, and stir it often. After 10-12 minutes, the vegetables should be pretty soft.
Add the pears and cherries to the pan, and cook for another 3 minutes, stirring often.
In a large bowl, mix together the bread, herbs, broth, hazelnuts, vegetables and fruit. Pour into the prepared baking dish.
Dot the top with the remaining butter.
Bake for 25 minutes covered, and then 35-40 uncovered.
All of the links on zenbelly.com are for information purposes, however some are affiliate links to books, products or services. Any sponsored posts are clearly labelled as being sponsored content. Some ads on this site are served by ad networks and the advertised products are not necessarily recommended by Zenbelly.