I was pretty sure I didn't need another kitchen gadget, but it appears I was mistaken.
For my birthday last month, my wonderful mama bought me an Anova Culinary Precision Cooker, which is an immersible sous vide machine. Until recently, sous vide cooking required a big old contraption that took up a bunch of counter space, and that was only when the method started to become popular in home kitchens. Before that, you'd really only find them in fancy restaurant kitchens.
The incredible thing about the Anova Culinary Precision Cooker is that it doesn't take up a single square inch of counter space. Want more pros? It's easy to use, and it makes a simple salmon supper otherworldly. Seriously, I've never had better salmon than salmon that was cooked with this method.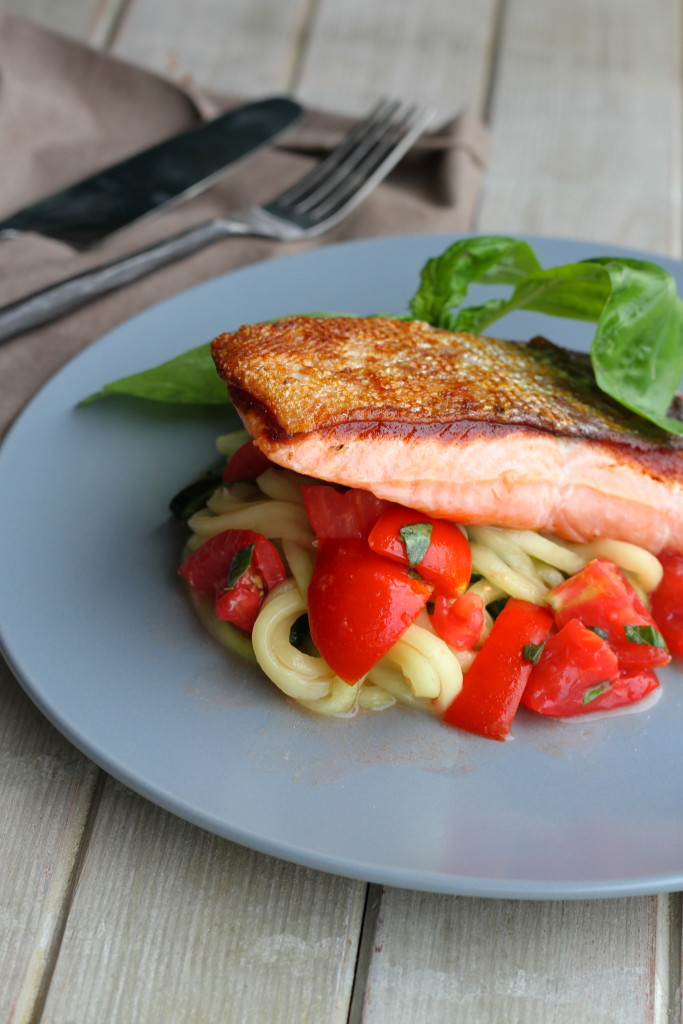 Crispy Skin Sous Vide Salmon
prep time: 5 minutes
cook time: 15 minutes, plus time to brine
serves: 2-4 (for a main course, 6 oz per person is a good portion)
For the brine:
1/4 cup sea salt
1 tablespoon honey
1/2 cup boiling water
2 cups ice water
1 pound salmon, cut into portions
2 tablespoons extra virgin olive oil (I love Kasandrinos*)
1 tablespoon ghee (I love Tin Star Foods)
Dissolve the salt and honey in the boiling water. Add the ice water.
Place the salmon in a shallow baking dish that it just fits in and pour the brine over it. Refrigerate for 30-60 minutes.
After 30-60 minutes, remove the salmon from the brine, give it a quick rinse and pat dry. Gently vacuum seal each portion in its own bag, dividing the olive oil among them.
Notes:
1. If using a vacuum sealer that doesn't have different settings, stop the vacuum action before it compresses the salmon too much; the flesh is delicate and you don't want to break it. 
2. If you don't have a vacuum sealer, you can simply use Ziploc bags and squeeze as much air out as possible. 
Set the sous vide to 125° F / 52° C. Once the temperature is reached, submerge the salmon for 15 minutes, or until cooked through. Once you see the albumen (white protein) start to release from the fish, it is done.
Remove the fish from the bags and pat dry. Heat a large skillet over medium-high heat and add the ghee. Once shimmering, add the salmon, skin side down, and sear for 2-3 minutes, or until crispy, and releases easily from the pan. Serve skin side up over your favorite veggies or salad. Pictured here is a simple zucchini noodle salad made with early girl tomatoes, white balsamic, extra virgin olive oil, basil, garlic and sea salt.
* Save 10% on your entire order at Kasandrinos when you enter zenbelly at checkout!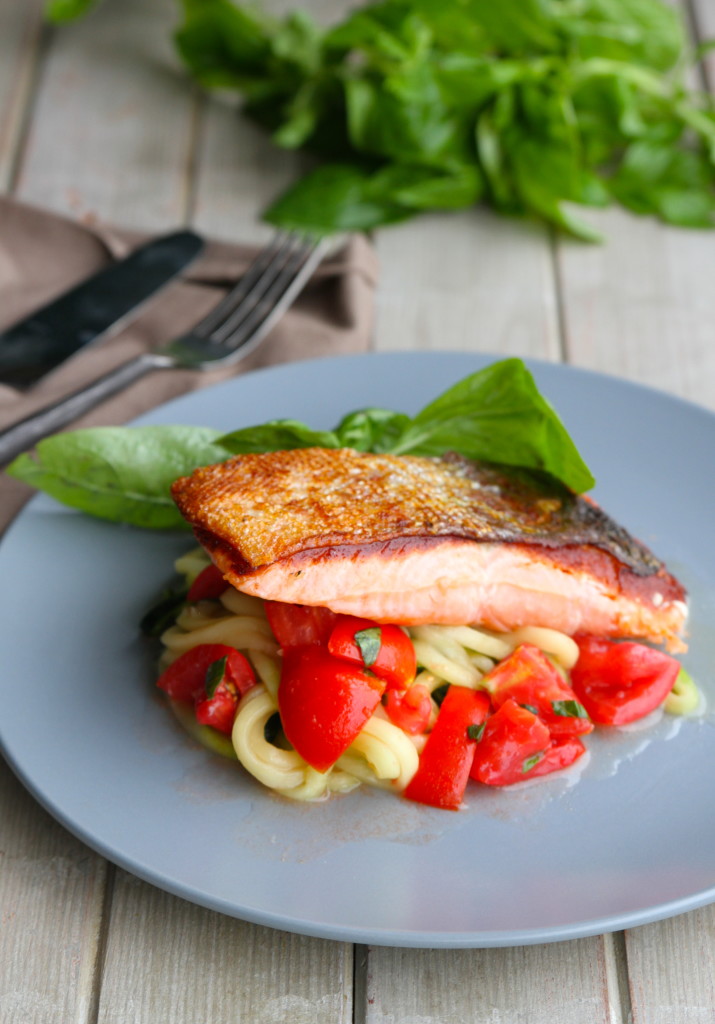 All of the links on zenbelly.com are for information purposes, however some are affiliate links to books, products or services. Any sponsored posts are clearly labelled as being sponsored content. Some ads on this site are served by ad networks and the advertised products are not necessarily recommended by Zenbelly.