I'm super excited.
My good friend and work wifey, Jennifer Robins of Predominantly Paleo fame releases her first cookbook TOMORROW!
Down South Paleo is the mother lode of your Southern Food favorites, adapted to fit a gluten-free or Paleo lifestyle. It's got comforting southern dishes like Home-Style Chicken Fried Steak + Cream Gravy, Down Home Chicken + Dumplings, Soulful Collard Greens + Crisped Bacon and Deep South Grain-Free Grits. But she didn't stop there, and included Cajun classics such as Gulf Coast Fried Shrimp + Remoulade Sauce, Creamy Cajun Chicken + Pasta, and Cajun-Spiced Chicken Wings. And since Jennifer is a Texas girl, you know she included some Tex-Mex favorites, too: Chile con Queso + Grain-Free Tortillas, Lone Star Huevos Rancheros, Gringo's Slow Cooker Tortilla Soup, Tex-Mex Taco Salad + Chipotle Ranch Dressing, just to name a few! But what about desserts, you ask? Oh yeah, there are desserts. Bourbon Street Bread Pudding + Caramel Sauce, Emerald Coast Key Lime Pie + Coconut Whipped Cream, and Mixed Berry Cobbler are on my list to try.
Today, I chose to make the Grain-Free Chocolate Zucchini Bread, and have to say I've got no regrets. It was incredibly simple to make (hello, blender!) and I even had all of the ingredients on hand. (Gotta love that!) And of course it made the house smell amazing, and tastes spectacular. Perfect with tea, and a great way to use up your summer zucchini harvest!
Jennifer graciously gave me permission to share this exclusive recipe with you- enjoy!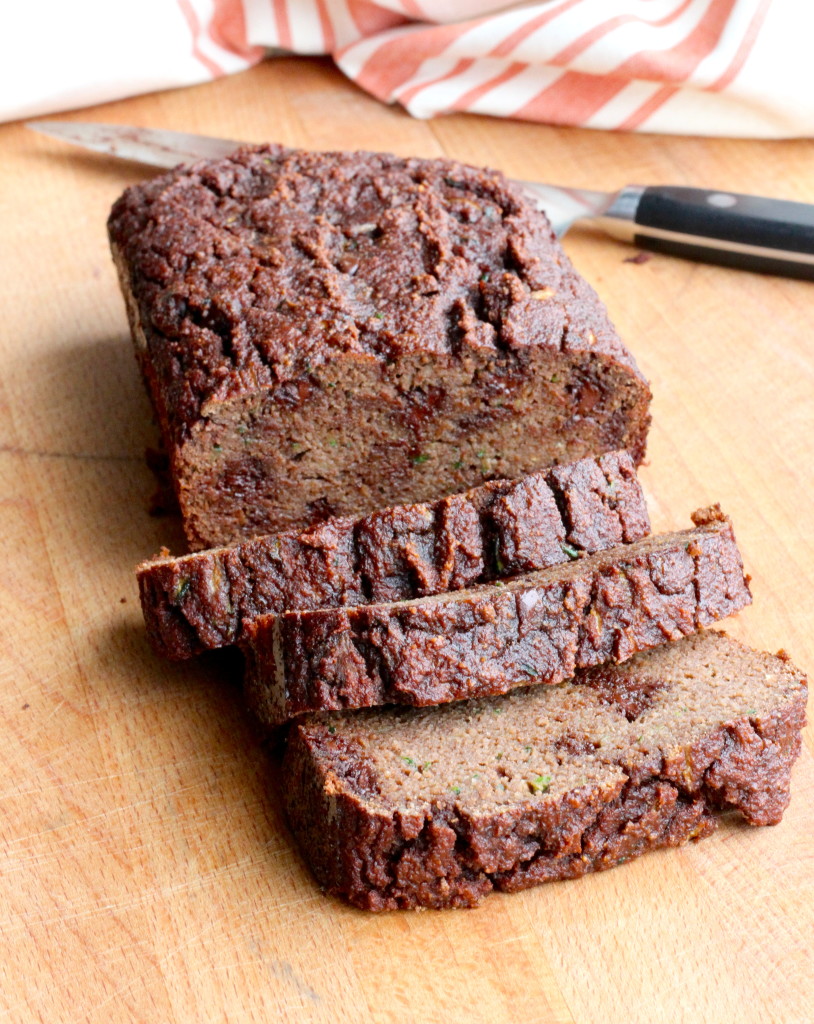 Grain-Free Chocolate Zucchini Bread from Down South Paleo
Yield: 8 servings
4 pastured eggs
1 banana
2 tablespoons cocoa powder
1/4 cup (60 ml) pure maple syrup
1/2 cup (60 grams) coconut flour
1 teaspoon baking soda
1 tablespoon coconut oil, melted
1/4 teaspoon sea salt
1 teaspoon (3 grams) ground cinnamon
1/4 teaspoon ground nutmeg
1 medium zucchini, shredded
1/2 cup (90 grams) dairy-free chocolate chips (optional- I opted!)
Preheat the oven to 350°F (180°C, or gas mark 4)
In a blender, combine all the ingredients except the shredded zucchini and optional chocolate chips. Blend well until combined and then pour the batter into a mixing bowl. The batter will thicken slightly over the next few minutes. Fold in the shredded zucchini and chocolate chips (if using) and stir well. Pour the mixture into a greased loaf pan (glass preferred) and bake for about an hour, or until a toothpick inserted into the center comes out clean. Let cool, then gently pry it away from the sides of the pan and invert onto a plate. Invert again. Slice and serve warm.
ORDER DOWN SOUTH PALEO BY JENNIFER ROBINS HERE! 
All of the links on zenbelly.com are for information purposes, however some are affiliate links to books, products or services. Any sponsored posts are clearly labelled as being sponsored content. Some ads on this site are served by ad networks and the advertised products are not necessarily recommended by Zenbelly.