I am not a martini drinker, nor am I a girly drink drinker. I'm somewhere in the middle- I like my cocktails booze-forward, but not necessarily ALL booze. A dry martini is a tough one for me to get through. But a martini that is infused with some interesting and balanced flavors that don't overwhelm or make it too sweet? That's my kind of drink.
This cucumber martini is just that; Being mostly gin, it's definitely still a martini. But the muddled cucumber brightens it up, the St Germain adds just a touch of floral sweetness, and the olive oil adds an unexpected touch of richness. You might think adding olive oil to a cocktail is just crazy-talk; I'll admit I was skeptical at first too. But definitely give it a try. It rounds out the drink quite nicely, and if you're using good quality olive oil, it will add some great flavor, too.
Lost in a sea of olive oil and not sure which one is best? That's easy. It's Kasandrinos. And you can get 10% off your order this month when you enter zenbelly15 at checkout. SHOP HERE.
St Germain is an elderflower liqueur that has the incredible ability of making just about every drink better. It comes in a large bottle that will last you a very long time, and is absolutely worth adding to your liquor cabinet.
You're going to need a good muddler for this- you want to basically turn the cucumber into juice. If you don't have a muddler, but you do have an immersion blender, feel free to give it a few pulses with that instead.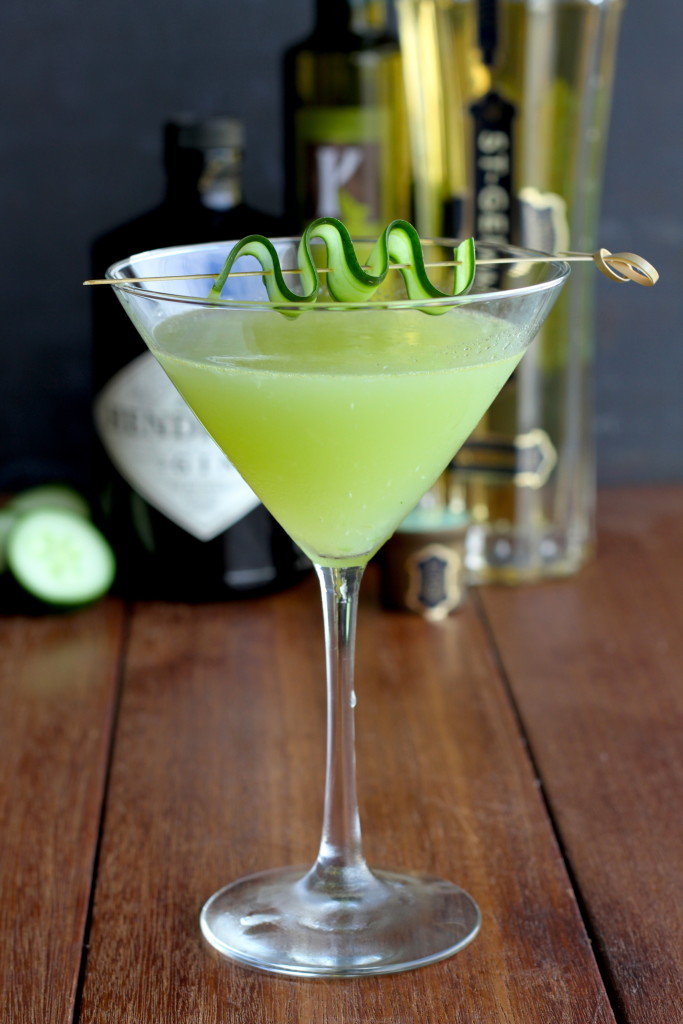 The Cucumber Martini
for one drink:
3 1-inch slices cucumber
1/2 ounce (2 teaspoons) lime juice
1/4 ounce (1 teaspoon) St Germain
1.5 ounces gin (I like Hedricks)
1/2 teaspoon Kasandrinos extra virgin olive oil
a handful of ice
cucumber ribbon or slice, for garnish
Chill a martini glass.
In a cocktail shaker, muddle the cucumber until it's just about liquified. Add the ice along with the lime juice, St Germain, gin and olive oil. Pop on the lid and give it a good shake. And then shake it some more. You'll want to get the olive oil as emulsified as possible, which will take some serious shakin'.
Strain into the chilled glass and garnish with the cucumber ribbon.
PIN THIS RECIPE: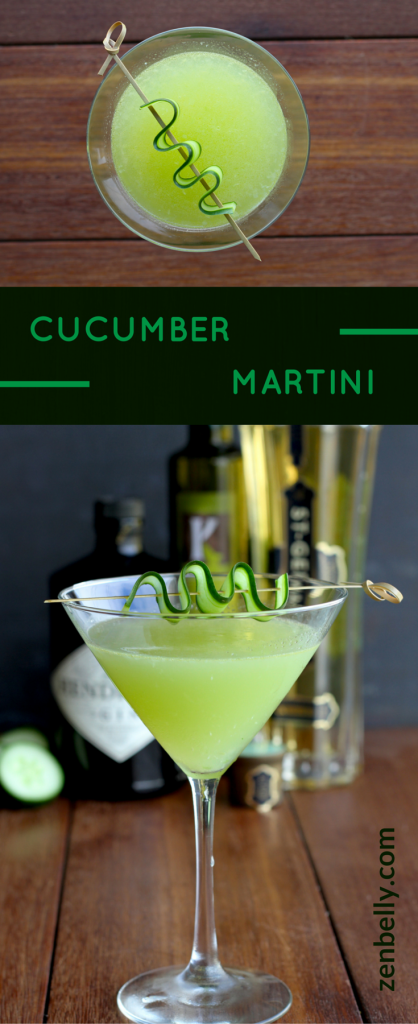 All of the links on zenbelly.com are for information purposes, however some are affiliate links to books, products or services. Any sponsored posts are clearly labelled as being sponsored content. Some ads on this site are served by ad networks and the advertised products are not necessarily recommended by Zenbelly.