For some reason, when Simon and I hear the word donut, we can't stop thinking about them. We watched a movie once where donuts were an underlying theme, and after the movie ended, it was all we could talk about. Being from opposite sides of the country, we have different donut memories. I could rattle off just about every option on the Dunkin Donuts menu, and Simon, being from San Francisco, prefers his donuts to be overpriced and smug. No I'm kidding. I actually don't know what kind of donuts he likes. That's because while he was telling me, I wasn't really listening, but instead was still dreaming about my Dunkin faves: glazed, Boston cream, and those insanely good glazed chocolate cake ones.
With Hanukkah coming up, I really wanted to create a donut recipe worthy of the Festival of Oil Lights. And to pay homage to my East Coast upbringing, just had to make them apple cider donuts. (my other fond donut memory is one of apple picking and apple cider donuts) While the classic version is simply rolled in cinnamon sugar, I also included a recipe for a chocolate glaze. Because: chocolate.
Each coating recipe makes enough for the entire batch, so you can make one or both.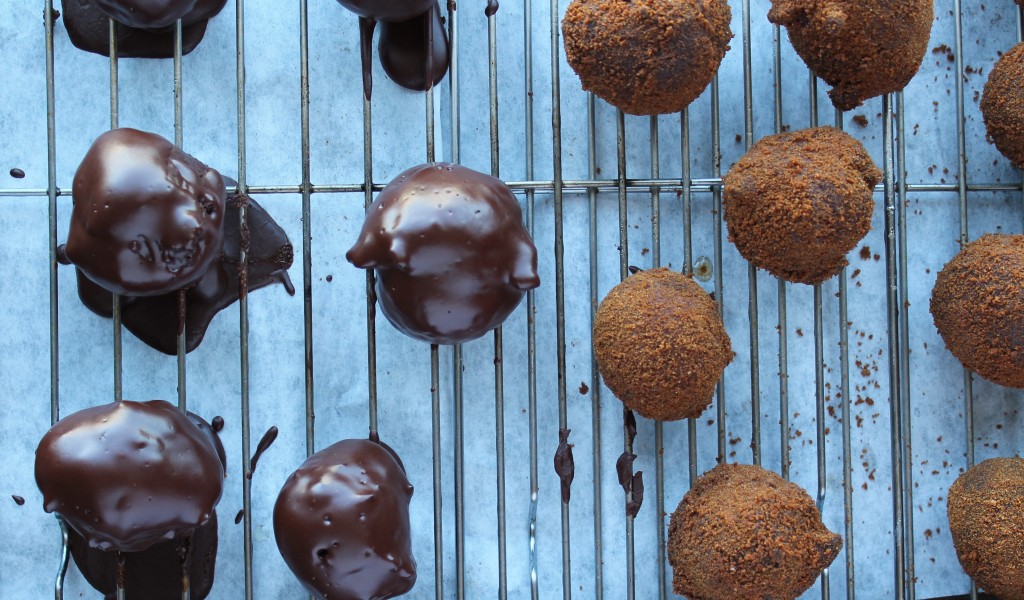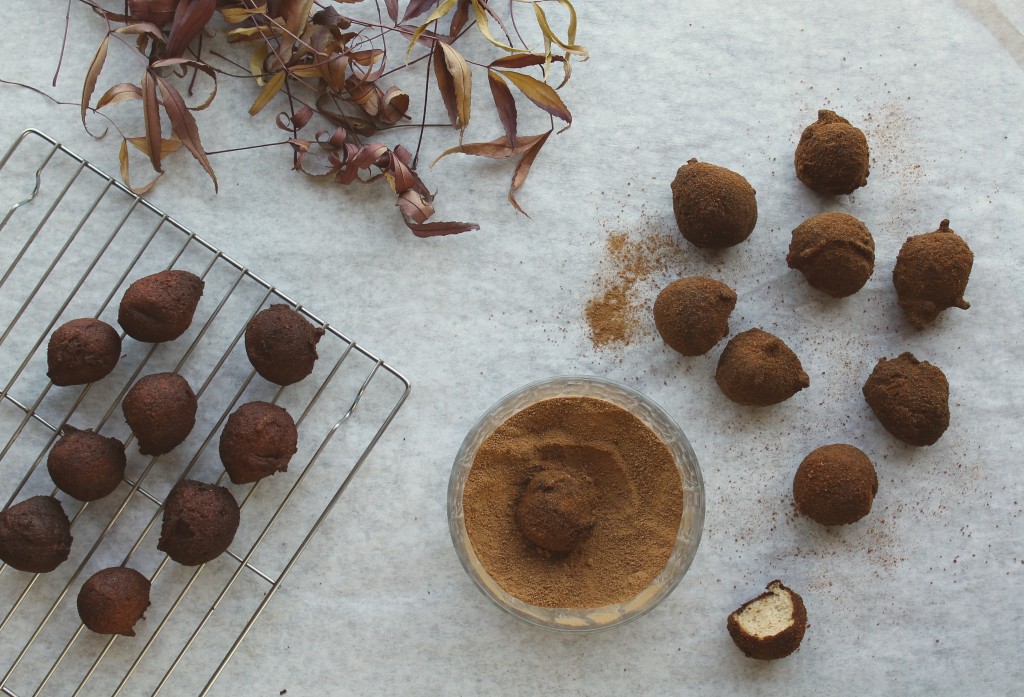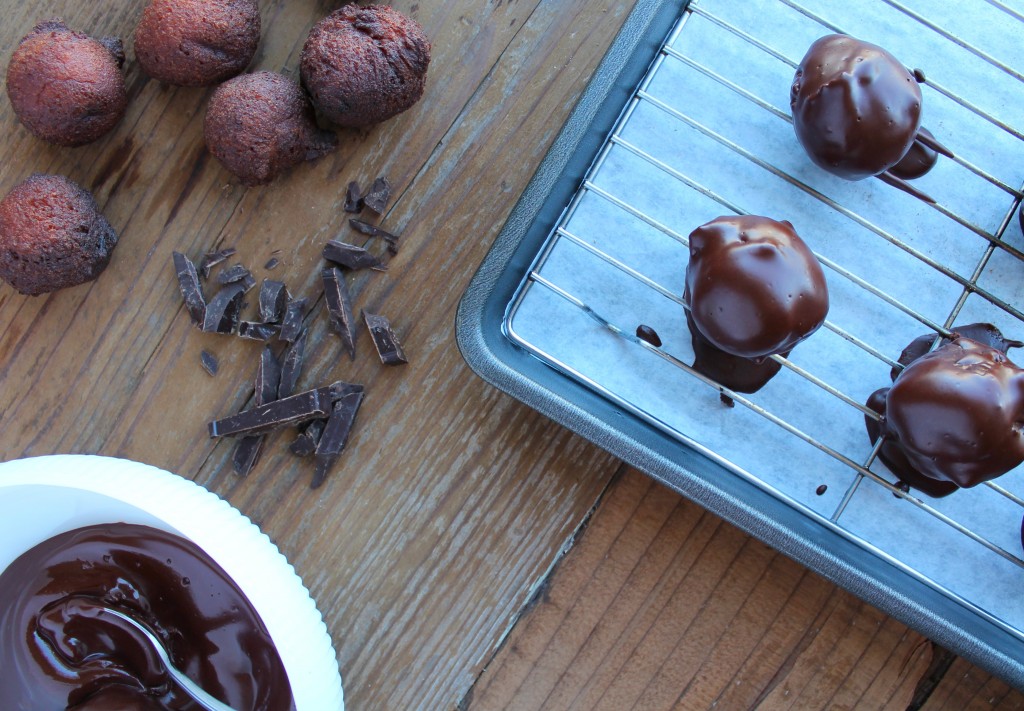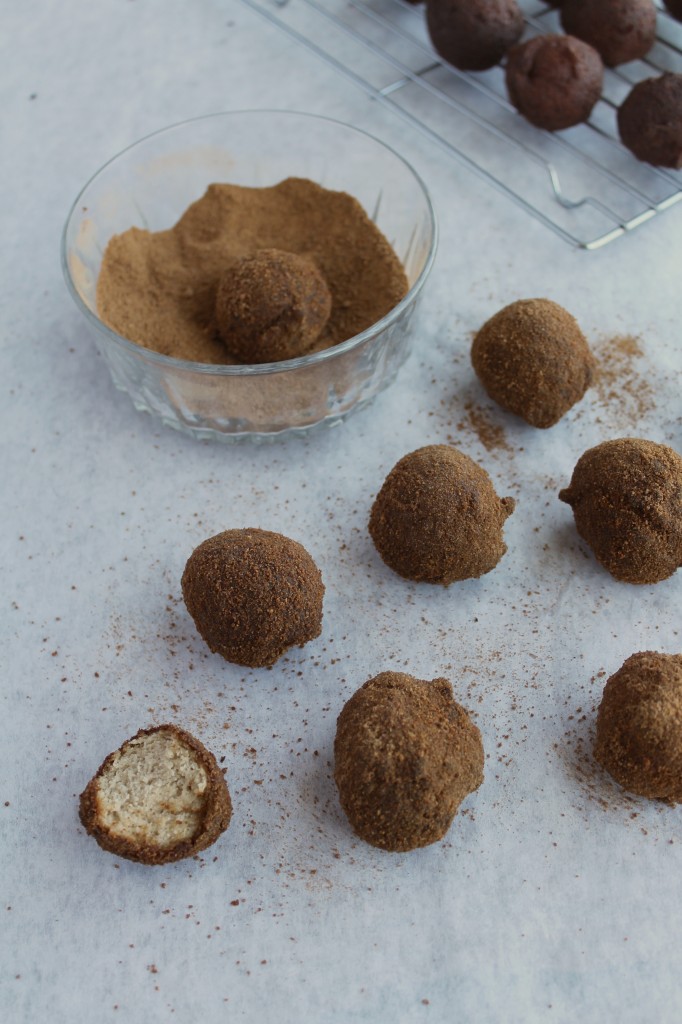 donut holes, 2 ways
makes 25-30 donut holes
for frying:
1.5-2 cups light olive oil or coconut oil
for the donuts:
2/3 cup arrowroot powder
1/2 cup coconut flour (more if needed, see note)
1/2 teaspoon baking soda
1/4 teaspoon salt
4 eggs
1/4 cup honey
1/2 cup apple cider
In a medium sauce pan, heat the oil to 360. (If you don't own a deep-fat thermometer, just  heat the oil over a medium flame, until it's hot. You obviously don't want it to smoke, but it will start to shimmer. A small drop of dough dropped in should sizzle enthusiastically the moment it hits the oil)
In a medium bowl, whisk to combine the arrowroot, coconut flour, baking soda and salt.
In a large bowl, beat to combine the eggs, honey, and apple cider.
Pour the dry ingredients into the wet, and Stir to combine. You want to get rid of all the lumps. The batter will be somewhat thin, like pancake batter.
Let it sit for one minute to thicken. (see note below)
Once the oil is hot, drop the dough into it with either a small cookie scoop, or two spoons. You want to aim for about 1 tablespoon per donut. Drop in 8-10 donuts per batch.
Fry for 3-4 minutes, flipping several times. To make sure they're done, cut one in half and check the inside before removing the remainder of them. (If you follow me on Instagram, you can watch the video of these donuts frying, where they flip themselves!)
Remove with a slotted spoon onto a metal rack over a baking sheet.
Repeat with the remaining dough.
for the cinnamon sugar:
1/3 cup coconut palm sugar
1 tablespoon cinnamon
Combine the sugar and cinnamon in a small bowl. Roll the donuts in the mixture.
for the chocolate glaze:
4 ounces unsweetened chocolate
2 tablespoons coconut oil
1/4 cup honey
In a double boiler over steaming water, melt the chocolate and coconut oil.
Stir in the honey
Allow to cool to room temperature before dipping in the donuts. The glaze will be quite thin when warm, and won't adhere to the donuts until it's cooled down a bit. But act quickly once it's the consistency of warm pudding! The window here is small, and the glaze will harden quickly. If it does, simply reheat enough to make it fluid.
Dip the donuts in the chocolate glaze and remove to a wire rack over wax or parchment paper to catch the drips. It will harden once cool.
NOTE: Coconut flours can vary greatly, and depending on which one you're using, you might need more for this recipe to work: If after a minute the batter isn't thick enough to scoop and drop into the oil in a solid mass, add one more tablespoon coconut flour and stir. Allow to sit for another 30 seconds to one minute, and keep adding if necessary. It takes a minute to absorb, so give it time to do its thing.
All of the links on zenbelly.com are for information purposes, however some are affiliate links to books, products or services. Any sponsored posts are clearly labelled as being sponsored content. Some ads on this site are served by ad networks and the advertised products are not necessarily recommended by Zenbelly.