This recipe is part of my review of the Blendtec Designer Series Blender with Twister Jar. To enter to win one for yourself, click the image below!
This giveaway is now closed.

 

I can't take credit for the genius of this recipe. I found my inspiration for it in Where There's Smoke by Barton Seaver. The original recipe calls for cooking the squash in a bed of hot embers, which sounds downright dreamy. But I recognize that not everyone has hot embers at their disposal, so this method might not be practical for all. If you do, please go make the recipe exactly as he wrote it. Skip the baguette, obviously, but if you eat the occasional gluten-free sourdough, order yourself some Bread SRSLY. SRSLY. The ingredients are super clean, and this stuff is legit, made the right way right here in San Francisco. If you're local, check their site for Good Eggs delivery options and local markets that carry it. And if you're not, you're in luck because they recently started shipping their sourdough breads all over the country.
I swear I don't get paid to say any of the above. I don't even get free bread! I just really appreciate the fact that there's a good option for when I feel like jumping off the paleo wagon and having a damn good sando.
Back to the matter at hand: Hummus, sans garbanzos.  I made this recipe for the first time for a special table to farm dinner I did last month. It was part of the second course, which was homemade fresh beef sausage, smoked squash hummus, fennel kraut, shaved apples, and micro greens. Yet another example of just how tough it is to eat paleo; it's just so restrictive. Poor us.
And if you're still sad, because now you have HUMMUS, but no PITA BREAD, dry your eye. Because Predominantly Paleo has grain-free pita for you.
Here we are in action, plating it up: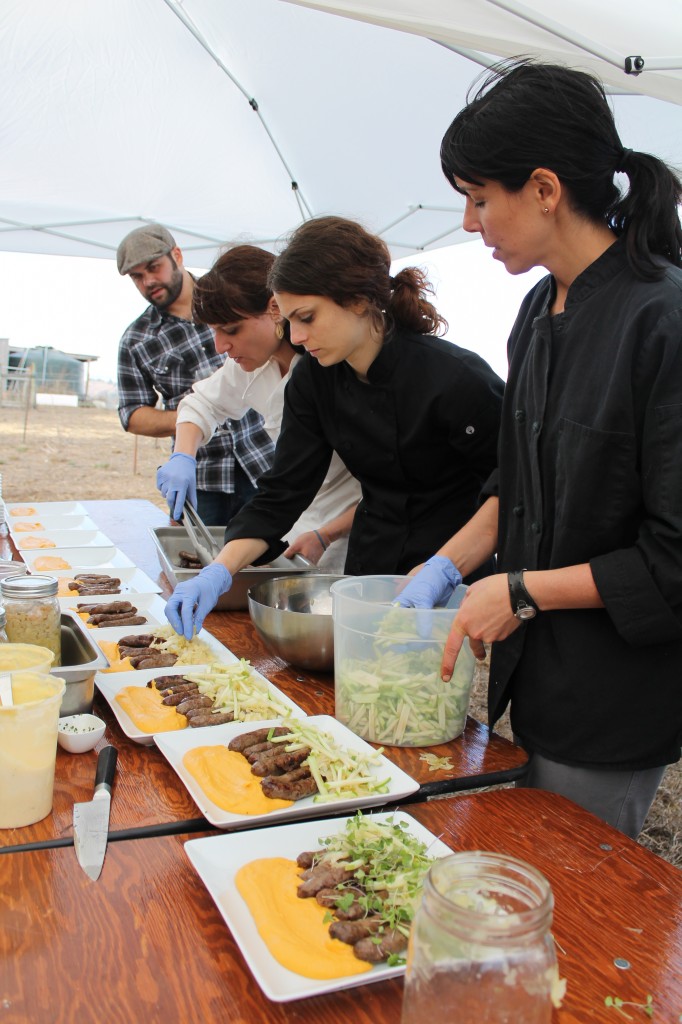 When I made this hummus for the dinner, I threw it in the smoker for an hour, and then roasted it until it was super soft. But I wanted to even further adapt this loveliness for those of you who would like to prepare the entire dish from the comfort of your kitchen. Roasting the squash in the oven with smoked paprika gives it the essence of smokiness that you'd get from roasting it in embers. Not the full effect, but it's still delicious.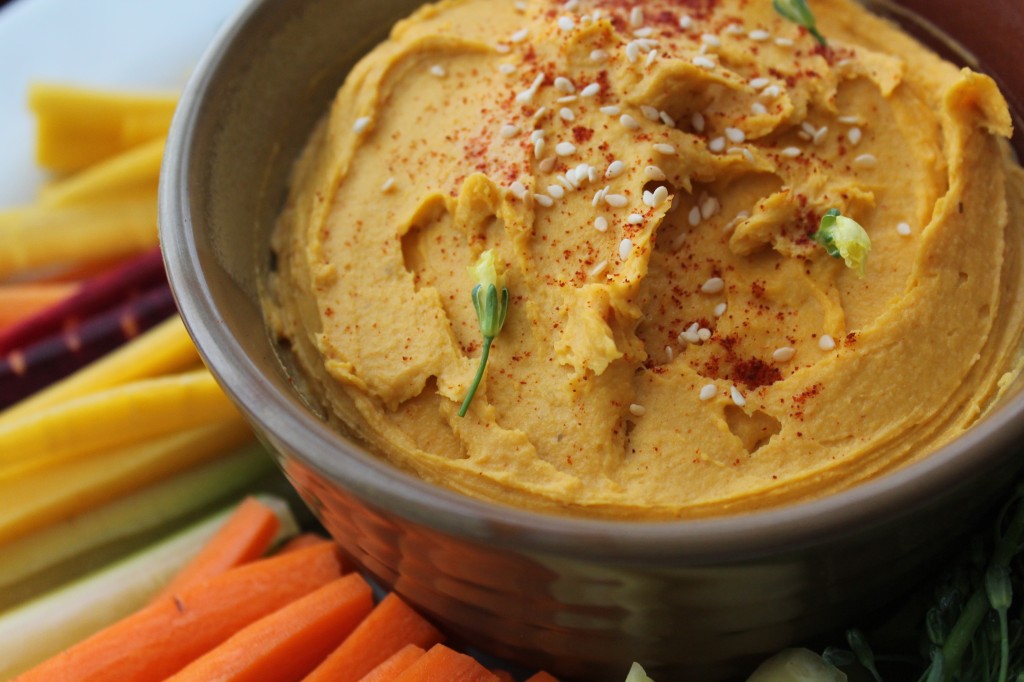 smoked squash hummus
For the squash
3 pounds squash, diced in one inch pieces (about one medium butternut, or your favorite hard squash)
1 tablespoon olive oil
1/4 teaspoon salt
1 teaspoon smoked paprika
For the hummus
1 C tahini
1/4 C lemon juice
1 C olive oil
1/8 t chipotle for a kick, or paprika for mild
Preheat oven to 425.
Toss the squash with the olive oil, salt and smoked paprika. Place on a baking sheet.
Roast squash for 25-30 minutes, or until very soft.
Once cool enough to handle, scoop out the squash into the twister jar of your Blendtec.*
Add the tahini, lemon juice, and chipotle or paprika.
Blend until smooth, using the twister top to keep everything moving.
Drizzle in the olive oil, and continue to blend until very smooth.
Season to taste with additional salt, paprika and/or cayenne, and lemon juice.
Serve with fresh veggies and/or grain-free everything crackers
* If you don't have a high powered blender, you can make this recipe in a food processor.
All of the links on zenbelly.com are for information purposes, however some are affiliate links to books, products or services. Any sponsored posts are clearly labelled as being sponsored content. Some ads on this site are served by ad networks and the advertised products are not necessarily recommended by Zenbelly.