This recipe for donuts has been a long time coming. When I created my Everything Dough and the recipes that went along with it, I just knew that there was donut potential in there.

And wouldya look at that. DONUTS.
Last year around the holidays, I tested this recipe about 12 times until I got it right. My plan was to add it to my Everything Dough ebook, since that's the recipe that inspired them, but a year has gone by and it hasn't happened. So when I decided to make them for Hanukkah this year, I figured I should just put the recipe here.
But you should still buy the ebook, there's good stuff in there 😉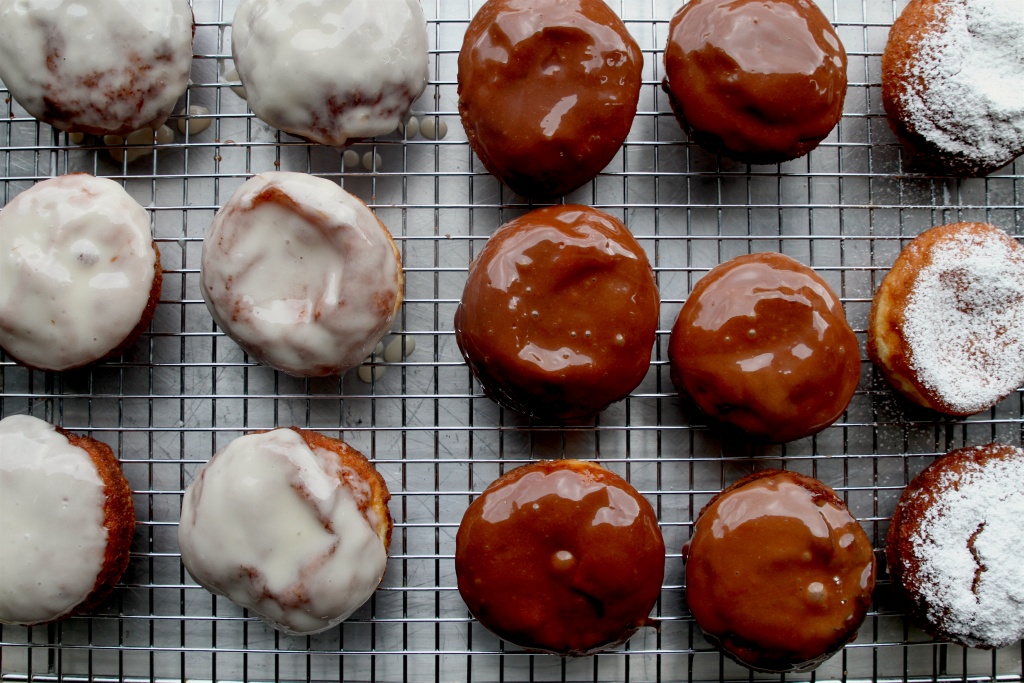 The reason these donuts don't have holes in them is because I was hoping to fill them with jelly, in true sufganiyot fashion. But I wasn't very successful in that endeavor and just got jelly all over the place.
You are more than welcome to try, though. And feel free to use a donut cutter to make them the classic donut shape! OR: if you want to go the beignet route, just cut them into squares.
Please note: This is a real donut recipe. They are not baked, which means they are not cake batter poured into a donut pan. Real donuts are made with a yeasted dough; there is some time involved. But if you ask me, they are 100% worth it.
Please also note: Donuts are best on the day they are made, preferable not long after they are fried. The ones pictured in this post were actually made the day before I photographed them, thanks to sunset being so damn early this time of year. They were even poofier the day they were made.
And I know, deep frying can be scary. I get it. But baked donuts are bullshit. I'm half kidding.
Some deep frying pointers:
Make sure the utensils you use are bone-dry. Water + hot oil is no bueno.
Only fill a pan 1/3 full with oil, max. It will expand when you add things to it, and oil bubbling over a pot is dangerous and messy. If it overflows, turn your burner off immediately.
Use a thermometer to test the oil temperature. While it is possible to wing it, a thermometer will ensure you're cooking at the right temp.
Use heat-safe utensils- no plastic!
Wear clothes. Look, I'm not judging. It's just that there is always the possibility of splattering oil, and the less exposed surface area, the better.
And never, ever, ever, ever use water to put out a grease fire! Turn off the heat and cut off the oxygen by covering it with a pan or massive amounts of baking soda, if you happen to have it handy.
Print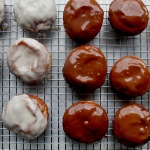 Donuts
Author:

Simone Miller

Prep Time:

30 minutes

Cook Time:

15 minutes

Total Time:

30 minutes

Yield:

18 donuts

Category:

Dessert
---
Description
real deal, fried donuts. gluten-free, grain-free and dairy-free.
---
½ cup

water (warmed to about 95ºF*)

½ cup

full fat canned coconut milk ( warmed to about 95ºF*)

1 tablespoon

active dry yeast

¼ cup

honey

3

eggs

2 teaspoons

vanilla extract

1/2 cup

(

74 grams

) potato starch, (plus more for dusting)

1/2 cup

(

70 grams

) cassava flour, (plus more for dusting)

1/4 cup

(

30 grams

)) ground psyllium husk**

¼ teaspoon

finely ground sea salt

2 ½

–

3

cups oil for frying ((something neutral tasting like avocado or light olive oil))
---
Instructions
In a large mixing bowl, dissolve the yeast in the water and coconut milk. Set aside for 5-10 minutes, it should get foamy and active.
Add the honey, eggs and vanilla extract and whisk until well combined.
Stir in the potato starch, cassava flour, psyllium husk, and salt. Whisk until thickened slightly. (At this point, it will still look more like cake batter than dough. Don't panic.)
Cover with plastic wrap and set in a warm place for 60-90 minutes. During this time, it will thicken into a dough and rise a bit. Alternately, you can refrigerate overnight.
Stir the dough and turn out onto a liberally dusted surface. (I like using a combination of cassava flour and potato starch but you could use one or the other)
Sprinkle some flour onto the dough, and knead until smooth and no longer too sticky to work with.
Roll out to about ¼ inch thick. Cut into circles with a donut cutter or wine glass, anything that's 2-3 inches in diameter will work. Lightly knead the remaining dough and repeat. If you have a few scraps left, keep them for testing the oil temperature (and eating while you fry the other donuts, obviously)
Cover with a tea towel, and let rise for 45 minutes to one hour. They will aerate a bit and become more delicate but it won't be super dramatic (again, don't panic)
In a medium pan, heat the oil to 350-375ºF. Line a baking sheet with paper towels.
Using a metal spatula, lower the donuts into the oil one by one, in batches of 3-5 at a time, depending on how many comfortably fit in your pan. Fry for 45 seconds to 1 minute per side, being careful when you flip them. Transfer to the paper towel lined baking sheet. Repeat with the remaining dough.
Dust the donuts with powdered sugar or glaze them, if desired (recipe below). You can also fill them with jelly if you are more patient than I am.
To make the glaze:
Whisk together 1/2 cup coconut milk, 1/2 cup water and 1/4 teaspoon vanilla extract. Sift in 1 cup powdered sugar and whisk until smooth.


For the chocolate glaze, I just mixed in chocolate syrup (I didn't measure, I just added until it looked right). You could also add melted chocolate, which would harden better and be less sweet! 
---
Notes
*When a drop is placed on the inside of your wrist, it should feel warm, but not hot.
**You can buy psyllium husk already ground, which works fine but is typically dark in color, and gives baked goods a strange brownish purplish tint. I prefer to buy it whole and grind it myself, either a small amount in a coffee or spice grinder, or a larger amount in my blender.
All of the links on zenbelly.com are for information purposes, however some are affiliate links to books, products or services. Any sponsored posts are clearly labelled as being sponsored content. Some ads on this site are served by ad networks and the advertised products are not necessarily recommended by Zenbelly.