Eating fantastic food with your nearest and dearest is one of life's true treasures, if you ask me. Here's how to make that experience as stress-free as possible.
In my new book, The Zenbelly Cookbook, an epicurean's guide to paleo cuisine, I share some of my favorite party menus, including one that can be almost entirely made ahead, so you can be a guest at your own party! Here are my top tips for easy entertaining, brought to you by my many years in the food business.
First things first: Have a plan.
It's important to be able to see the big picture of the event you'll be having. Is it a backyard summer garden party? An elegant dinner party? A festive holiday affair with lots of food out on a buffet? Think about the tone and style you want your event to have, and let that inspire the type of food you serve.
Plan your menu. (and what drinks you'll be serving with it)
Based on what you decide above, think about what kind of food you want to have. Consult your local seasonality guides to help you choose what produce you want to focus on. Starting with ingredients that are in season makes your job easier, because they taste better, and are often less expensive and available in large amounts. When I plan a menu for a party I'm catering, I first decide what fruits and vegetables I want to feature based on what's in season, and then consult The Flavor Bible for inspiration. Seriously, I don't ever plan a menu without consulting this book. It is my absolute favorite cooking resource. (And I don't get paid to say that, I'm genuinely smitten)
What if I told you that you could make just about everything ahead of time? Would that take away some of the stress of entertaining? Well put your party pants on, 'cause it's true! When I cater an event, I do very little actual cooking the day of. And I promise I'm not the type of caterer that serves overcooked grey meat in chaffing dishes. I'm way too snobby for that type of thing, trust me.
What can be made ahead of time (and what can't):
stews, soups, and braises: Can be made 4-5 days ahead, kept covered and refrigerated until ready to be reheated. Fresh herbs, finishing sauces, etc can be added when ready to serve. *
cakes, muffins, brownies, cupcakes, tarts, cookies, crackers, etc: Can be made 1-2 days before, wrapped tightly or stored in an airtight container. Frostings and decorations can be added the morning of your event. (If your tart of pie crust is one that gets soggy, it's best to make or fill it the day of)
cooked vegetables: Can be made 2-3 days ahead. Add fresh herbs, dressing, sauces, etc the day of. (But you can make the dressings and sauces a day or two ahead!)
raw vegetables, salads, crudité, etc: Can be prepped the morning of, or sometimes the night before. Dress salads and sauce vegetables at the last minute. (But you can make the dressings and sauces a day or two ahead!)
meats and fish (any types that shouldn't be cooked beyond a certain point): Should be cooked shortly before serving and kept warm, at a heat that won't cause them to continue to cook. Don't necessarily discount using these types of proteins because of this. Remember- if you've made everything else ahead of time, it won't be overwhelming. This is something I'd recommend for a smaller party. If you're having a large group of people, go with a stew or braise for your protein.
How much will you need?
If you're following a recipe for any given dish, it most likely has the amount of servings it will yield listed somewhere. In that case, scaling the recipe up is somewhat straightforward. As a general rule for the main course aim for 6 ounces protein and 4 ounces veggies per guest. [there are 16 ounces in a pound, so if you have 12 guests: 6×12= 72 ounces % 16 = 4.5 pounds.] Buy slightly more than you'll need, in the event that you have to trim any unwanted bits off, or plan on cutting nice even portions. If you're planning a multiple course dinner, with several smaller courses, go slightly less on your meat and veg weights. If you're not having any appetizers, and dinner will be one large course, go a little heavier. It's not an exact science, and it's always safer to err on the side of having leftovers than not having enough! For appetizers and hors d'oeuvres, it varies somewhat depending on what you're making, but I like to make enough of each small bite so that each guest can have three of each item. I tend to make bite sized meatballs that are about 1/2 ounce each, and put about 2 teaspoons of a topping on a cracker, just to give you an idea of how far any given recipe might go when converting it to an appetizer.
"What can I bring?"
Before you invite guests to your party, think about whether or not you want help, since people will inevitably ask. While the obvious answer to this question might be "YES!", it's not always the best choice, unless you're having a laid-back potluck style of party. Consider a few things before answering:
Who's asking? This sounds awful and judgmental, but if the person asking lives on microwaveable ramen noodles and TV dinners, politely decline the offer, or ask them to bring their favorite drink, or even safer, ice.
Who's coming? If your deathly-allergic-to-shellfish friend is coming, and you know how to safely cook for him or her, it's probably best to do the work instead of worrying about every dish that comes through the door. The same goes for gluten intolerance of course, or any food allergy that is a concern among you or your guests.
How much of a control freak are you? If you're anything like me, you have a very specific vision of the menu, and would rather do a little but more work than have Thai chicken skewers at your French inspired party. (Hey, I said I was a control freak, alright?!)
If you're okay with people bringing a dish, feel free to assign them something, they'll appreciate having their choices narrowed down, so don't feel bad about being specific. Asking for guests to bring things like appetizers, desserts, drinks or a side dish is totally acceptable.
What about that last minute timing business?
Don't sweat it. There is actually very little that you have to make at the last minute! And if there is something, such as fish or seared steaks, it's a breeze if it's the only think you have to worry about the timing of. First of all, don't be afraid to keep foods warm. It is nearly impossible to cook everything for a group of people at once, especially in the average home kitchen. If you are lucky enough to have two ovens, use them. Turn one on warm (170°F) so you can keep food warm in there until ready to serve it. If you're serving a soup or stew, keep it in the pot over a very low heat, covered. If you love entertaining and have room to store extra stuff, chaffing dishes are pretty reasonably priced and are a great for serving and holding foods that need to stay warm (best not to use for foods that easily overcook, since the temperature control is often a bit of a crapshoot). Also, many foods are actually better at room temperature than freezing cold. This includes salads, raw veggies and dips, cheeses, and lots of desserts.
An example menu, and prep schedule:
appetizers
BLT bites (bacon jam, arugula, and a halved cherry tomato on a grain-free cracker)
crudité with smoked squash hummus
guacamole with jicama and/or plantain chips for dipping
first course
carrot cardamom soup
main course
crispy braised duck legs with melted shallots and roasted plums (recipe in The Zenbelly Cookbook!)
mashed cauliflower
dessert
brownie a la mode (brownies, vanilla ice cream and fresh fruit, if desired)
✮  ✮  ✮  ✮  ✮  ✮  ✮  ✮  ✮  ✮  ✮  ✮  ✮  ✮  ✮  ✮  ✮
3-4 days ahead:
bacon jam
braise duck legs (store with braising liquid)
carrot cardamom soup
smoked squash hummus
2 days ahead:
mashed cauliflower
brownies
day before:
guacamole
crackers
day of (early)
slice jicama into sticks
cut veggies for crudité, arrange on a platter, cover and refrigerate
cut brownies
hummus, guacamole into serving bowls
day of (30-60 minutes before guests arrive)
reheat soup, keep warm
reheat cauli-mash, keep warm
place the duck legs and plums on a baking sheet, put the braising liquid in a sauce pan
before you serve the soup:
Preheat the oven to 450°F
reheat the sauce over low heat for 10 minutes
roast the duck legs and plums for 15-20 minutes, until the skin is crispy
after the dinner dishes are cleared:
place the brownies in bowls, top with ice cream and fruit, if using.
That was fun! Now what about clean-up?
I wish I had some magical solution to the dirty dishes that are now covering your countertops, but aside from breaking a few (oops!), I don't.  In my house, we have a cook-doesn't-clean policy, and I would make this the law of the land, if I wrote the laws. If you are throwing the party to end all parties, and have it in your budget to hire some help, go for it. You'll be glad you did.
Have any other questions about entertaining? Ask away!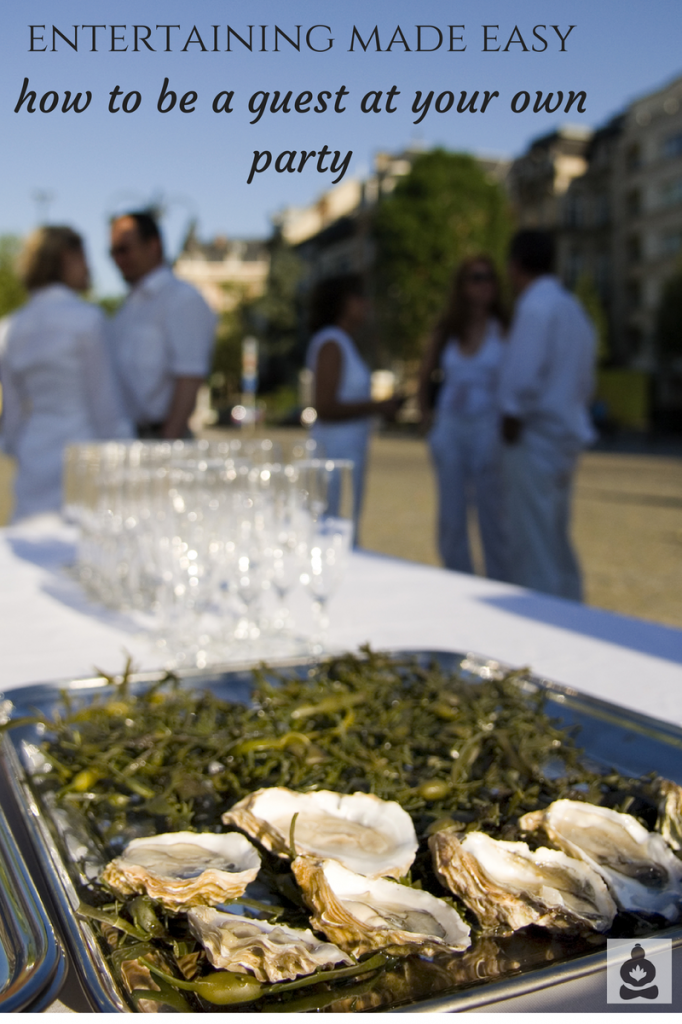 * When cooling hot food, make sure to leave it uncovered in the fridge until it is cold. If it's a soup or stew, stir it often to circulate the heat and speed up the cooling process.
All of the links on zenbelly.com are for information purposes, however some are affiliate links to books, products or services. Any sponsored posts are clearly labelled as being sponsored content. Some ads on this site are served by ad networks and the advertised products are not necessarily recommended by Zenbelly.