It is a scientific fact that anything twice-fried is delicious. I'm sure that's in a peer-reviewed study somewhere. At any rate, these Tostones are proof.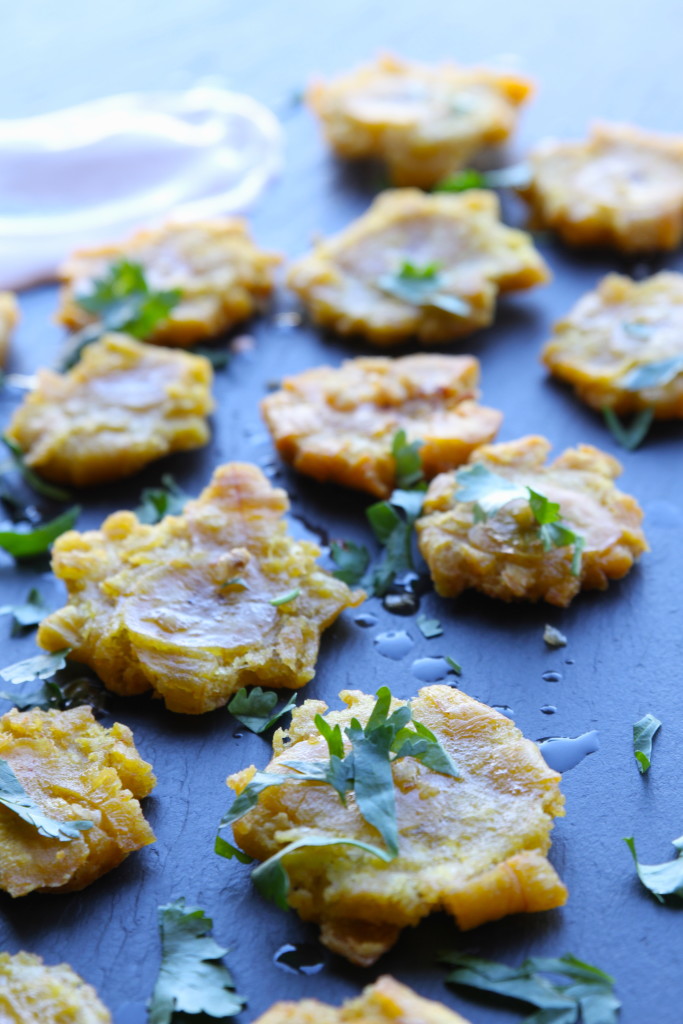 While some things are twice-(or even thrice!) fried just for fun, flavor and texture, it's required for tostones.
Once plantains are yellow (in-between ripe and unripe) you can make things like tortillas or tostadas with them. And when they're nice and ripe (yellow with lots of brown spots) you can simply sauté them until golden and eat them as a starchy side dish.
But these? These are made with green, or unripe plantains, meaning they need to be cooked before they're cooked. Fried, and fried again is the way to go.
I love a couple of these with some eggs for breakfast, topped with kalua pork or picadillo for a fun appetizer, or simply as a side dish for grilled chicken or steak. And there's nothing wrong with just eating them like French fries, dipped in chipotle aioli.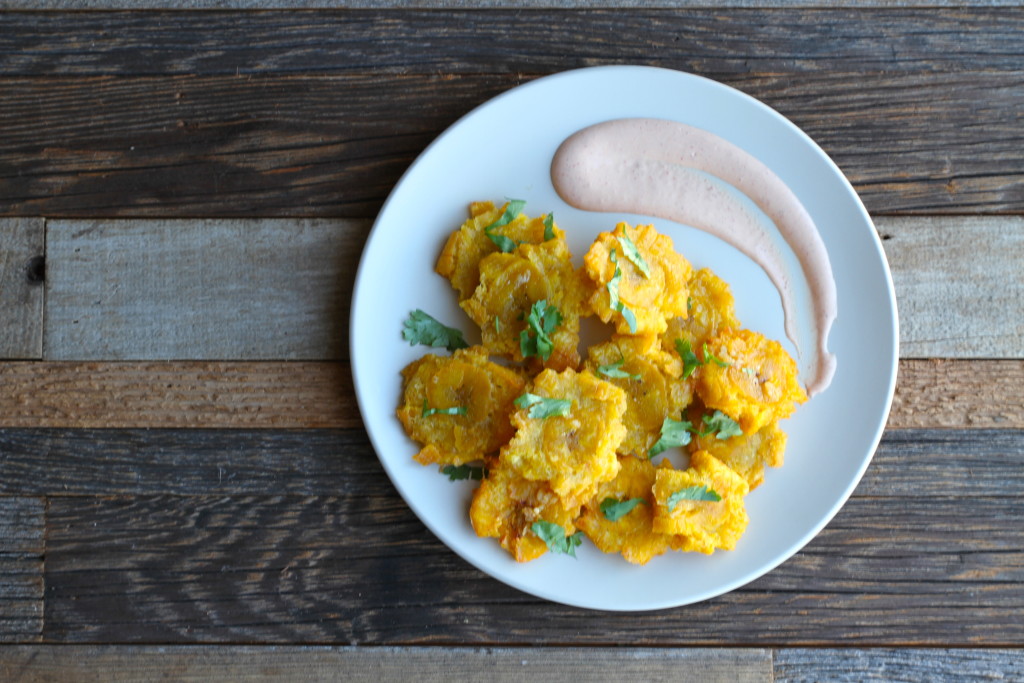 I know that deep frying can be scary, and it's actually a good thing to be cautious about it. Getting burned with oil is no joke.
Some deep frying pointers:
Make sure the utensils you use are bone-dry. Water + hot oil is no bueno.
Only fill a pan 1/3 full with oil, max. It will expand when you add things to it, and oil bubbling over a pot is dangerous and messy. If it overflows, turn your burner off immediately.
Use a thermometer to test the oil temperature. While it is possible to wing it, a thermometer will ensure you're cooking at the right temp.
Use heat-safe utensils- no plastic!
Wear clothes. Look, I'm not judging. It's just that there is always the possibility of splattering oil, and the less exposed surface area, the better.
And never, ever, ever, ever use water to put out a grease fire! Turn off the heat and cut off the oxygen by covering it with a pan or massive amounts of baking soda, if you happen to have it handy.
Print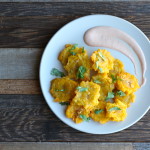 Garlic Tostones & Chipotle Aioli
Author:

Simone Miller

Prep Time:

10 minutes

Cook Time:

15 minutes

Total Time:

25 minutes

Yield:

20 small tostones

Category:

Side Dish

Cuisine:

South American
---
Description
twice fried, extra delicious
---
2

–

3

cups oil for frying (I used half coconut oil and half light olive oil)

2 cups

water

1 tablespoon

finely ground sea salt

4

cloves garlic, (minced or pressed, divided)

3

green unripe plantains
chopped cilantro, (for garnish)
For the Aioli
1/2 cup

mayonnaise

1 tablespoon

  chipotle paste or chopped chipotle peppers in adobo  (or more to taste, depending on the strength of your chipotles)

1 teaspoon

lime juice
---
Instructions
Heat the oil to 350ºF in a medium pot over medium-high heat; you'll want lots of room above the oil because it will expand and foam a bit when you add the plantains.
Combine the water, salt, and most of the garlic in a medium bowl- reserve about one teaspoon of the garlic.
To peel the plantains, cut off the ends and cut 3-4 lines length-wise through the skin. Use those cuts to peel the skin off. Slice the plantains into 1 inch thick slices.
Once the oil is shimmering, fry the plantains in batches, about 8-10 at a time, for about 3 minutes. Remove with a slotted spoon.
With a small heavy skillet or wooden spoon, flatten the plantain chunks to be 1/4 inch thick or so. Dip them in the water and transfer to a clean towel. Set aside, and repeat the frying, flattening and dipping with the remaining plantains.
Once they are all fried, flattened and dipped, fry them again for 3-4 minutes, or until golden brown and crisp. Remove to a serving platter.
In a small pan, lightly brown the remaining teaspoon garlic in a tablespoon of oil for 30 seconds or until fragrant. Drizzle over the plantains.
Serve with chipotle aioli on the side.
To make the aioli:
Combine the mayonnaise, chipotle paste and lime juice. Season to taste with salt and pepper, if desired.
---
All of the links on zenbelly.com are for information purposes, however some are affiliate links to books, products or services. Any sponsored posts are clearly labelled as being sponsored content. Some ads on this site are served by ad networks and the advertised products are not necessarily recommended by Zenbelly.