"I'll be in San Fran* in a couple of weeks, where should I eat?" I get this question just about weekly on Instagram, and every time, I wrack my brain for my favorite places, and do my best to communicate my faves via fat thumbs and tiny letters. It's less than efficient. Plus, I know I miss a bunch. I've been meaning to write this post for about two years now, so am super excited to finally have it up on the blog! I'm sure I still missed a bunch, so let me know in the comments if you have any favorites I should know about!
But first thing's first: *Don't call it San Fran. And definitely, for the love of all that is holy, don't ever call it Frisco, either.
The other things you should know:
You'll need a reservation at some of these places. If you go to the website and they take reservations, make one. A lot of these places are pretty tough to get into, so plan ahead if there are any you want to visit. (a month ahead ideally!)
I have eaten at all of these places and done fine in terms of being gluten-free, but I am not Celiac. Please check with each restaurant regarding your own needs.
Wear layers. Climate changes by neighborhood.
Speaking of neighborhoods, explore them! The Wharf has adorable sea lions and beautiful views, but don't spend your whole vacation there. Each neighborhood has its own personality and charm.
Check out #zbsfeats on Instagram for my dining out adventures!
And if you're looking for a rental house near the beach in a lovely quiet neighborhood, we have a newly renovated listing on Airbnb with a full kitchen that is well stocked and equipped. See it here!
Look at that! Tons of places to eat, plus insider tips.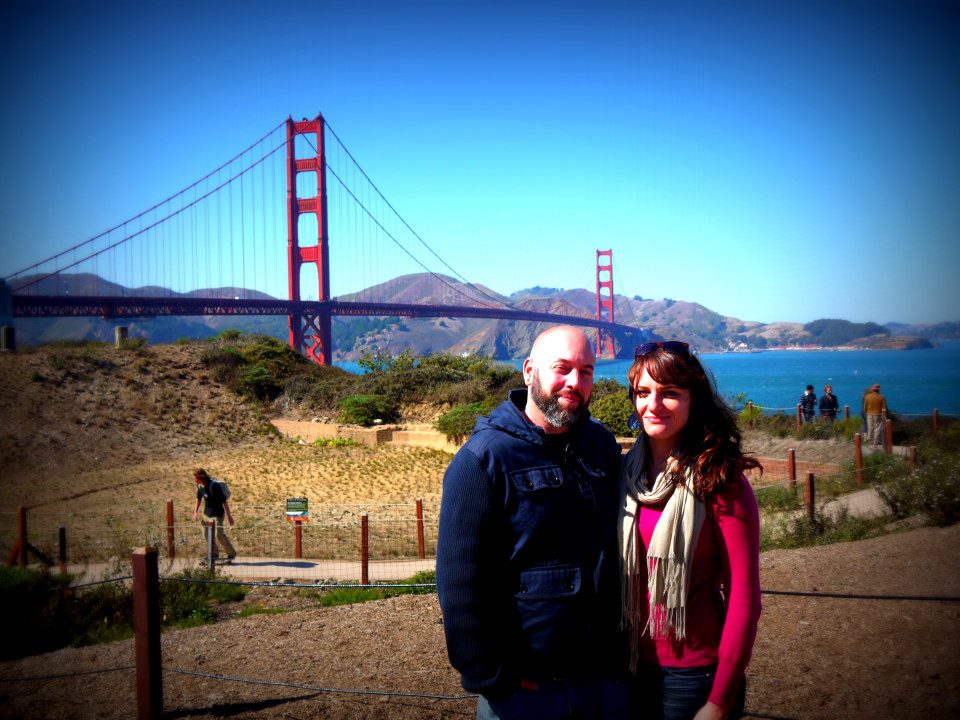 Gluten-Free + Paleo Eats in the SF Bay Area
(Restaurants marked with * are celiac-safe, but make sure to communicate with your server if it's not a 100% gluten-free establishment)
In no particular order…
San Francisco
Ferry Building (Embarcadero)
…for all afternoon roaming, shopping and noshing. Get some oysters at Hog Island Oyster Company, a meat cone at Boccolone, some gluten-free baked goods from Mariposa, a taco at Mijita, and chocolate at Dandelion. And if you like waiting in line for expensive coffee, Blue Bottle is the place to do it.
Cockscomb (SOMA)
… for creative nose to tail dining. If they have the pig skin spaghetti on the menu, get it. Plenty of adventurous items on the menu (like a whole pig's head, trotters, and various offal offerings), but there are also plenty of tamer items (such as sausages, cornish hens and bacon chops) if that's more your thing.
* Firefly (Noe Valley)
… for fantastic, reasonably priced modern comfort food and an almost 100% gluten-free menu. Last time I was in, only one item on the menu contained gluten, so it's a super safe place to eat without worrying about getting glutened. Their fryer is gluten-free, so feel free to order the fried chicken if it's available.
* Dosa (multiple locations)
… for great South Indian cuisine with excellent allergy friendly practices. Ask for the allergen menu- they have their entire menu broken down with which allergens, to make ordering incredibly easy and worry-free. Great cocktails, too!
ROAM Artisan Burgers (multiple locations)
… for BURGERS! All kinds of burgers, and all the meats are grass-fed / sustainably raised. They've got great salads and fries, tons of topping choices, gluten-free buns and lettuce wraps available. And I'd be lying if I said I never indulged in a salted caramel milkshake with my burger. Beer, wine and kombucha, too!
Fresca (multiple locations)
… for ceviche and other great Peruvian dishes… Yuca fries, street food-style meat skewers, paella, as well as great fish, chicken, pork and beef entrees.
Limon Rotisserie (multiple locations)
… for incredible rotisserie chicken with the best sauces and great ceviche
Burma Superstar (Inner Richmond)
… for Burmese food, which you might not yet know you love. Get the tea leaf salad and ask your server to help you navigate the gluten-free friendly-ness of the menu. If you eat rice, get the coconut rice, especially if you order something spicy. They do not take reservations and are always busy, so get there earlier than you want to actually eat!
Spruce (Pacific Heights)
… for a splurge. One of our favorite celebration date spots, we've never had anything here that wasn't delicious. A bit on the pricier side, but not unreasonable for fine dining. They're excellent about gluten-free requests. They've got a great burger too, if you'd rather sit at the bar and keep it simple.
Nopalito (multiple locations)
… for sustainable organic Mexican cuisine. Great margaritas, too.
Contigo (Noe Valley)
… for really great tapas.
* Pica Pica (Mission)
… for 100% gluten-free eating. (But lots of corn) Their signature dish is the Venezuelan arepa, which is basically a grilled corn pocket. Lots of great fillings to choose from. They've got plates to share, sides and soups and salads, too. All gluten-free!
Rich Table (Hayes Valley)
… for food so good it makes you swear out loud. It's just so good. If you don't really, truly love food, don't go here. It's not particularly gluten-free friendly, but the servers will happily help you navigate the menu based on what your food restrictions are.
Zuni (Hayes Valley)
… for iconic San Francisco. Whether you pull up to the bar for drinks and oysters, or go for the full meal experience, you'll leave happy. The famous roast chicken is served on a bread salad, so probably not the best bet for gluten-free eaters, but there are lots of other great choices on the menu.
The Progress (Fillmore)
… for family style, choose your own adventure dining. Lots of fun, and really interesting flavor combinations.
State Bird Provisions (Fillmore)
… for American-style dim sum. Yep, they come around with carts full of small plates of fantastic food and you get to pick what you want. Dim Sum style, only with California style cuisine.
The Pizza Place on Noriega (Outer Sunset)
… for great gluten-free pizza and wings; GF menu items are marked on the menu.
Andytown (Outer Sunset)
… for great coffee in my favorite neighborhood (mine!) If you can have dairy, try the Snowy Plover. And if you eat corn, try a corn muffin- they're gluten-free! Can't do dairy? don't worry, they have almond milk and make great cappuccinos.
* Little Gem (Hayes Valley)
… for modern casual breakfast, lunch and dinner. Tasty, fresh food that happens to be gluten, dairy and refined sugar-free.
* Mealmade (YOUR hotel or rental property!)
Rather stay in? I totally get it- vacations can be a lot of work! The occasional meal at home (away from home) is sometimes just what you need to recharge. Luckily, there's a service in SF that delivers super-high-quality and delactable Paleo meals, so you can kick back and enjoy dinner without having to put on pants. ORDER HERE
Marin
Copita (Sausalito)
… for 100% gluten-free fresh Mexican. I loved the tacos here more than the ceviche. Great margaritas, too.
F3 | Fast Food Français (Sausalito)
… for, well, French fast food! Really great burgers, steaks, Brussels sprouts chips and cheese fries that have actual cantal cheese fondue on them. (as opposed to some mystery cheese sauce.) You can peek out the back window and see the chickens they have for eggs, and the veggie garden they harvest for the kitchen.
Sol Food (Mill Valley & San Rafael)
… for kick-ass Puerto Rican food that's extremely gluten-free friendly. I used to live within the delivery zone for this place, and it was dangerous. Their chicken thighs are insanely good; you can get them with rice and beans or on a large salad with garlicky dressing. All of the sandwiches are available on giant tostones (fried plantains) and are gooooood.
East Bay
Mission Heirloom (Berkeley)
… for the only truly Paleo place in the Bay Area! This place is a real gem, and the space itself it so gorgeous. Worth a trip over that other SF bridge. Pro-tip: if there are flowers garnishing your beautiful dish, eat them!
Bacano Bakery (Emeryville)
… for excellent gluten-free baked goods! Sandwiches, cakes, cookies and great breads. Some of their stuff is grain-free, too.
East Bay spots I haven't been to, but come recommended by friends:
Chop Bar (Oakland)
Speisekammer (Alameda)
Miglet's gluten-free bakery (Danville)
Wood Tavern (Oakland)
Revel (Danville)
Zachary's Chicago Pizza (Berkeley)
Gather (Berkeley)
East Bay Burger spots with GF buns / lettuce wraps:
Park Burger (Oakland)
Farm Burger (Berkeley)
Boss Burger (Albany)
Grazzy Burger (Albany)
I'll add more places as I discover them, and please let me know if there are any that I should check out! 
All of the links on zenbelly.com are for information purposes, however some are affiliate links to books, products or services. Any sponsored posts are clearly labelled as being sponsored content. Some ads on this site are served by ad networks and the advertised products are not necessarily recommended by Zenbelly.