I'm just going to go ahead and say it:
I love cake for breakfast.
Not all the time, I swear. More often than not, I eat leftover dinner for breakfast, or I make myself some eggs, or whip up some kind of hash like one of these egg-free breakfast bowls. You know, like a responsible adult.
Every now and then, though… I want something more pastry-like. Now, I haven't gone completely off the rails, and I'm not cutting off slices of an Entenmann's danish loaf or whatever those things are. I'm talking about grain-free coffee cake that is lightly sweetened and pretty high in fat for cake, meaning it probably won't cause a sugar crash an hour after eating it.
Like this one, for example; a lightly sweetened almond flour-based cake that's filled with ripe pears and warm spices and topped off with a buttery pecan topping. If you're a better person than I, and won't be eating this for breakfast, it's perfect with afternoon tea.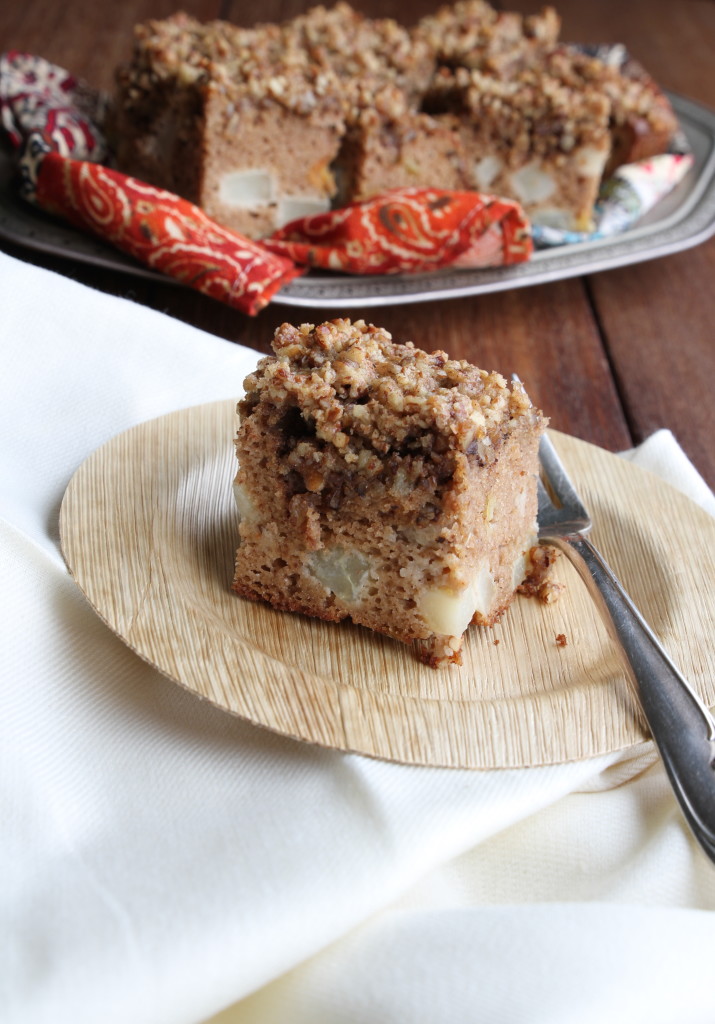 Pear Pecan Coffee Cake
prep time 15 minutes  |  cook time 45 minutes  |  makes one 8″ square coffee cake 
FOR THE TOPPING:
2 cups pecans
1 tablespoon tapioca starch
2 tablespoons ghee
2 tablespoons maple syrup
1/2 teaspoon cinnamon
1/4 teaspoon salt
FOR THE CAKE:
2 pears, about 3/4 pound, firm-ripe
1/4 cup sustainably sourced palm shortening, melted and cooled slightly, plus more for greasing the pan
4 eggs
1/4 cup maple syrup
1/4 cup apple cider (the juice, not the vinegar!)
1 cup almond flour
1/2 cup tapioca starch
1/4 cup coconut flour
1 teaspoon baking soda
1 teaspoon cinnamon
1/4 teaspoon nutmeg
1/8 teaspoon clove
1/4 teaspoon salt
TO MAKE THE TOPPING:
Pulse the pecans in the bowl of your food processor 5-6 times until roughly chopped. Add the tapioca starch, ghee, maple syrup, cinnamon, and salt. Pulse another 8-10 times, or until the mixture is well incorporated and the pecans are minced. Set aside.
TO MAKE THE CAKE:
Cut the pears into small dice.
In the jar of your blender (I love my Blendtec), place the shortening, eggs, maple syrup and apple cider. Blend on medium for 15-20 seconds, or until well blended.
Add the almond flour, tapioca starch, coconut flour, baking soda, cinnamon, nutmeg, cloves and salt and blend again for 15 seconds, or until well combined, scraping down the sides half way through, if necessary.
Stir in the pears and pour into the prepared pan. Distribute the topping on top, pressing it lightly into the batter.
Bake for 42-45 minutes, or until the top bounces back when lightly pressed.
Allow to cool before slicing and serving. If not eaten within a day or two, refrigerate the cake; grain-free baked goods tend to mold quickly.
All of the links on zenbelly.com are for information purposes, however some are affiliate links to books, products or services. Any sponsored posts are clearly labelled as being sponsored content. Some ads on this site are served by ad networks and the advertised products are not necessarily recommended by Zenbelly.