This recipe for gluten-free Challah has been in the works for (on and off) years now. Once I created the recipe(s) for my Everything Dough, I knew that a challah wasn't far behind, but I wanted it even more like real bread- kneadable, perfect crumb, the perfect bite between soft and chewy. My original plan was to add this to the ebook, but there's more involved with that than it appears, and I'm lazy. So you win!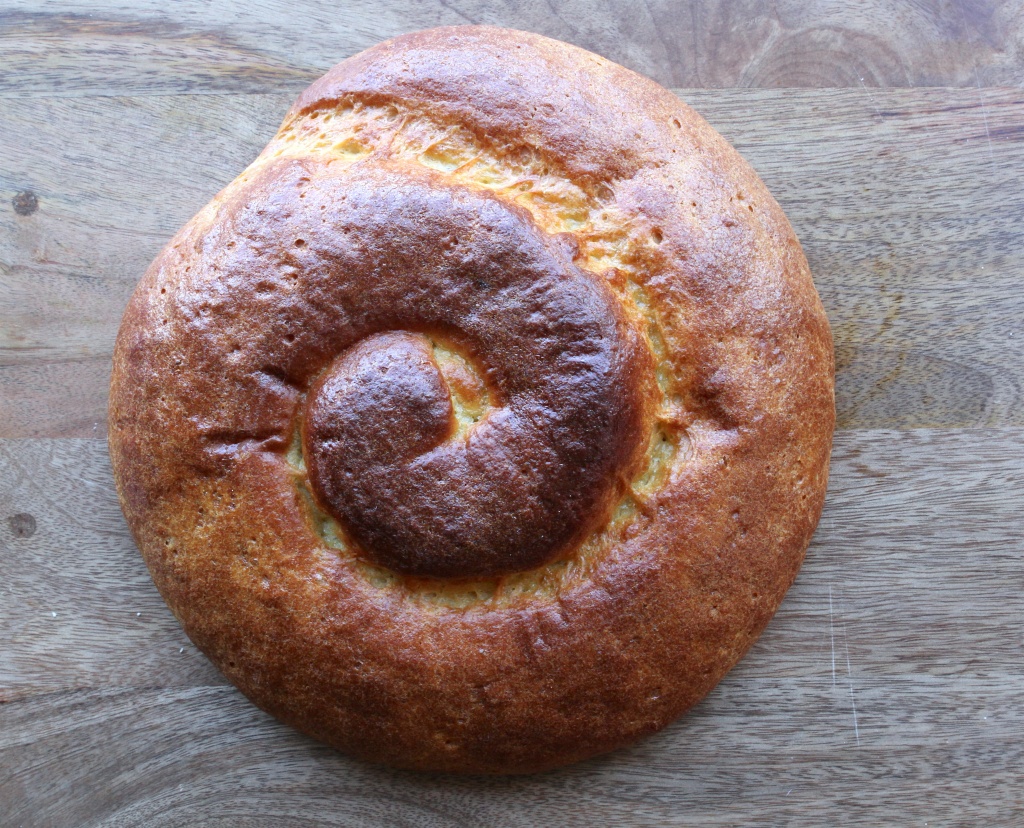 You win a gluten-free challah!
For Rosh Hashanah last year, I played with the recipe a bit (a lot) until I got something close to what I wanted. I was able to proof the dough, knead the dough, and shape the dough into the traditional turban shape for the New Year. As soon as the holiday was over though, I abandoned the project and moved onto other things. Such is life!
When I saw how early Rosh Hashanah landed this year, I got to work and started experimenting again. And in what might be a Rosh Hashanah miracle, I believe I got it.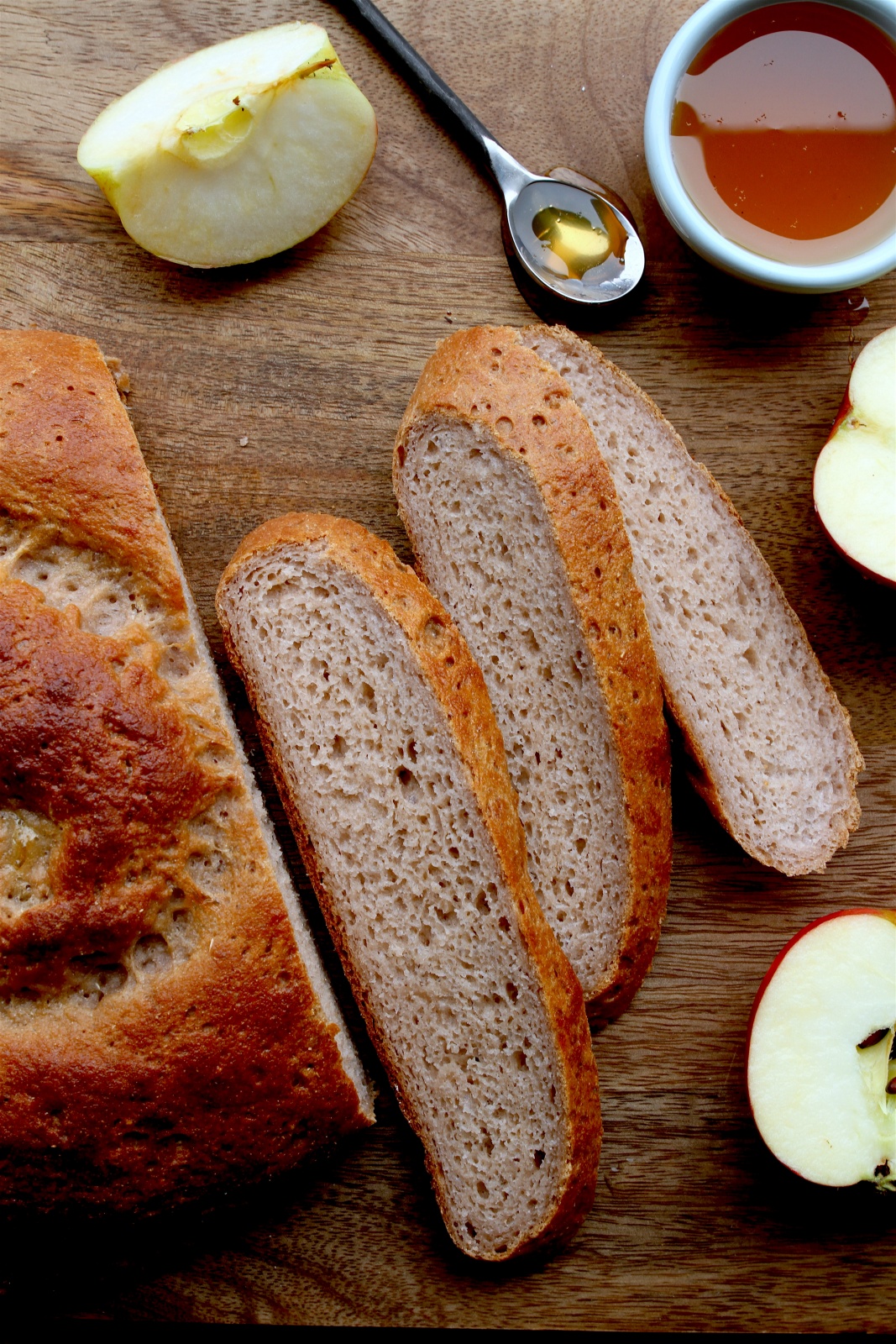 An important note: This recipe is made much like real bread, in that it is mixed, proofed, punched down, kneaded, shaped, and proofed again. It takes time, as does making most traditional bread. The time is one of the things that makes it good! If you can't handle all of that, you can make my other challah recipe, which is more like cake in preparation.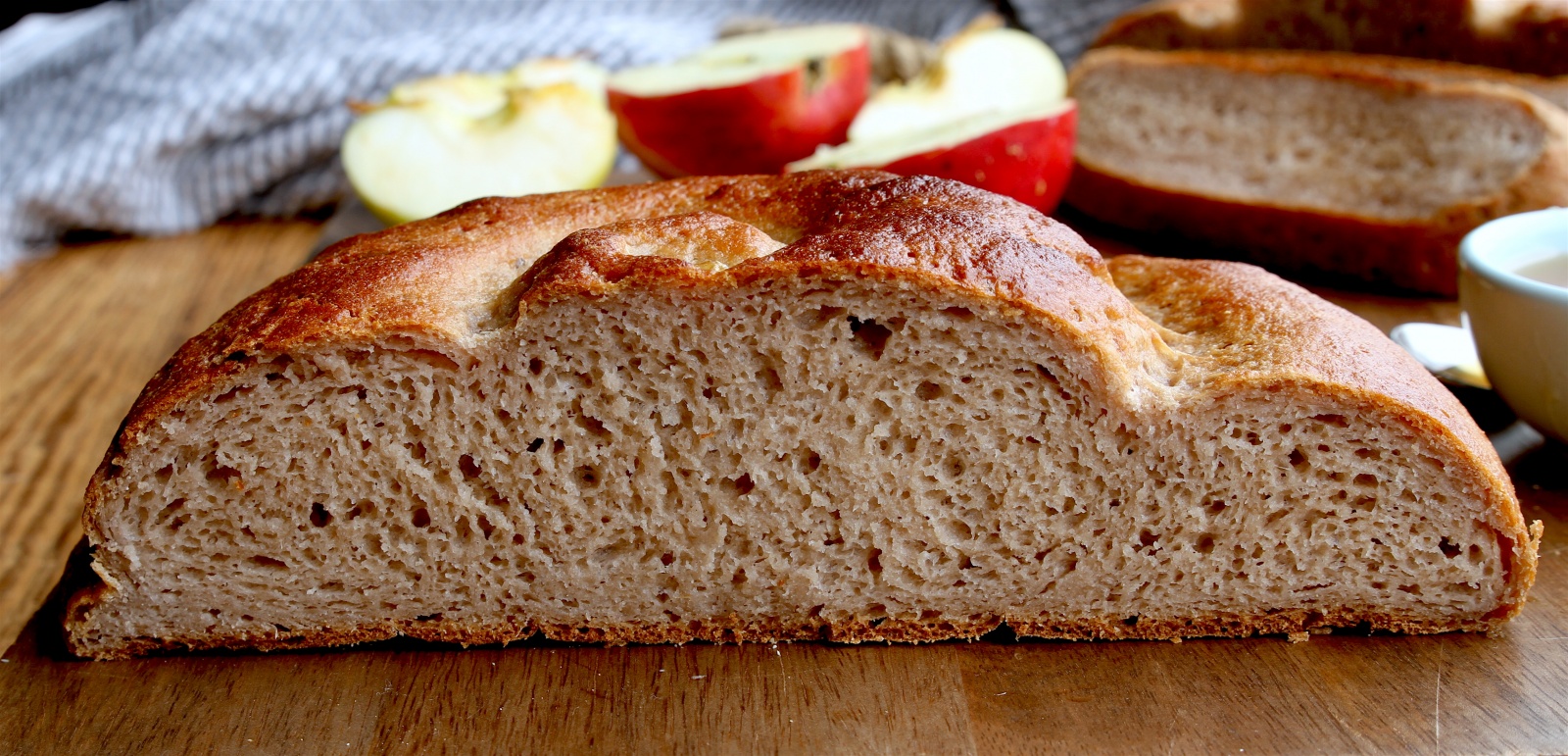 But look at the crumb you're rewarded when you make this one! Plus, it is extremely satisfying to make bread, especially if it's been a while since you made it! Just make sure to start it the night before you'll be serving it; it's best when proofed overnight in the fridge.
The turban shaped challah is traditional for the Jewish New Year- it symbolizes the cyclical nature of life, so that's what you see here. If you want to braid or otherwise shape your challah, Tori Avey has a great tutorial on her site!
Print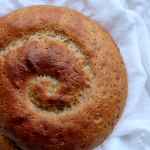 Gluten-Free Challah
Author:

Simone Miller

Prep Time:

30 minutes

Cook Time:

30 minutes

Total Time:

60 minutes + time to proof

Yield:

1 large challah

Category:

Baked Goods
---
Description
gluten-free, grain-free and dairy-free challah, made like real bread and tastes like real bread!
---
1/2 cup

warm water

¼ cup

+ 2 teaspoons honey, (divided)

1 tablespoon

yeast

4

eggs

¼ cup

avocado oil ((or other neutral tasting oil))

1/2 cup

(

64 grams

) potato starch

1/2 cup

(

64 grams

) cassava flour, (plus more for dusting)

¼ cup

(

32 grams

) ground psyllium husk

1/2 teaspoon

finely ground salt
for the egg wash:
1

egg

1 tablespoon

water

1 teaspoon

honey ((optional- for color))
---
Instructions
In a large mixing bowl, dissolve the 2 teaspoons of honey in the warm water. Whisk in the yeast. Set aside to bloom, about 10 minutes.
Meanwhile, in a medium mixing bowl, whisk together the potato starch, cassava flour, ground psyllium husk, and salt.
Once the yeast is foamy and active, whisk in the eggs, followed by the ¼ cup honey, and avocado oil.
Whisk in the dry mixture. (reserve the bowl the dry ingredients were in) It will be thin and the consistency of cake batter, but don't worry- it will thicken up as the psyllium absorbs the excess moisture. Switch to a rubber spatula and mix for about 5 minutes, or until the dough is thickened and sticky. (it still won't be quite like bread dough. Don't worry)
Wipe out the bowl you mixed the dry ingredients in, and lightly grease with oil. Scrape the dough into the greased bowl and cover with plastic wrap. Place in the fridge and allow to proof overnight, or at least 6 hours. *
After the dough has proofed in the fridge, set it in a warm, draft-free place and allow to proof for 1-2 hours, or until it has come to room temperature is about 1.5 times the size it was when you took it out. Dust with flour and punch down. Cover again and set aside for 30-60 minutes, or until it has risen back to where it was.
Time to knead! Liberally dust a clean surface with cassava flour. Scrape the dough onto the counter and dust it with more flour. Knead for 4-5 minutes, or until it's smooth and pliable. Add more flour as needed; you want it to wind up just a tiny bit sticky, but easily handled.
Add more flour to the surface and using a rolling pin, roll out the dough into about a 1/2-inch thick rectangle and then roll it up (as if you were making cinnamon rolls) Taper the ends of the log so it's fatter in the middle, and then roll into a turban shape.
Preheat the oven to 350ºF.
To make the egg wash: Whisk together the egg, water and honey, if using.
Transfer to a baking sheet lined with parchment paper and brush with the egg wash. Loosely cover with plastic wrap and let it rise once more. You'll know it's ready to bake when you poke it with your finger and it doesn't spring back.
Bake for 25-32 minutes, or until deep golden brown and sounds hollow when tapped with a wooden spoon. Allow to cool before slicing.
---
Notes
*Proofing this type of dough overnight in the fridge yields the best results. If you aren't able to do that, you can proof it at room temperature for about 90 minutes instead, but I can't promise that the finished bread won't sink.
All of the links on zenbelly.com are for information purposes, however some are affiliate links to books, products or services. Any sponsored posts are clearly labelled as being sponsored content. Some ads on this site are served by ad networks and the advertised products are not necessarily recommended by Zenbelly.