We're going way off the rails today with this recipe for gluten-free four cheese mac & cheese. But it's fine, because no one would dare complain about a free recipe on a free website, right? And anyone who does is just clearly outing themselves as someone who is dreadfully boring at parties.
gluten-free four cheese mac & cheese
In all seriousness, though, this site is mostly devoted to Paleo recipes, but since the header clearly says "gluten-free and paleo recipes from a chef's perspective", the boss gave me permission to post a non-paleo, grain- and dairy-filled recipe. The boss is pretty cool.
PIN THIS RECIPE!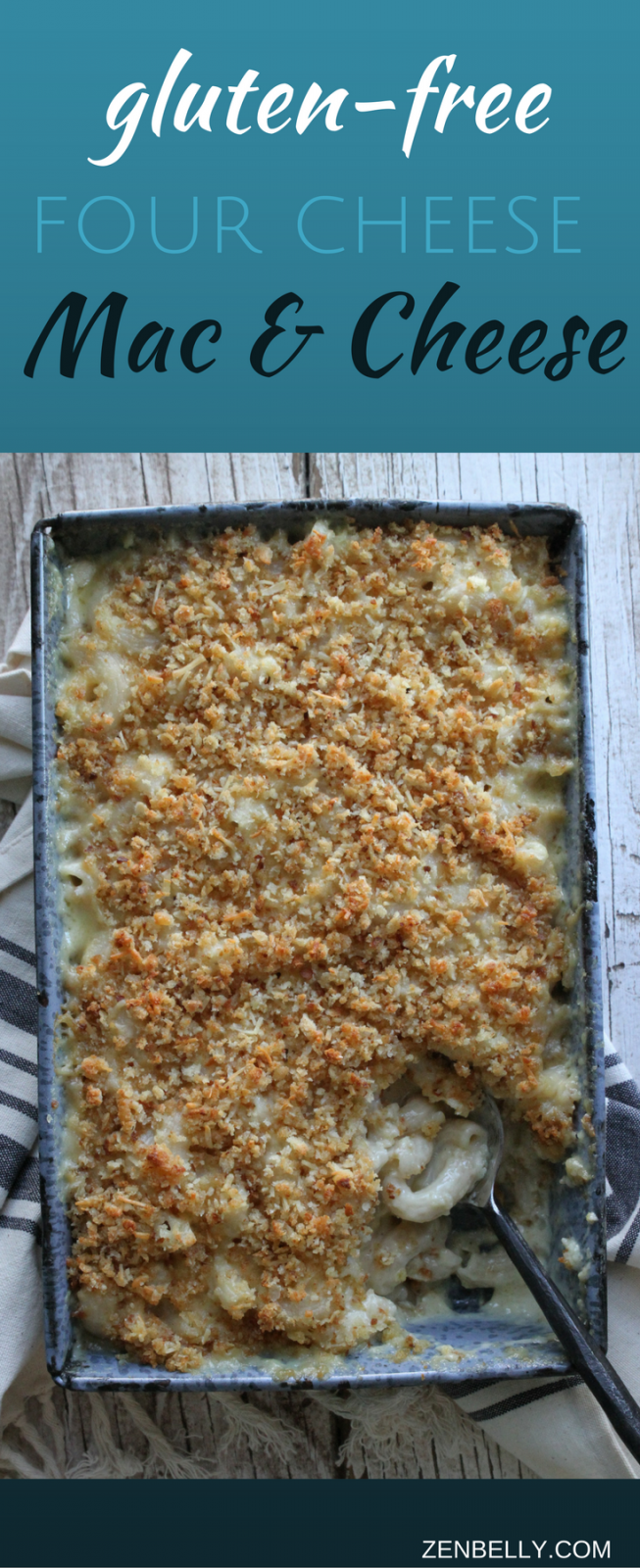 Print
Gluten-Free Four Cheese Mac & Cheese
Author:

zenbelly

Prep Time:

20 minutes

Cook Time:

25 minutes

Total Time:

45 minutes

Yield:

6 servings

Cuisine:

American
---
Description
The epitome of comfort food.
---
Gluten-Free Four Cheese Mac & Cheese
prep time: 20 minutes
cook time: 25 minutes
yield: 6 servings
For the Topping:
2 slices gluten-free white bread, torn
2 tablespoons butter, plus additional for greasing the baking dish
1 ounce grated parmesan cheese (about 1/2 cup)
1/2 teaspoon sea salt
1/2 teaspoon garlic powder
For the Cheese Sauce & Macaroni:
1/2 pound gluten-free elbows (I like Tinkyada)
2 large shallots (about 6 ounces), roughly chopped
3 cloves garlic, peeled
4 tablespoons unsalted butter
1 tablespoon cassava flour
1 1/2 cups heavy cream
8 ounces (about 2 packed cups) grated cheese (my favorite combo is cheddar, fontina and gruyere in equal parts; feel free to use one or all or your own favorite combo)
1 ounce grated Parmesan (about 1/2 cup)
---
Instructions
Preheat the oven to 400ºF. Grease an 8×8 (or similar volume) baking dish with butter.
Cook the pasta in salted water for slightly less time than it says on the package directions, so it's al dente.
Make the topping: Place the bread, 2 tablespoons of butter, Parmesan, salt and garlic powder in the bowl of a food processor with the chopping blade and pulse 8-10 times, or until it's ground and uniform. Remove to a bowl and wipe out the food processor (you're going to use it again)
Add the shallots and garlic to the food processor. Pulse 8-10 times, or until very finely minced
In a medium pot, melt the 4 tablespoons of butter over medium heat. Add the shallots and garlic, and a pinch of salt. Cook for 4-5 minutes, stirring often, or until softened.
Add the cassava flour and cook for another minute or so, stirring constantly, to cook out the raw taste of the flour.
Add the cream and scrape up any bits that have stuck to the bottom of the pot. Turn the heat up to medium-high and cook for another two minutes, or until the mixture is thickened.
Remove from the heat and add the cheese. Stir until it's melted.
Stir in the macaroni and transfer to the prepared baking dish. Bake for 15 minutes or until the crumb topping is golden brown and the inside is bubbly and you just cant't handle how good it smells in your kitchen. Allow to rest for 10-15 minutes before serving.
---
All of the links on zenbelly.com are for information purposes, however some are affiliate links to books, products or services. Any sponsored posts are clearly labelled as being sponsored content. Some ads on this site are served by ad networks and the advertised products are not necessarily recommended by Zenbelly.