When researching holiday baked goods to add to my grain-free baking class at Bauman College, the Gluten-Free Yule Log jumped out at me as one I just couldn't leave out. I had a feeling that my No Joke Dark Chocolate Cake would be a great base for this application, since it's a perfectly textured chocolate cake that is rich and chocolatey but not nearly as dense as many Paleo cakes.
My first attempt was a flop (as I shared on Instagram), but luckily, my initial failure gave me a good sense of what I needed to adjust. The second time was a charm with this one, luckily!
Assembling this cake requires some patience; rolling a cake and making meringue mushrooms is a bit more complicated than say, dumping a bunch of ingredients into a slow cooker. That should probably go without saying, but you'd be surprised at some of the comments I get, so I'm saying it anyway. 😉
Gluten-Free Yule Log
prep time:30-45 minutes
cook time: 10-12 (cake) 90 (meringue mushrooms)
yield: one pretty large yule log cake
For the cake:
1 cup almond flour
½ cup tapioca starch
¼ cup coconut flour
½ cup cocoa powder
1 teaspoon baking soda
½ teaspoon salt
¼ cup melted coconut oil, plus more for greasing the pan
6 eggs
1 cup maple syrup
• Preheat the oven to 350 and a 15×10-inch jelly roll pan with parchment paper. Brush with coconut oil.
• In a large bowl, sift the almond flour, tapioca starch, coconut flour, cocoa powder, baking soda and salt.
• In a medium bowl, beat the coconut oil, eggs, and maple syrup. Pour into the dry ingredients and whisk to combine.
• Pour into the prepared pan and bake for 10-12 minutes, or until a toothpick inserted into the center comes out clean. Err on the side of just barely done; you don't want it to be dry or it will be more likely to break when rolled. Allow to cool in the pan.
For the frosting:
2 cups heavy cream or 3 cups coconut cream from chilled cans of full fat coconut milk
1 cup dark chocolate chips, melted and cooled slightly
• Beat the cream until it forms stiff peaks. Beat in the melted chocolate. Continue to beat until it is the consistency of frosting. If using coconut cream, you may have to refrigerate until chilled and re-whip if it's not getting thick at room temperature.
For the mushrooms:
½ cup egg whites
¼ teaspoon cream of tartar
¼ teaspoon salt
½ teaspoon vanilla bean powder or 1 teaspoon vanilla extract
1 cup organic sugar
1 teaspoon cocoa powder
1 teaspoon ground coffee
¼ cup chocolate chips, melted
• Preheat the oven to 225 and line a baking sheet with parchment paper.
• Beat the egg whites with the cream of tartar, salt and vanilla until soft peaks form.
• Gradually sprinkle in the sugar, continuing to beat until the meringue is glossy and doesn't melt back into itself when you lift the beater out of them.
• Transfer to a piping bag with a large plain tip. Onto the prepared baking sheet, pipe dome shapes, pulling the bag off to the side to avoid them having points at the top. To make the stems, pipe a small amount and pull straight up. If the meringue is too soft (or it's too humid out) to stand up, you can also make stem shapes that are flat.
• Using a small fine strainer, dust the mushrooms with the cocoa powder and ground coffee.
• Bake for about 90 minutes, or until dry and they easily pull off the pan.
• To assemble, brush the underside of the mushroom caps with melted chocolate and stick on a stem. Allow to harden to set.
Additional decorations:
Ground pistachios (looks like moss! Hat tip to @oldworldbakerymt for that excellent idea! I didn't have any in the house, otherwise I would have definitely made some "moss")
Powdered sugar (looks like snow)
Berries (looks like… berries! Pretty sure the ones I used are poisonous. Decorate at your own risk)
Rosemary (looks like pine needles)
What else? I am no yule log expert, so I'd love to hear about your favorite decorations!
To assemble the yule log:
• Place a large, clean tea towel onto a large board. Place a piece of parchment paper over the cake and turn onto the board. Remove the top sheet of parchment from the cake. (formerly the bottom, the one you lined the pan with)
• Spread about ¾ of the frosting on the cake, leaving about an inch around the perimeter. Roll up the cake as tightly as possible, using the parchment and towel to help roll it. Make sure the seam is at the bottom.
• Using a sharp knife, cut a small (about 1/6 of the cake) portion of the cake off at an angle. Position the cut part of the cake on the side of the log, to resemble a cut branch.
• Frost the cake with the remaining frosting, using an offset spatula and / or fork to give it texture that resembles bark.
• Decorate with the mushrooms and additional decorations, if desired.
PIN THIS RECIPE!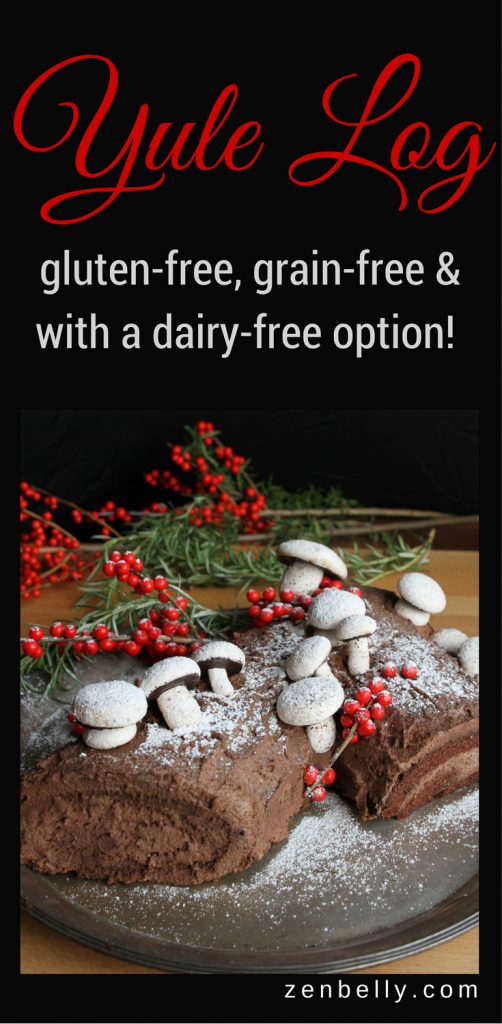 All of the links on zenbelly.com are for information purposes, however some are affiliate links to books, products or services. Any sponsored posts are clearly labelled as being sponsored content. Some ads on this site are served by ad networks and the advertised products are not necessarily recommended by Zenbelly.