After a year of planning, and about three and a half months of non-stop construction, our home remodel is complete! Looking at the before and after photos is still kind of blowing me away, even though I was here to watch it all happen…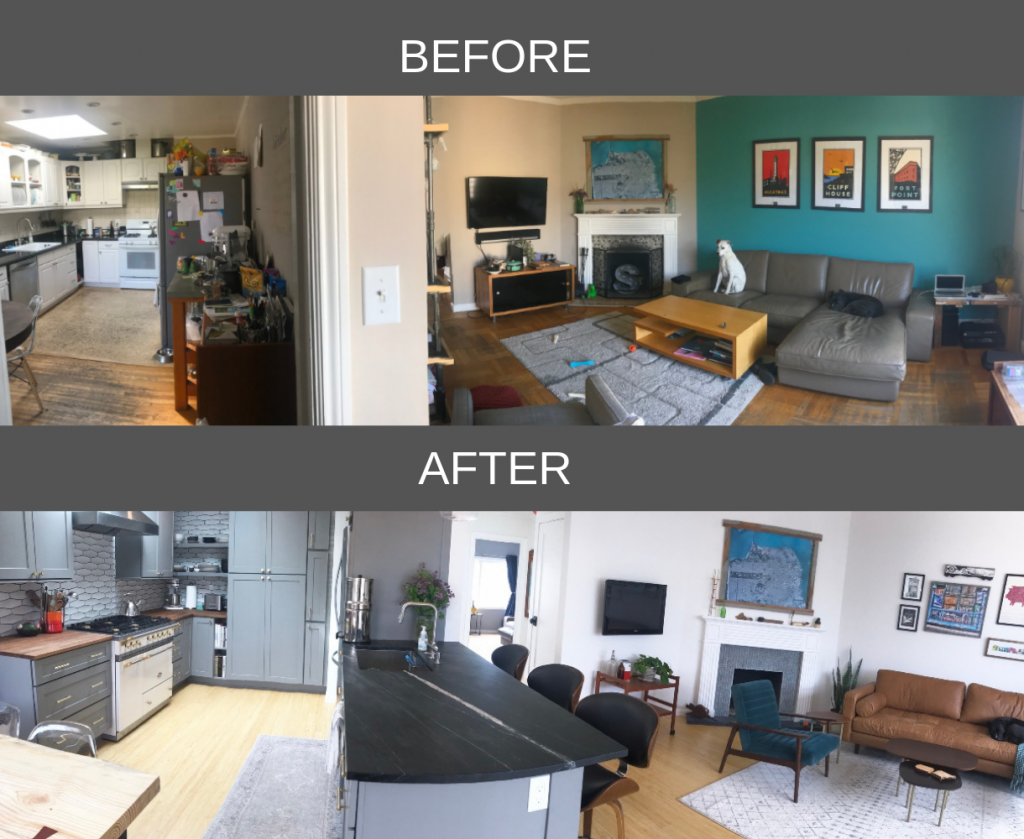 The photos above are the big picture; the only way to capture the entire space is with a panoramic shot, which of course distorts quite a bit.
Taking down that wall that divided the kitchen and living room was the biggie, and things kind of snowballed from there. The single pane windows needed to be replaced with double pane. There was no insulation anywhere in the house, that needed to be addressed. The floors were in terrible shape Once we started taking down the walls, it was clear that he entire house needed to be re-plumbed and re-wired. And of course since we live near the beach in San Francisco, there was So Much Dry Rot.
After this full home remodel that was done in record time, it's essentially it's a whole new house!
In our old kitchen, the clutter was out of control, and even when we tidied up, there was never enough room to put everything away. Almost everything was out on display, and this level of mess does nothing good for my mental health. I hate clutter so very much.
It's not even like we are hoarders; we just did not have enough storage space with the prior layout. There was no pantry for food, so we used 3 of the upper cabinets for dry goods, leaving not nearly enough room for small appliances and pots and pans. Now we have a floor to ceiling pantry with pull out shelves and plenty of storage.
Working with a designer at Cliqstudios made it possible to customize our kitchen to be exactly what we wanted. We made several rounds of changes and she was patient and helpful with me the entire time. The best part? The design service didn't cost us a thing!
We chose to go with Cliqstudios because we were happy with the samples we received from them, and the price was excellent; When budgeting for this home remodel, we had expected to pay a great deal more for semi-custom kitchen cabinets. Now that the cabinets are installed and we've been using the kitchen, we're happy with our decision, but wish the paint was laid on a bit thicker. We've gotten some dings already, and since I plan on really using the kitchen, I'm expecting we'll get a few more. The cabinets came with a touch up paint stick which more or less lessens the appearance of them. Of course if you go with one of the wood options, this won't be an issue at all.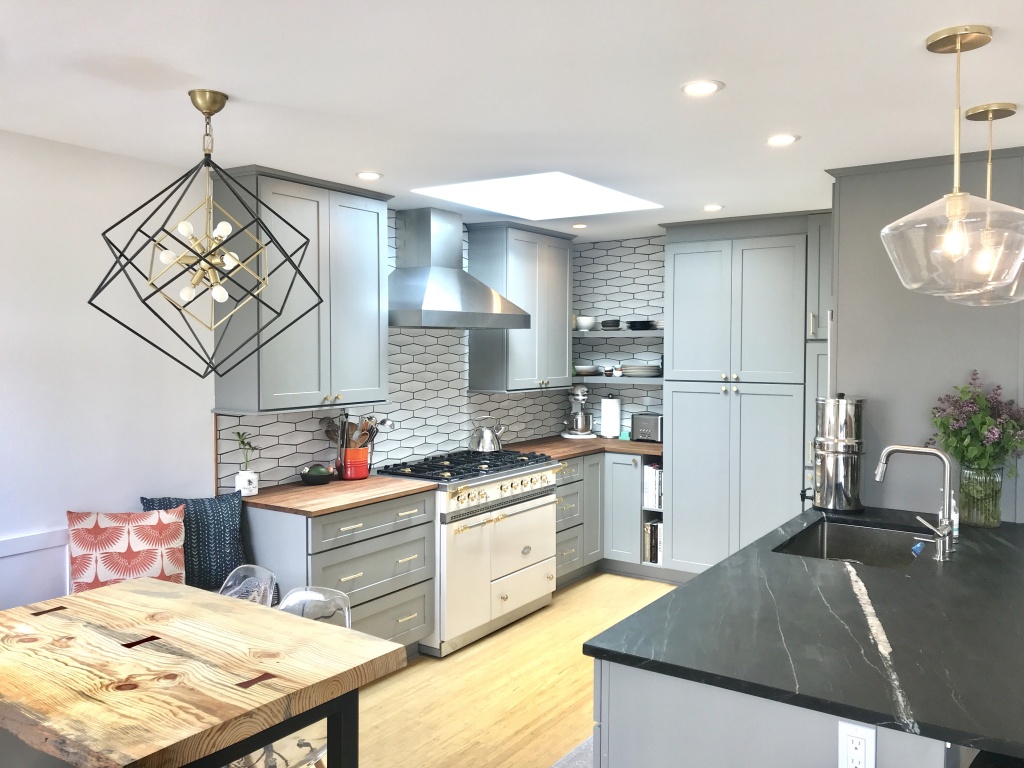 Even given the minor paint issue, I still recommend Cliqstudios for anyone looking for a high quality cabinet that doesn't come with the price tag of the average custom cabinets. They were amazing to work with before, during and after our home remodel, and we love the look and functionality of our cabinets.
We replaced the floors throughout the house with Ambient Bamboo Floors. Originally, we planned to replace the floors in just the kitchen and living room; the bedroom floors were in decent enough shape to leave them as is. When we contacted Ambient, we asked for two quotes; one that included the bedroom square footage and one that didn't. The quote that included the bedroom square footage was what we budgeted for just the living room and kitchen, so it was a no-brainer! Since this was now a full home remodel, we opted for cohesive floors throughout.
Our decision to go with bamboo was twofold: They hold up incredibly well to dogs, and are a sustainable material.
We also installed warm floors beneath the bamboo. This voids the warranty on our flooring, but it was totally worth it. Before, we had forced air heat, which loudly blew lukewarm, smelly air, and didn't do much to actually heat the house. Now, we have a home that stays the temperature we want it to be, and don't have to worry about allergens and mold being blown around the air! Adding insulation in the ceiling and walls made a huge difference as well.
Of course the star of the show is the range. When I first saw Lacanche ranges on Instagram, I fell in love, and I fell hard. I am not one who typically gets excited about material things. But this range is a major exception. Aside from the obvious beauty of the thing, these ranges are workhorses. They put out a ton of power, and are made to order; each one is made to your specific specifications! I was able to choose the model / size, number and type of burners, type of oven (gas or electric, with a convection option), and the color. When you buy a Lacanche, you essentially have the chance to create your dream range. How amazing is that?
And she needs a name! Thoughts? Let me know your favorites in the comments section. She comes from France, so should probably have a French name.
The other major changes we made were the bathroom and the exterior. The big front windows needed to be replaced, and of course because we live in San Francisco, we discovered that the entire front of the house was dry rot. Yay for stucco holding up our house the entire time we lived here! 😐
And oh, the bathroom. It was a tiny, poorly laid out cave covered in pink tile. There was a bathtub that was separate from the shower that we never used, so was a waste of space. With the exception of adding some built-in shelves, we didn't add any actual square footage to the bathroom, but were able to greatly increase the usable space. I sadly can't find any photos of the actual bathroom, but have some screen grabs from my Instagram stories: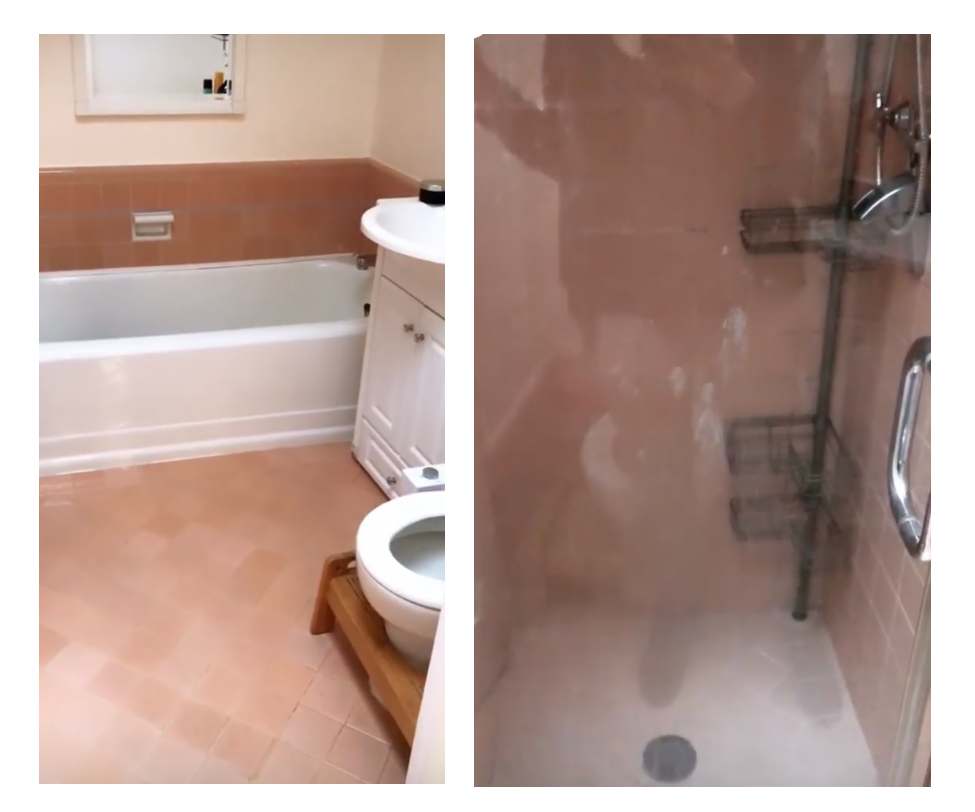 I wish I could find better before photos! Just take my word for it; it was ugly.
Here is what it looks like now: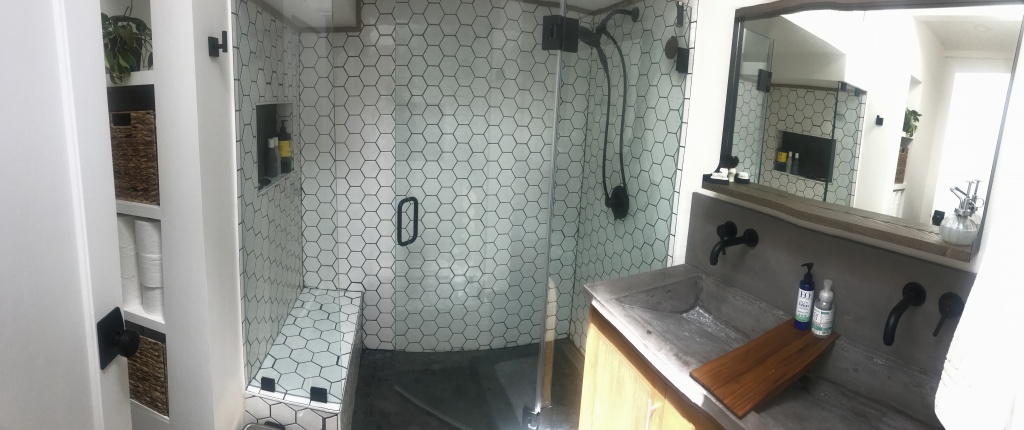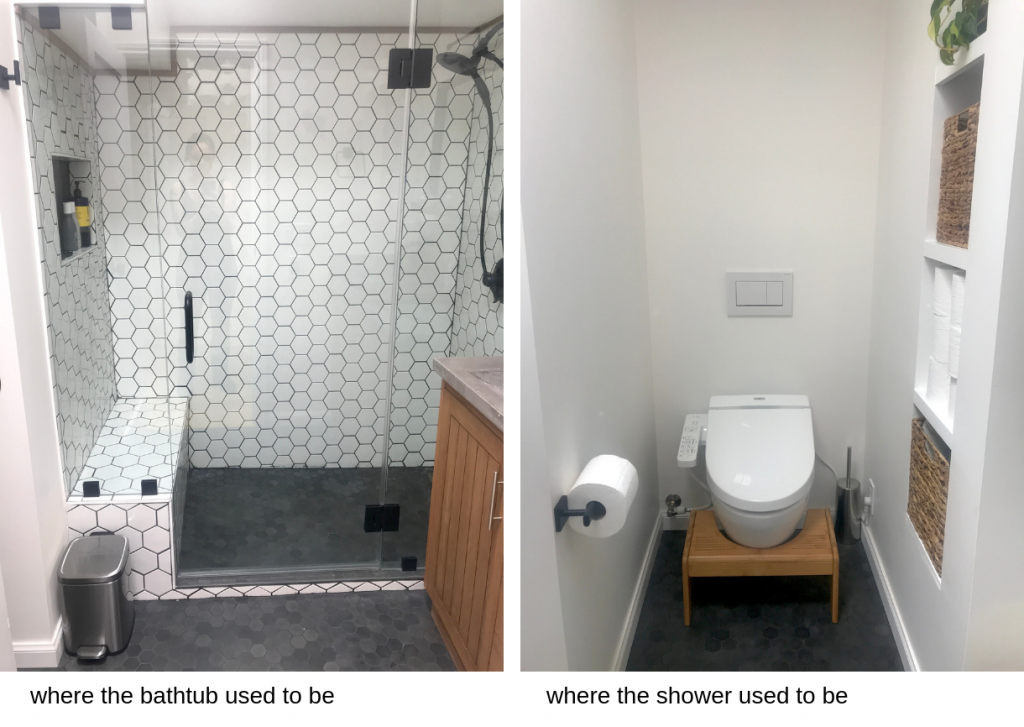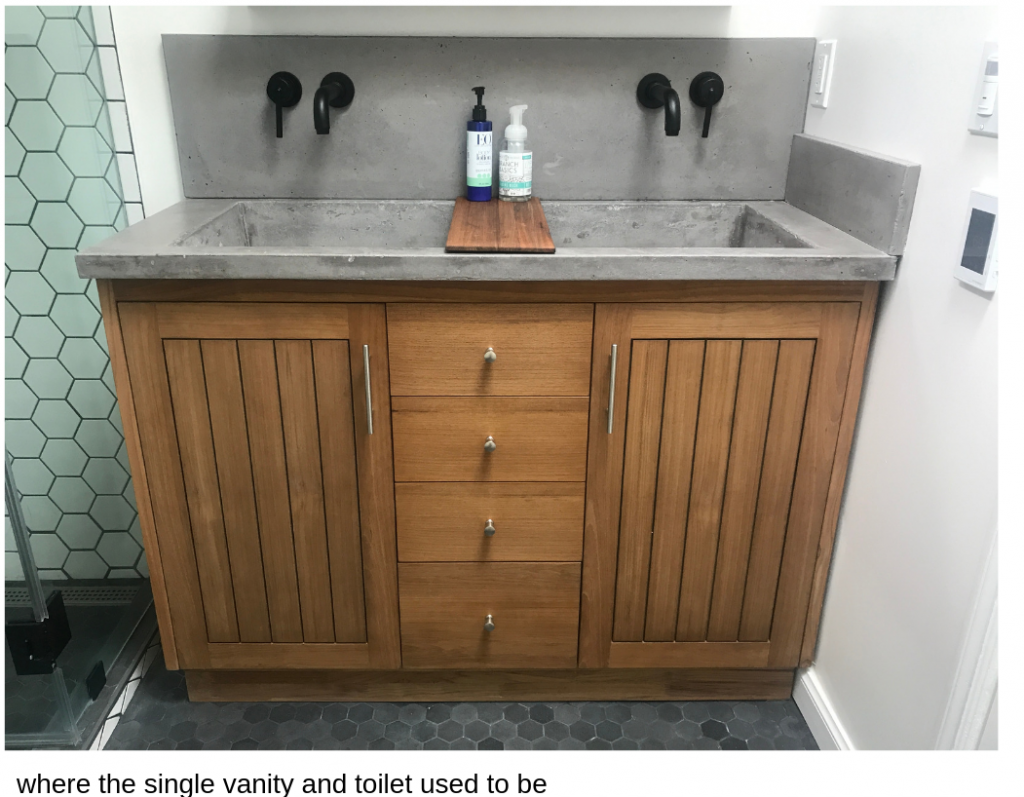 The bathroom feels twice the size of what it used to be.
As for the exterior, if was mostly replacing the windows and repairing all the dry rot, but with a fresh coat of (not beige) paint, it looks like a new house!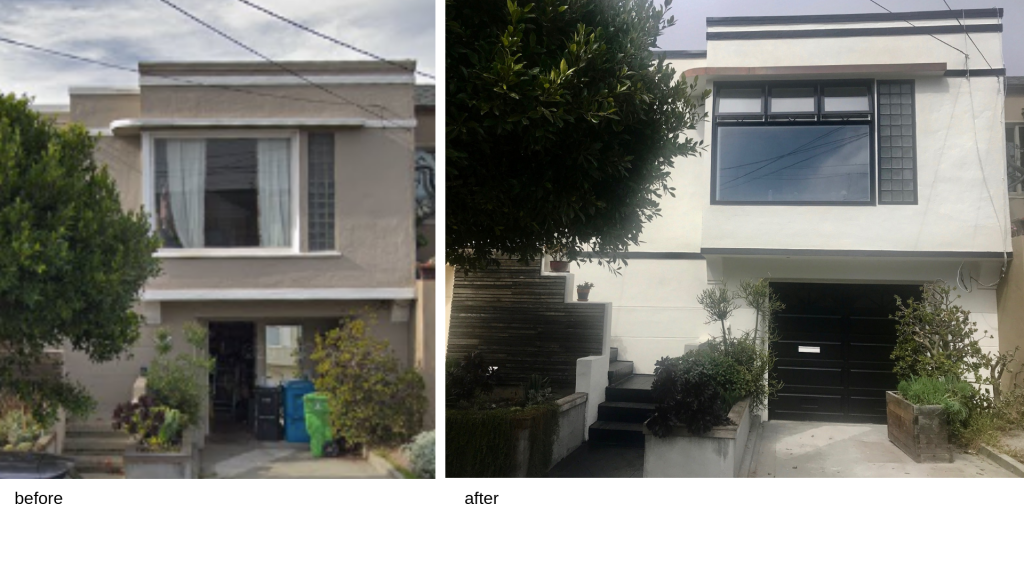 Thanks for reading! I have more posts about this home remodel coming up in the next couple of months. I wanted to share the big reveal with you since it's done, but also plan on sharing more about the nitty gritty; what I learned, how we saved and where we splurged, and what I'd do differently next time.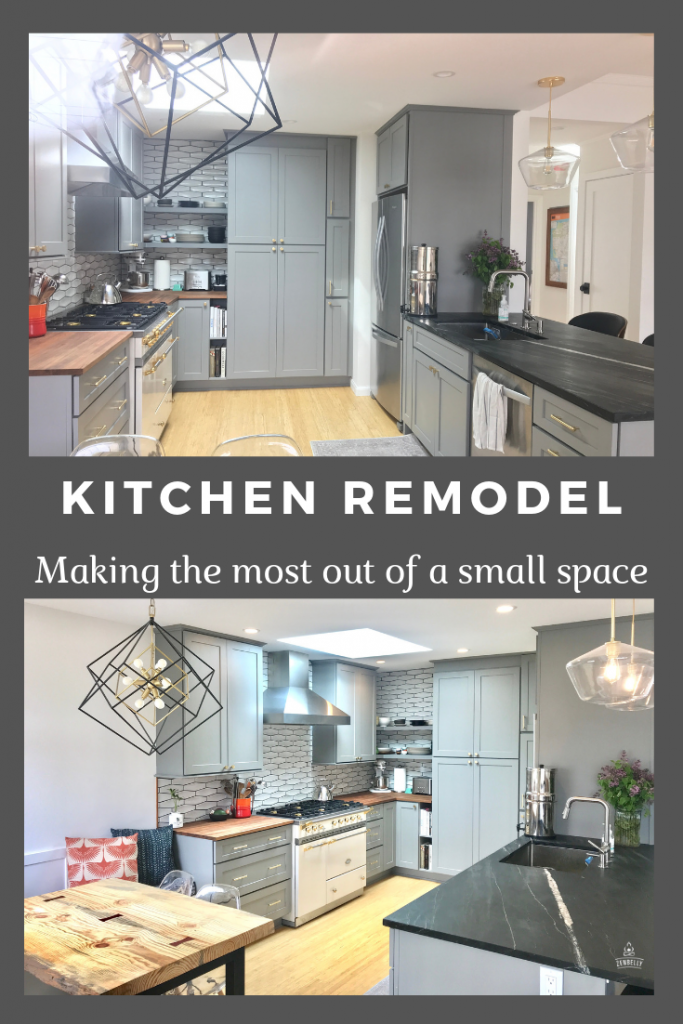 For more about this project, visit the House & Home section of this site.
All of the links on zenbelly.com are for information purposes, however some are affiliate links to books, products or services. Any sponsored posts are clearly labelled as being sponsored content. Some ads on this site are served by ad networks and the advertised products are not necessarily recommended by Zenbelly.