This recipe for Instantpot Crispy Mojo Pork with Spicy Slaw is based on a Haitian dish I made once and fell in love with.
instantpot crispy mojo pork with spicy slaw
Years ago, I was asked to cater a wedding and the brides requested Haitian food. Since I have basically zero experience cooking Haitian food (or eating it, for that matter), I began to research the dishes that they requested, particularly Griot (pronounced gree-oh). Reading about this much-loved dish made me sad that I had lived my life as long as I had without it.
Here's the description from the NYT recipe for it: Big chunks of pork shoulder are marinated in citrus and Scotch bonnet chiles, then simmered until very tender before being fried crisp and brown.
I mean… What's not to love? This is basically a description of the world's most perfect food, if you ask me. Ever since I made it for the wedding, I've been wanting to recreate it for the blog. Except, the NYT recipe doesn't really need any improving upon, it's pretty perfect.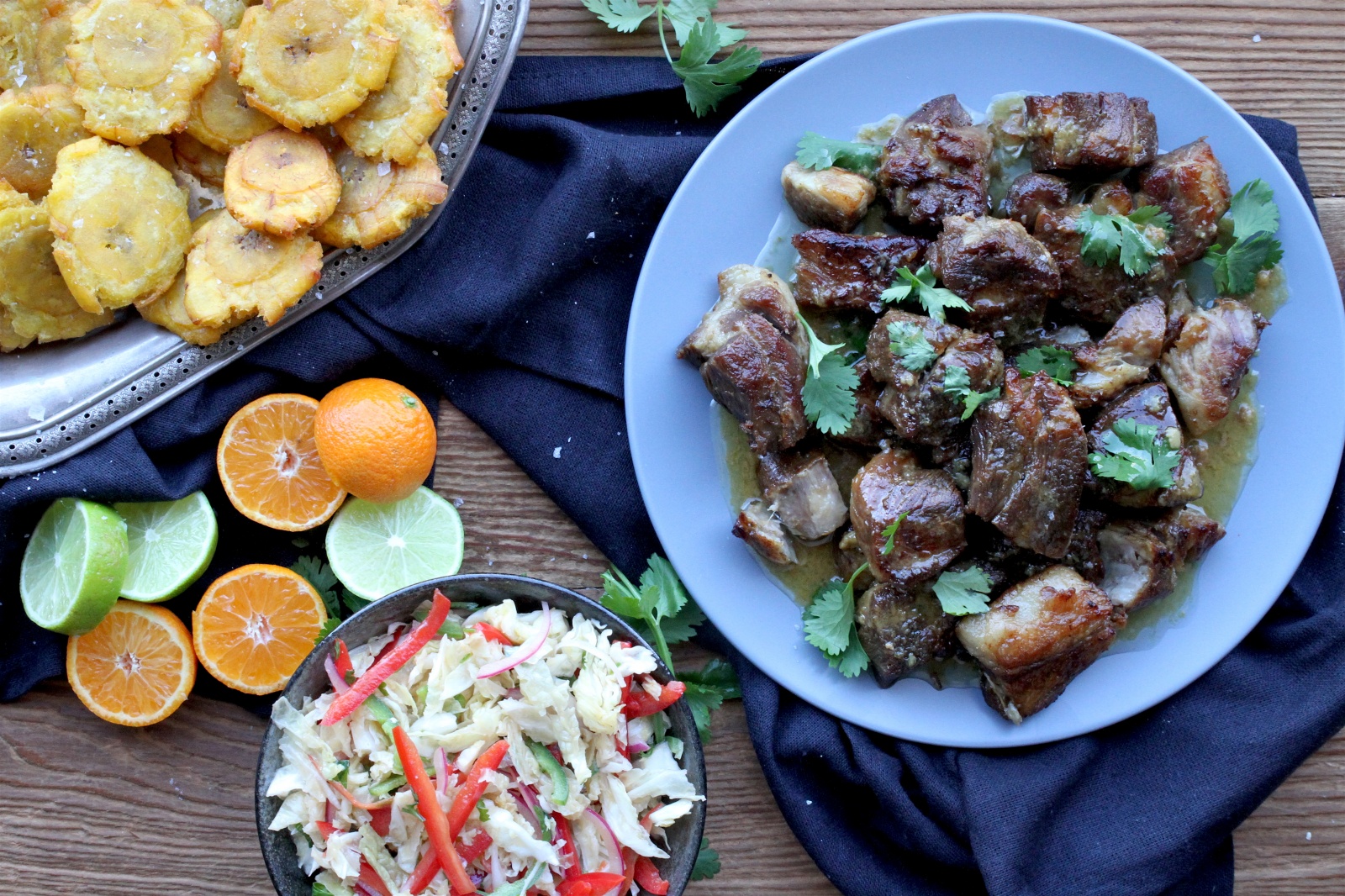 Fast forward to now, when the Instantpot is all the rage and I have 3 pounds of pork shoulder in my fridge, but no scotch bonnet chiles or even a jalapeño. What I do have is plenty of citrus, garlic, and cumin, which is all you need to make a simple mojo marinade, which is sort of like the bare bones version of the griot marinade.
It only takes a handful of simple ingredients to make this super-tasty dish!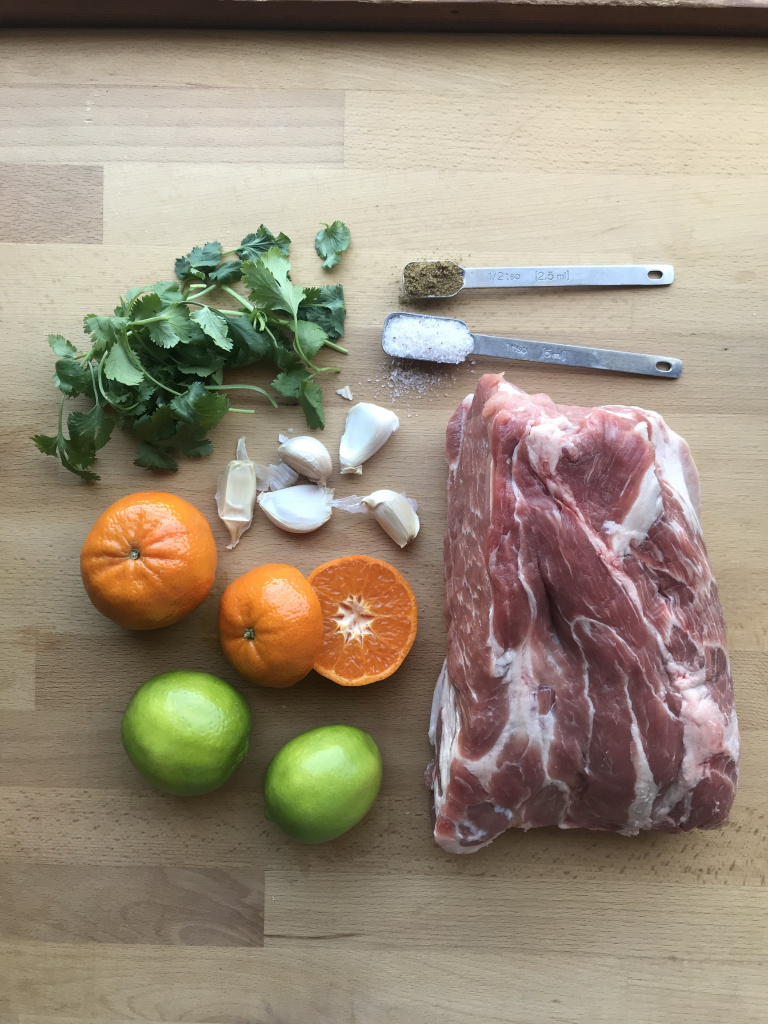 And when it comest to Instantpot recipes, bare bones is often where it's at. To stick with the simple theme, I borrowed the NYT technique of broiling the pork shoulder instead of frying it. Since this cut of pork is so fatty, it crisps up nicely without the added hassle of frying. Since Griot is traditionally served with a dish called Pikliz (pick-lees), I created a super-simple slaw for a vinegary, spicy punch that pairs so nicely with the rich, fatty pork.
This instantpot crispy mojo pork with spicy slaw is made in the style of Griot, only in half the time by making it in an Instantpot, and with a simpler marinade / cooking liquid. The extra step of crisping up the outside adds incredible flavor and texture, but the pork will be delicious straight out of the Instantpot, and you are more than welcome to call it a day at that point.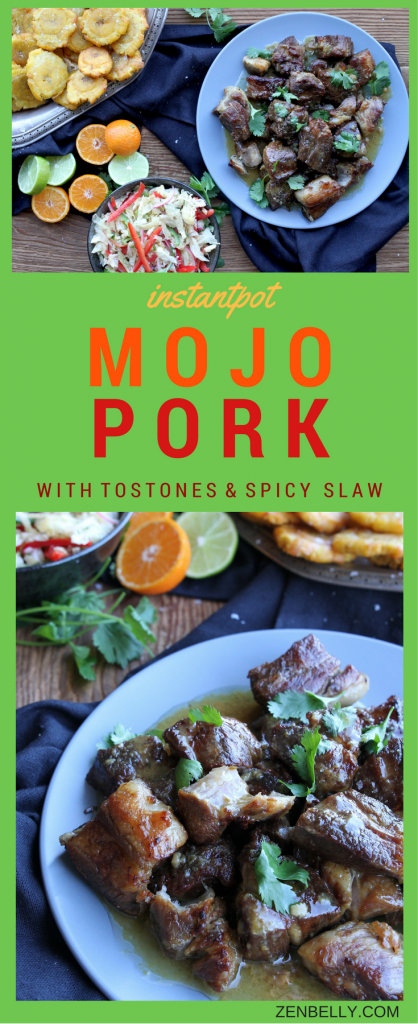 Print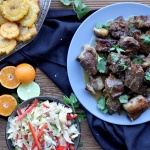 Instantpot Crispy Mojo Pork
Author:

Simone Miller

Prep Time:

15 minutes

Cook Time:

60 minutes

Total Time:

75 minutes

Category:

Main Course

Cuisine:

Haitian
---
Pork Ingredients:
1/4 cup

orange juice

1/4 cup

lime juice

5

cloves garlic, (minced)

1 teaspoon

salt

1/2 teaspoon

ground cumin

3

pounds boneless pork shoulder, (cut into 2-inch cubes)
chopped fresh cilantro
Spicy Slaw for serving, (optional, recipe follows)
Tostones for serving, (optional)
Spicy Slaw Ingredients:
1/4 cup

lime juice

2 tablespoons

avocado oil

1 tablespoon

apple cider vinegar

1/2 teaspoon

ground coriander

1/2

head green or savoy cabbage, (shredded)

1

bell pepper, (thinly sliced)

1/4

red onion, (thinly sliced)
---
Instructions
To make the pork:
In the insert of your Instantpot, combine the orange juice, lime juice, garlic, salt, and cumin.
Add the pork and toss to coat. (make ahead tip: You can refrigerate the pork overnight for 4-12 hours to marinate, which will make it even more flavorful, but this isn't necessary)
Make sure the rubber seal is placed inside the lid. Secure the lid and set the nozzle to sealing. Set for 45 minutes at high pressure.
After the 45 minutes are up, press keep warm / cancel and allow the pressure to release naturally for 10 minutes before turning the nozzle to venting and releasing any remaining pressure. Preheat the broiler.
With a slotted spoon or tongs, remove the pork to a baking sheet. Set the Instantpot to saute and reduce the liquid for 10-15 minutes, or until thickened (you want there to be about 1 cup remaining). Pour into a heat-proof bowl and skim off some of the fat once it starts to cool and rise to the top.
Meanwhile, broil the pork for 3-5 minutes per side, until crispy and browned, turning several times to get it browned on at least two of the sides. (the amount of time will depend on the heat of your broiler and distance the pork is from it)
Garnish with fresh cilantro, and serve with the reduced sauce, slaw and tostones, if desired.
To make the slaw:
In a large bowl, combine the lime juice, avocado oil, apple cider vinegar, coriander and salt.
Using your hands, mix in the remaining ingredients, squeezing the vegetables as you mix to break them down a bit.
Season to taste with additional lime juice or vinegar, if desired. (might be necessary if your cabbage was on the larger side)
---
All of the links on zenbelly.com are for information purposes, however some are affiliate links to books, products or services. Any sponsored posts are clearly labelled as being sponsored content. Some ads on this site are served by ad networks and the advertised products are not necessarily recommended by Zenbelly.