Paleo Soups & Stews got sent to the printer this week, hooray! Now that I'm done with that project, I'm focusing on the blog and have created an actual plan for it. A schedule, even! Sorry, I should have made sure you were sitting down before you read that. It's pretty big news for this extremely sporadic blog.
Here's what you can expect: A new recipe every Saturday. I asked on my Facebook and Instagram pages what types of recipes people would like to see, and got some great feedback. If there is a recipe you'd like to see here, feel free to leave it in the comments.
Also: A new cocktail recipe the first Thursday of each month. Thirsty Thursday. Aka #BoozinWithSimone.
This week: A super simple recipe for you parents juggling the back to school madness, or for those of you who just want to have dinner on the table in 30 minutes. I know I often do. Feel free to mix up the veggies here. Zucchini is plentiful this time of year, and quick to sauté up, so felt like the perfect choice. Green beans or broccoli would be great, too. Just don't cook the veggies with the chicken and sweet potatoes, because they'll turn to mush.
And if you're still on the fence about whether or not to get an Instantpot, let me offer you this: I am not a huge fan of electronic kitchen appliances. When I first got mine, I kind of just stared it for a few months before I used it. But now that I've gotten over that weirdness, I LOVE it. I don't own a microwave or slow cooker because I'd rather have the counter space than either of those, but the Instantpot has earned the space it takes up. And that's saying something in my kitchen! I highly recommend it.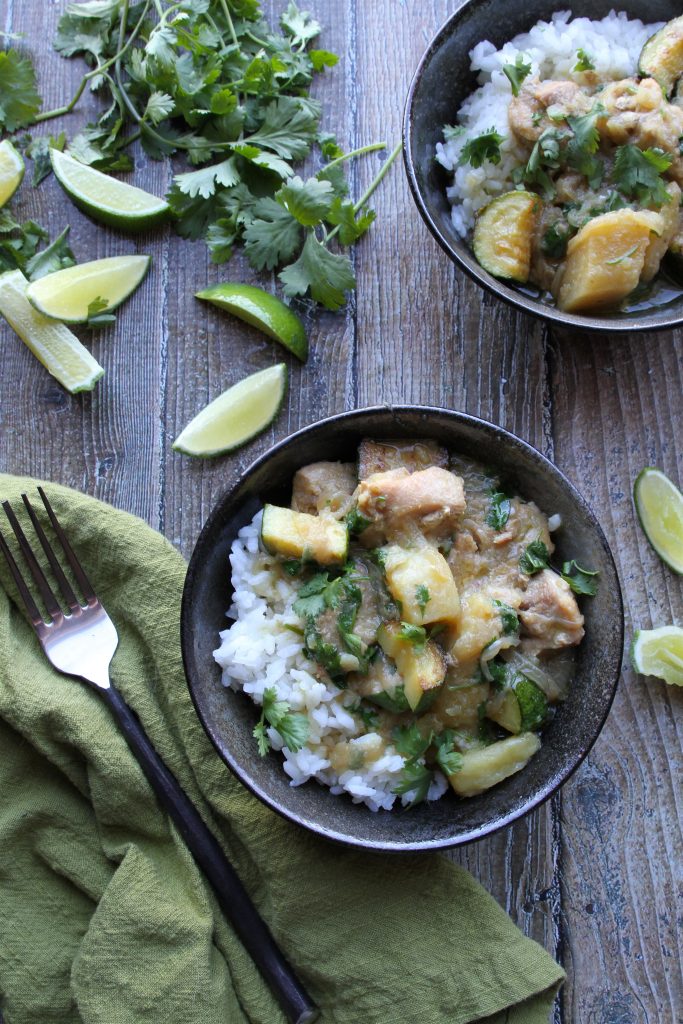 Instantpot Green Curry Chicken
prep time: 5 minutes | cook time: 20-25 minutes | serves: 4
2 tablespoons coconut oil, divided
3 small zucchini, diced
1 medium onion, thinly sliced
2 tablespoons green curry paste
1 tablespoon coconut palm sugar
1 teaspoon finely ground sea salt
1 14 ounce can full fat coconut milk
1 large sweet potato, peeled and cut into large dice
1 1/4 pound boneless skinless chicken thighs, diced into bite-sized pieces
1 small handful cilantro, chopped
lime wedges for serving
steamed white rice or cauliflower rice, for serving
Turn your Instantpot on sauté and allow to heat up. Once hot, add 1 tablespoon of the coconut oil.
Toss in the zucchini and sauté for 6-8 minutes, or until browned and tender. Remove from the pot and set aside.
Add the remaining tablespoon of coconut oil. Once melted, add the onion and stir it into the oil. Sauté for 4-5 minutes, stirring once of twice, until browned.
Stir in the curry paste, coconut sugar, and salt. Cook for another minute.
Add the coconut milk. Once it starts to steam, add the chicken and sweet potatoes. Turn off the Instantpot and secure the lid. Set it to high pressure for 10 minutes. After the 10 minutes is up, vent to quickly release the pressure and open the lid once it unlocks.
Stir in the reserved zucchini and cilantro.
Serve over white rice or cauliflower rice with lime wedges.
PIN THIS RECIPE!

Looking for more Instantpot recipes? Here are a couple!
Pressure Cooker Pot Roast & Gravy
All of the links on zenbelly.com are for information purposes, however some are affiliate links to books, products or services. Any sponsored posts are clearly labelled as being sponsored content. Some ads on this site are served by ad networks and the advertised products are not necessarily recommended by Zenbelly.