Although I've been mostly Paleo for years now, dairy is something that I have not given up. But I am extremely selective about the dairy I consume.
I have determined (by eliminating it for a period of time and reintroducing), that I tolerate full fat, high quality dairy quite well. I love cooking and baking with organic butter, adding heavy cream to my coffee, and sometimes having full fat yogurt with some granola for a quick breakfast. And good sour cream makes Taco Tuesday that much better.
That being the case, I was thrilled when Clover asked me to develop a recipe for Hanukkah using their kosher and organic dairy products. They're the brand that I use most often, and love that they're both a local-to-California company and that they're so widely available in stores all over the region. What I love most about Clover is that their commitment to quality goes way beyond what's required in the industry. Their milk comes from small, family farms that are held to the highest standards of both agricultural sustainability and the health and happiness of their cows.
When brainstorming a Hanukkah recipe that used Clover products, I immediately thought of latkes. While traditionally they are made with raw, shredded potatoes, I had a feeling that a version made with mashed potatoes would be just sublime. And these aren't just great for Hanukkah- they're also a wonderful way to use up those leftover mashed potatoes after your Thanksgiving feast!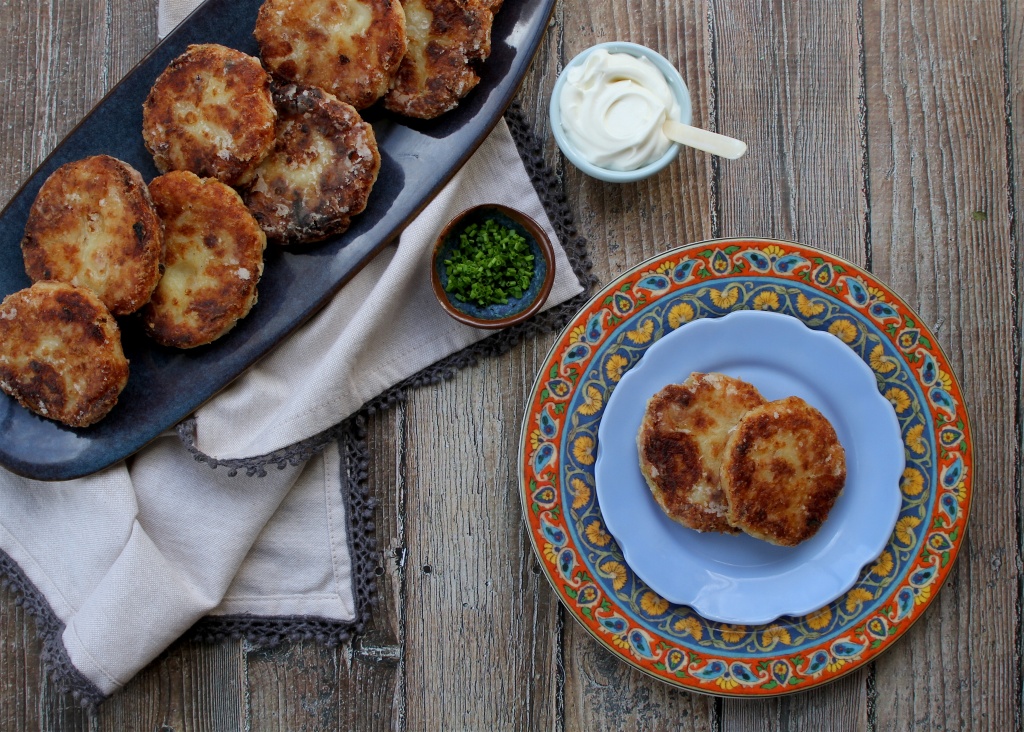 Mashed Potato Latkes
prep time: 15 minutes, plus time to make the mashed potatoes  
cook time: 30 minutes
yield: about 15 latkes / serves 4-6
1 tablespoon butter
1 medium onion, cut into small dice
1 teaspoon salt
3 cups cold mashed potatoes (see recipe below)
1 egg, beaten
1/2 cup potato starch, divided
1 cup avocado oil, for frying
1 cup sour cream, for serving (optional)
1 tablespoon minced chives, for serving (optional)
Melt the the butter in a large skillet over medium heat. Add the onions and cook until deep golden brown and softened, about 12-15 minutes.
Stir the onion into the mashed potatoes along with the egg and 1/4 cup of potato starch.
Form into rounds about 3 inches wide and 1/2-inch thick. You should wind up with around 15 pancakes.
Place the remaining 1/4 cup of potato starch on a plate and dredge the potato pancakes in it to lightly coat.
Heat a large skillet over medium-high heat and add about 1/3 of the oil. Once it's shimmering, add 4-5 of the pancakes and cook until golden brown, about 3-4 minutes per side. Remove to a towel lined plate. Repeat with the remaining pancakes, adding more oil as needed.
Serve with sour cream and chives, if desired.
Perfect Mashed Potatoes:
2 pounds potatoes (about 4 large Yukon Golds)
1 tablespoon + 1 teaspoon salt
4 tablespoons butter
1/4 cup heavy cream
Peel and slice the potatoes into 1-inch thick rounds. Place in a large pot and cover with cool water. Add 1 tablespoon of salt and bring to a boil.
Cook until the potatoes are soft, about 15 minutes. Drain.
Return the pot to the stove over low heat and add the butter and the cream. Once the butter is melted and the cream is steaming, either mash or rice the potatoes into the mixture, along with 1 teaspoon of salt. Stir to incorporate, but don't over mix.
Serve hot, or refrigerate for at least 2 hours or overnight if making Mashed Potato Latkes.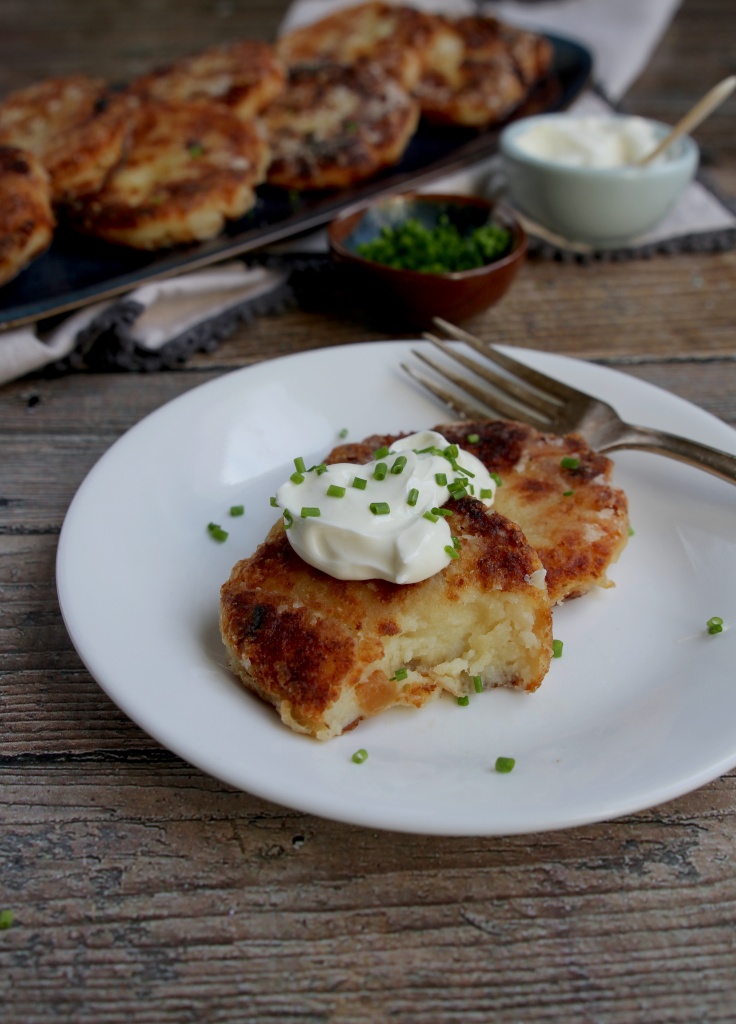 This post is in partnership with Clover Petaluma.
All of the links on zenbelly.com are for information purposes, however some are affiliate links to books, products or services. Any sponsored posts are clearly labelled as being sponsored content. Some ads on this site are served by ad networks and the advertised products are not necessarily recommended by Zenbelly.