I don't know about you, but to me, stuffing is what makes Thanksgiving. So when my friends at Bread SRSLY asked me to develop a recipe using their incredible gluten-free sourdough and seasonal ingredients that are available on Good Eggs, I was thrilled to oblige. After all- that meant my house smelled like Thanksgiving a month before the actual holiday! Also: More stuffing for me.
This simple but oh-so-flavorful stuffing uses two kinds of mushrooms, lots of fresh herbs, and is balanced out by some balsamic vinegar, which adds just the right amount of sweetness to counter the tang of the sourdough and the umami of the mushrooms. When you put a platter of this on your table, people might consider turkey the side dish!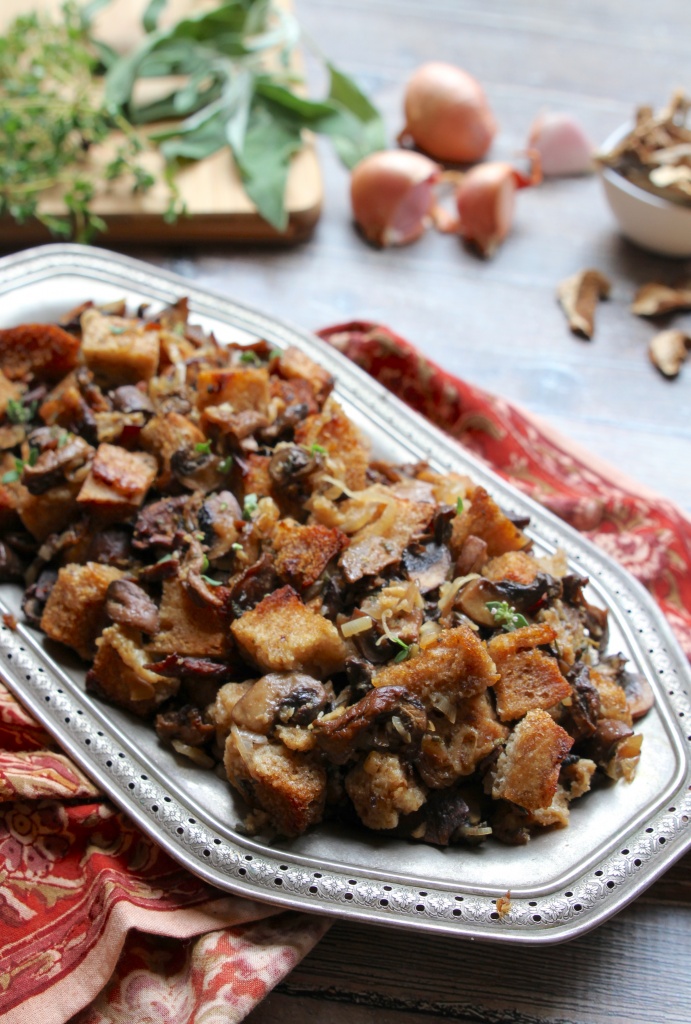 If you have vegan guests at your table this year, this recipe is a cinch to adapt; simply use avocado oil in place of butter and vegetable broth in place of chicken broth.
Sourdough & Mushroom Stuffing
yield: 8-10 servings
prep time: 15 minutes
cook time: 70-80 minutes
1 loaf Bread SRSLY sourdough, cut into 1-inch cubes
1 ounce dried porcini mushrooms (about 1 heaping cup)
8 tablespoons butter, divided
1 cup sliced shallots (about 3 large)
12 ounces cremini mushrooms, halved and sliced 1/4-inch thick
3 cloves garlic, minced
1 tablespoon fresh thyme leaves (10-12 sprigs)
1 tablespoon minced fresh sage (6-8 leaves)
1 teaspoon salt
1/4 cup balsamic vinegar
2 cups chicken broth
Preheat the oven to 350 and butter an 8×8 baking dish.
Spread out the bread cubes on a rimmed baking sheet and toast in a 350F oven for 30-35 minutes, or until dried out and beginning to crisp.
To rehydrate the porcini mushrooms: Place them in a medium bowl and cover with very hot water. Set aside for 15 minutes, or until soft. Using a slotted spoon, remove the mushrooms, gently squeeze out remaining liquid, and roughly chop.
In a large skillet over medium-high heat, melt 1 tablespoon of the butter. Once sizzling, add the shallots and sauté for 4-5 minutes, or until golden brown. Remove to a large bowl.
Add the remaining 7 tablespoons of butter to the skillet. Once sizzling, add the mushrooms. Saute for 5 minutes, or until golden brown and softened. Add the rehydrated porcini mushrooms, garlic, thyme, sage and salt and cook for another minute, or until fragrant. Stir in the balsamic vinegar and and cook for another minute or two, or until most of the liquid has evaporated. Pour in the chicken broth.
Transfer the chicken broth mixture to the bowl with the shallots. Stir in the toasted bread cubes and stir, making sure the cubes are all well coated and absorbing the liquid.
Transfer the mixture to the prepared baking dish and bake for 40-45 minutes, or until it's steaming hot and the top is browned and crisp. Allow to cool for 15 minutes before serving.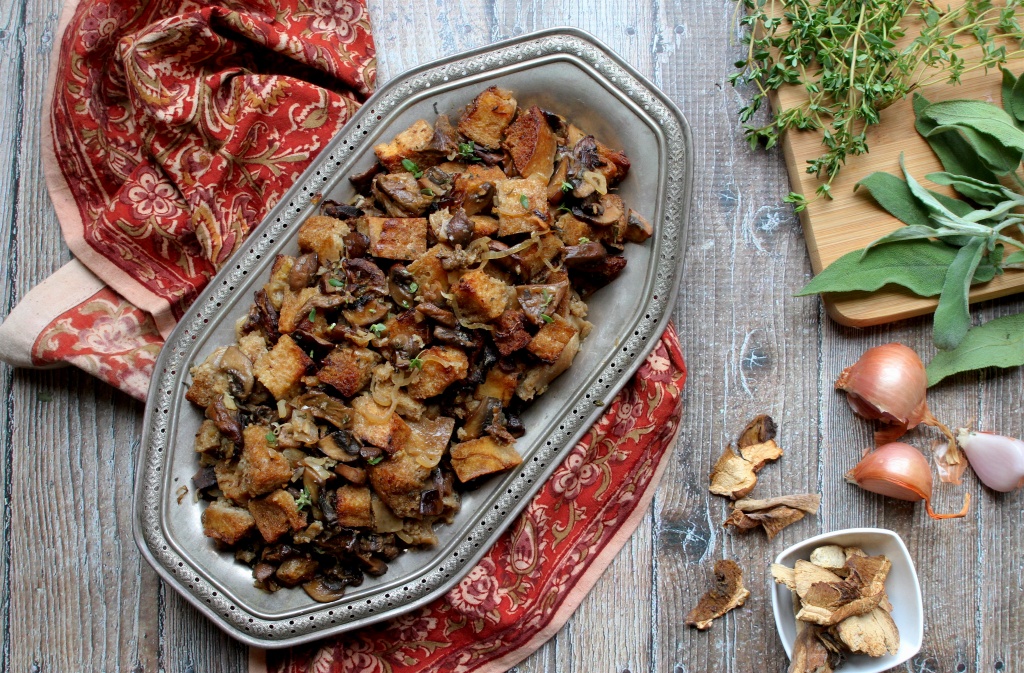 Thank you, Bread SRSLY, for sponsoring this post! 
All of the links on zenbelly.com are for information purposes, however some are affiliate links to books, products or services. Any sponsored posts are clearly labelled as being sponsored content. Some ads on this site are served by ad networks and the advertised products are not necessarily recommended by Zenbelly.