Among the bounty of Thanksgiving recipes here at zenbelly.com, there's been one glaring omission: The TURKEY! I feel like every year, I research the best way to cook a turkey and just can't ever really decide on what's best (I'm sometimes indecisive to a fault). So I've held off posting a recipe, in the interest of waiting until I had the best possible one for you.

Fresh Herb Dry Brined Turkey & Gravy
Well… good news, times 2!
I finally have a turkey recipe for you.
This turkey recipe is easy, cooks quickly, and is quite possibly foolproof. (brined meat = juicy meat that doesn't dry out when slightly overcooked. I'm sure we've all experienced at least one drrrrrry Thanksgiving turkey, right? Never again, my friends.)
Oh and even more good news: "dry brine" is really just a fancy way of saying "salt that ish". It's not complicated. In fact, it's way easier and less messy than wet brine, and you don't need a bathtub sized container to do it.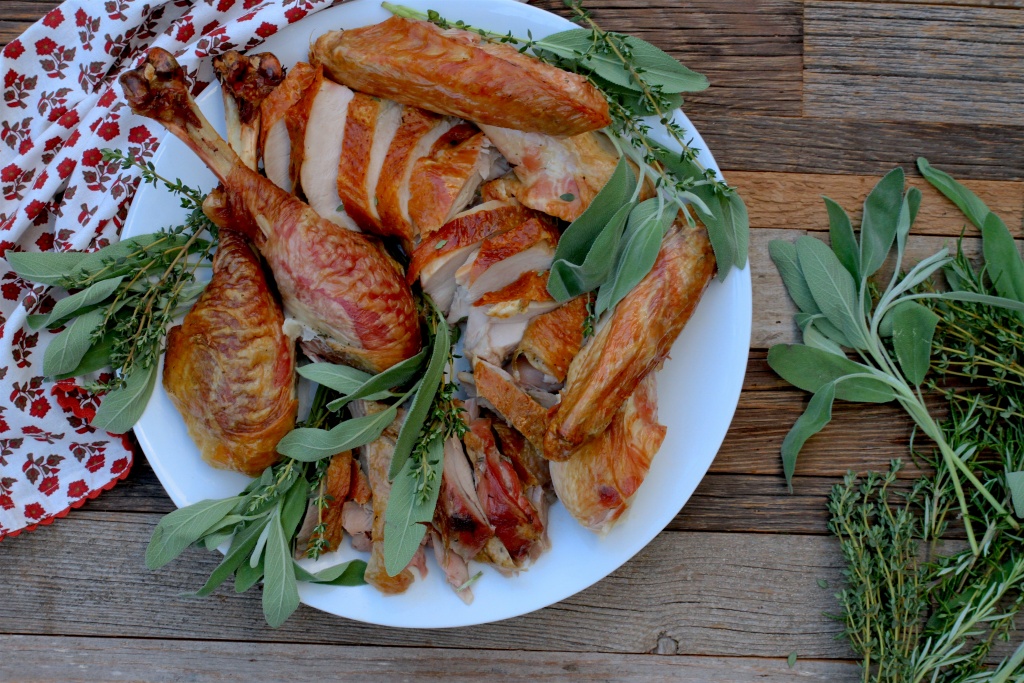 There are four components to this recipe – the turkey itself, the herb salt that you'll brine it with, turkey stock to make gravy, and of course, the gravy. You can choose your own adventure depending on your needs; for example: if you have a bunch of broth / stock on hand, you're one step ahead and don't need to make it. But make sure to freeze that backbone for next time!
Want more Thanksgiving recipes? Here are some of my favorites:
Best Ever Paleo Stuffing
Gluten-free Sourdough & Mushroom Stuffing
Sweet Potato Puree with Apples & Sage
Roasted Brussels with Pancetta & Cranberries
Apple Pie
Rainy Day Biscuits
And check out my Everything Dough mini ebook for spectacular Pull Apart Rolls and more!
PIN THIS RECIPE!
Print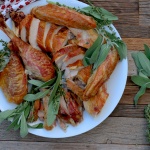 Fresh Herb Dry Brined Turkey & Gravy
Author:

zenbelly

Prep Time:

30 minutes + 3 days

Cook Time:

70-90 minutes

Total Time:

0 hours

Yield:

varies

Category:

thanksgiving

Method:

roast

Cuisine:

American
---
---
For the Turkey:
1 turkey – a good rule of thumb is 1.5 pounds per person (you'll still have leftovers)
fresh herb salt – 1 teaspoon for every pound of turkey (recipe below)
4 large carrots, chopped
4 stalks celery, chopped
5 cloves garlic, peeled and smashed with the side of a knife
4–5 sprigs thyme
1 tablespoon ghee, melted, or olive oil
For the Fresh Herb Salt:
1 1/2 cups kosher salt
1/2 cup loosely packed thyme, rosemary and sage (roughly 2 parts thyme, 1 part rosemary .5 part sage)
For the Gravy:
(makes about 4 cups; a good rule of thumb is 1/3 cup per person)
1/4 cup butter or ghee
1/4 cup cassava flour (I like Otto's)
1 cup white wine
3 cups turkey stock (recipe below)
a couple sprigs of fresh thyme

drippings from the turkey*
For the Turkey Stock:
turkey back & neck
2 carrots
2 stalks celery
6 cloves garlic, unpeeled and whole
10 whole peppercorns
1 tablespoon apple cider vinegar
pinch salt
8 cups water
---
Instructions
TURKEY
Make sure to prep the turkey on Monday so it's ready to roast on Thursday! 
Monday: Spatchock* the turkey, saving the backbone and neck for stock to make gravy.
Measure out your salt; you'll need 1 teaspoon for every pound of turkey (or 1 tablespoon for every 3 pounds: a 15 pound turkey needs 5 tablespoons of salt for example)
Gently loosen the skin on the breast and thighs and get some of the salt under there. Evenly coat the rest of the turkey with the remainder of the salt, making sure to get it on all surfaces.
Place the turkey skin-side up in a large pan and cover with plastic wrap.
Tuesday: Flip the turkey so it's skin-side down and cover again with plastic wrap.
Wednesday: Flip again so it's skin-side up, and leave uncovered overnight. (this will allow the excess moisture to evaporate a bit which means crispy skin- yay!)
Take the turkey out of the fridge one hour before you roast it to allow it to come to room temperature. Preheat the oven to 450ºF. (Ideally, with your oven rack just below center)
Place the carrots, celery, garlic and thyme in the bottom of a large roasting pan. Place the turkey on top, skin side up, with the wings tucked behind the breast. Brush the skin all over with the ghee.
Roast for 40 minutes and then turn the heat down to 350ºF. Roast for another 30-50 (or longer if you're cooking a giant bird), until the breast temperature is 150ºF and the thigh is 165ºF. My turkey was 15 pounds and took about 90 minutes, so about 6 minutes per pound. Allow to rest, loosely tented with foil, for 20 minutes before carving.
FRESH HERB SALT
Combine the salt and fresh herbs in a blender or food processor and blend until the herbs are finely minced and the salt is a light green color.
Store remaining salt in an airtight container in the fridge. (Use it to brine chickens, season beef or anything that could use a salty-herby boost!)
GRAVY
In a large sauce pan over medium-low heat, melt the butter. Add the cassava flour and whisk to combine. Cook over low heat for about 10 minutes, or until it's the color of light caramel, whisking often.
Pour in the wine and turn the heat to medium-high. Simmer for 2 minutes or so, to cook off the alcohol.
Add the turkey stock and thyme and bring to a simmer. Cook for about 15-20 minutes, or until slightly reduced and thickened. Stir in the turkey drippings. Season to taste with salt and pepper.
TURKEY STOCK
Place all of the ingredients in a pressure cooker and lock on the lid. Cook on high pressure for 45 minutes. Allow the pressure to release naturally before venting and opening the lid.
Strain the solids and reserve the liquid, skimming off the fat that comes to the surface.
If cooking on the stove top, simmer all the ingredients for 90 minutes and then continue with step 2.
---
Notes
* To spatchcock the turkey, cut along both sides of the backbone with a sharp knife or kitchen shears. Flip the turkey so it's skin-side up and press down to flatten, splaying out the legs. For more visual instruction on that, see Mark Bittman do it HERE
All of the links on zenbelly.com are for information purposes, however some are affiliate links to books, products or services. Any sponsored posts are clearly labelled as being sponsored content. Some ads on this site are served by ad networks and the advertised products are not necessarily recommended by Zenbelly.