I was raised by two New Yorkers, and if they taught me anything, they taught me how to be a serious pizza snob. Pizza crust, done right, is not just a vehicle for the toppings and sauce and cheese. It IS the pizza. If the crust isn't right, the pizza is not worth eating. Now that I'm mostly grain-free, I HAD to figure out a way to create a NY style paleo pizza crust.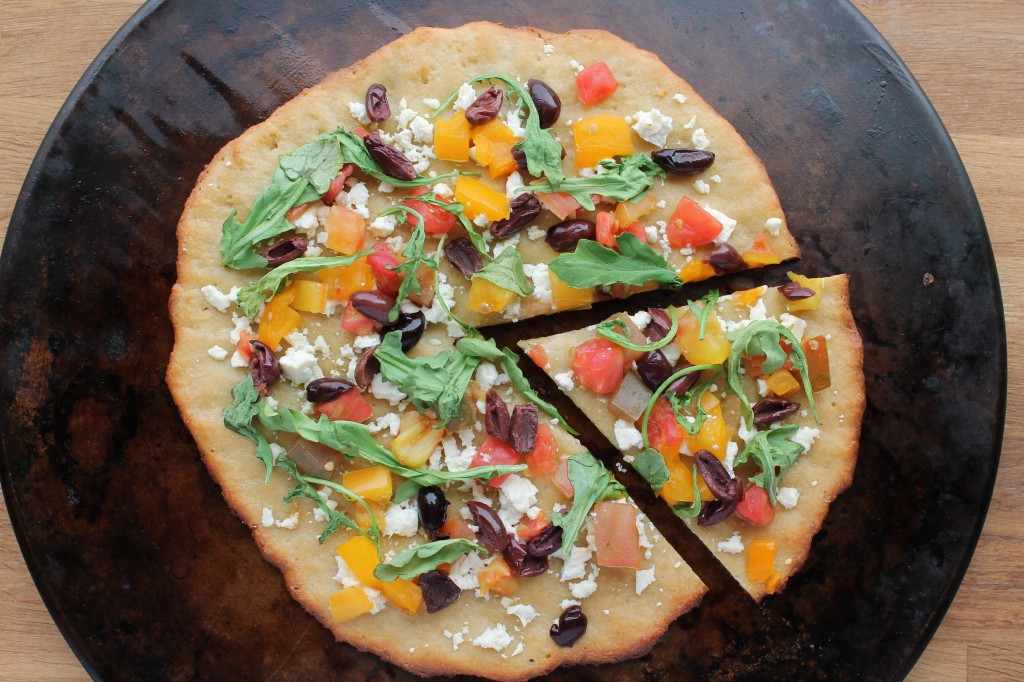 NY Style Paleo Pizza Crust
What was one the first thoughts I had when I realized I could no longer eat gluten? "Thank God I live in San Francisco, and not in New York" Seriously. The thought of resisting pizza there sounded way more like torture than resisting it here. I'll be fine, I thought.
Now that I'm mostly paleo and obsessed with recreating old favorites that can stand up to the originals, I had to put pizza on my list of recipes to tackle. There are plenty of paleo pizza crusts that are great vehicles for toppings. There's the famous cauliflower crust, all sorts of almond flour / coconut flour / tapioca starch combos. There's even meatza. (I love meat as much as the next cavegirl, but don't even get me started on this one)
All vehicles. They work. You can put sauce and pepperoni on them and they resemble pizza. But I'm not happy until I have perfect, and this is why there's almost always assorted flours on my ceiling and dishes in my sink.
This crust recipe was inspired Tammi Credicott's recipe that is featured in Everyday Paleo Around The World; Italian Cuisine by Sarah Fragaso. Simon and I really enjoyed the flavor of it.  It sparked a conversation about how to get that crispy-chewy NY thing that I've been missing. As someone who used to make bread, he suggested letting it rise, to which I responded: "I don't think grain-free dough will rise!"
But he insisted I try it and be patient (not my strong suit), and it worked! I tried about 7 variations of this recipe before I got what I was looking for, and am really excited about the result. I hope you love it as much as I do! (If you do, you'll probably love The Zenbelly Cookbook, which has this recipe and over 100 more of my favorites)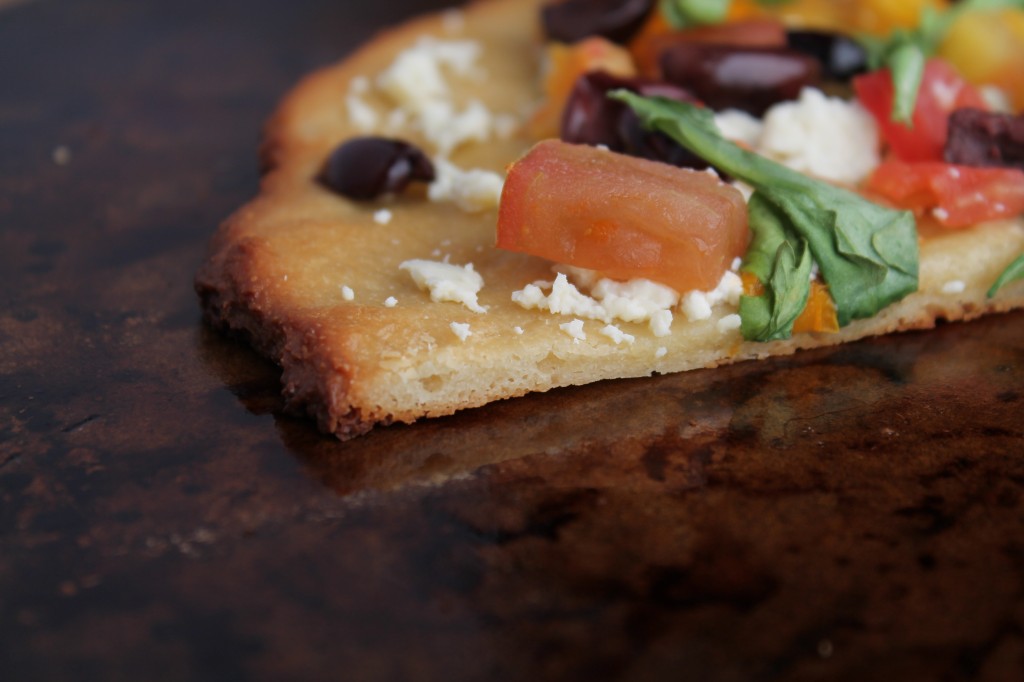 NY Style Paleo Pizza Crust Perfection
Print

NY Style Pizza Crust

Author:

Simone Miller

Prep Time:

15 minutes

Cook Time:

10 minutes

Total Time:

25 minutes

Yield:

1 9-10" pie

Category:

Main Course

---

Description

Quite possibly the best paleo pizza crust around.

---

1 tablespoon

active dry yeast

1 tablespoon

honey

1/4 cup

warm water ((should feel warm on the inside of your wrist, but not burn))

3/4 cup

almond flour

3/4 cup

  tapioca starch

3/4 teaspoon

sea salt

1 tablespoon

olive oil ((or other melted fat if you're opposed to heating olive oil))

1 tablespoon

egg whites ((less than

one

egg))

1 1/2 teaspoons

apple cider vinegar
and of course your favorite toppings!

---

Instructions

In the warmed bowl of your stand mixer (or alternately, the bowl you'll be using with hand-held beaters), combine the yeast, honey, and warm water and whisk to combine. Let sit for a good 5 minutes. It will get foamy and active.
In a small bowl, combine olive oil, apple cider vinegar, and egg white.
In a medium bowl, whisk to combine the almond flour, tapioca starch, and sea salt.
Once the yeast is foamy, add the wet and dry ingredients to the bowl and mix on medium high for 30 seconds, scraping down the bowl once to make sure it's all incorporated.
Scrape down the bowl with a rubber spatula again to gather the dough together. It will NOT look like the dough you remember, it is much wetter. Use the spatula to get it into as much of a ball as possible.
Cover the bowl with a tea towel and set in a warm (but not hot) place. Allow it to sit for 75-90 minutes. I know, it's torture.
After 75 minutes, check the dough to see if it's risen. It won't rise as dramatically as a conventional dough would, but it will have changed, and gotten aerated, and a bit larger. (see above pics). If this has happened, Turn your oven on to 500 and if using a pizza stone, place it in the oven to to heat up while the oven warms.
Lightly oil a sheet of parchment paper and turn the dough out onto it. It will likely be a bit stuck to the bottom of the bowl, just scrape it out as best as you can.
With oiled hands, gently flatten out the pizza dough into a 9-10″ circle. It will be aerated, so might want to leave empty spaces.
Carefully transfer the parchment with the dough onto the pizza stone or sheet pan.
Bake at 500 in the lower 1/3 of your oven for 4-6 minutes, or until it's starting to brown at the edges. (ovens vary, keep an eye on it)
Add desired toppings and cook for 2-3 minutes more. Allow to cool for a minute before slicing.

---

Notes

If you have a pizza stone, use it. If not, use the heaviest sheet pan you have.
Warm the bowl you'll be putting the yeast mixture in, as well as the measuring cup you'll be measuring the water with. If it's cold, the water will cool right away, and might not activate the yeast. Just run some hot water in it before using.
This recipe involves high heat cooking, which might rub some people the wrong way, since there is olive oil and nut flour involved. This is one of those situations where I absolutely put taste and texture first. Good pizza is cooked at high temperatures, and that is part of what makes good pizza good.  You can use a different fat if you'd like.
Results are best when the crust is cooked almost entirely before adding toppings, so I recommend having your toppings almost completely cooked before adding them in the last step.
All of the links on zenbelly.com are for information purposes, however some are affiliate links to books, products or services. Any sponsored posts are clearly labelled as being sponsored content. Some ads on this site are served by ad networks and the advertised products are not necessarily recommended by Zenbelly.