I have made a version of this paleo ranch dressing countless times, but always just throw a bunch of stuff into some mayonnaise that I already had made; meaning no official recipe. In The Zenbelly Cookbook, there are several similar recipes; Remoulade, Garlic Dill Aioli, and Dijon-Herb Aioli. They're all fantastic, if I do say so myself, and are easily adapted to be dressings and you could maybe even finagle a ranch recipe out of them with a few tweaks. (While I'm on the topic, if you don't have my first cookbook book yet, I really do recommend it. I know I'm biased and all, but… It's really a good book! You can read more about it HERE)
Okay now that I've shamelessly plugged my own cookbook, on to the issue at hand: RANCH. If you follow me on social media, you probably know that I am not dogmatic about the Paleo lifestyle, and once in a while enjoy some gluten-free pizza, wings and maaaaybe even french fries at my local pizza joint, The Pizza Place on Noriega. Their GF pizza is great, as are their super crispy wings and fries. And don't worry, you can even eat your veggies there because they have a nice variety of fresh salads. BUT THEIR RANCH. Why is it so good? It's homemade there, that much I know, and it's not dairy-free, but I eat it because I tolerate dairy just fine. Upon investigation last time I was there, I noticed that it had more color than the typical ranch due to the addition of bell pepper. So here's me, copying them and making some ranch that is not only super simple to make, but is also dairy-free, Paleo, 21 Day Sugar Detox compliant and maybe even Whole 30, but honestly a lot of the rules for that baffle me so don't quote me on that. It's homemade salad dressing, and if that's SWYPO, I think that's silly insane ridiculous er, just perfectly fine. But I break the rules, not make the rules. 😉
You are going to want to use an immersion blender for this. I promise you won't regret the purchase!
Paleo Ranch
prep time: 5 minutes
cook time: zilch
yield: about 1 cup
1 large egg
2 tablespoons lemon juice (about 1 small lemon)
1 cup neutral tasting oil, such as avocado or light olive.
1/4 teaspoon finely ground sea salt
1/4 teaspoon garlic powder
3 strips (about 1-inch x 3-inch) red or orange bell pepper, roughly chopped
1/4 cup flat-leaf parsley leaves
12 chives, chopped
In a quart sized canning jar, blend the egg and lemon juice with an immersion blender until well combined, about 10 seconds.
With the motor running, drizzle in the oil. It will emulsify and thicken.
Add the salt, garlic powder, bell pepper, parsley and chives. Blend again, until the herbs and pepper are finely minced and incorporated. Season to taste with additional salt and garlic powder, if desired. Oh and a few grinds of black pepper if you're into it.
Cover and refrigerate. Use within 5 days.
PIN THIS RECIPE!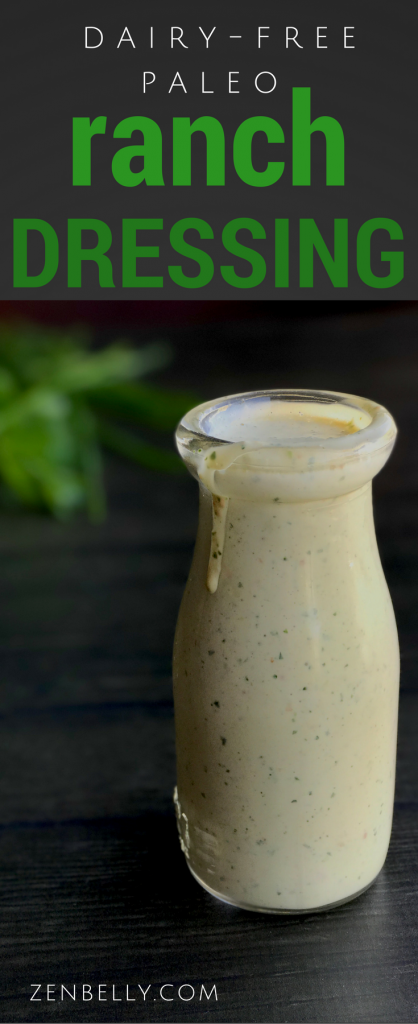 All of the links on zenbelly.com are for information purposes, however some are affiliate links to books, products or services. Any sponsored posts are clearly labelled as being sponsored content. Some ads on this site are served by ad networks and the advertised products are not necessarily recommended by Zenbelly.