The other day, I had a recipe fail that turned into a delicious dinner. I love when that happens. The attempted recipe was for potstickers, the wrappers for which I was trying to make with Ottos Naturals cassava flour. I've found that cassava flour works great as a 1:1 sub in so many recipes, so I had expectations of a one try recipe success. Sometimes I'm overly-confident / hopeful about these things. I bet with a few more trials, I'd get it right. But after three or four, I decided to call it a day and cook up the remaining potsticker filling for dinner that night.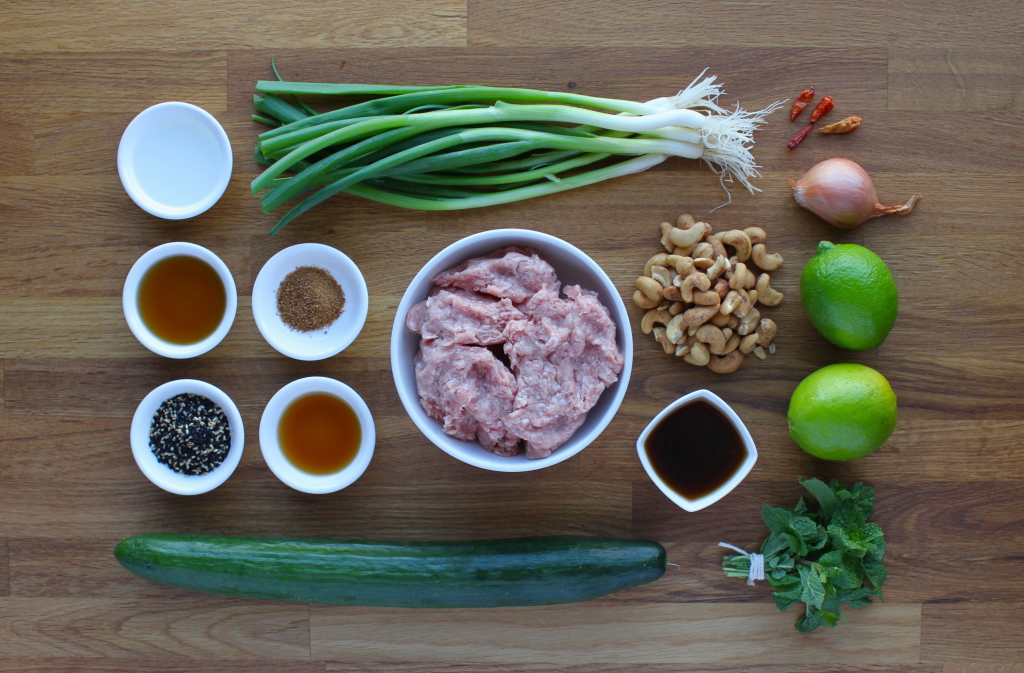 This dish, made with ground meat (pork in this case, but you could use beef, chicken, duck or lamb, or just about any ground meat you've got on hand) is similar to larb, which is a Laotian minced meat salad that is also a staple on most Thai restaurant menus. It's wonderful served over rice or cauliflower rice, in lettuce cups or over greens, or in a bowl with the cucumber salad piled on top. The reason I'm calling it "larb" and not simply larb is because ground rice powder is a main component of this dish when made traditionally.
When should you make this dish? Well, it takes about 20 minutes, maybe 30 if you're pokey in the kitchen, so is perfect as a quick weeknight meal. It's also wonderful as an appetizer, especially if you plan on following it with other better-than-take-out favorites, such as: Thai Chicken Skewers with Peanut-Free Satay Sauce, Sesame Zucchini Noodles, Orange-Ginger Beef Stir-Fry or Pad Thai.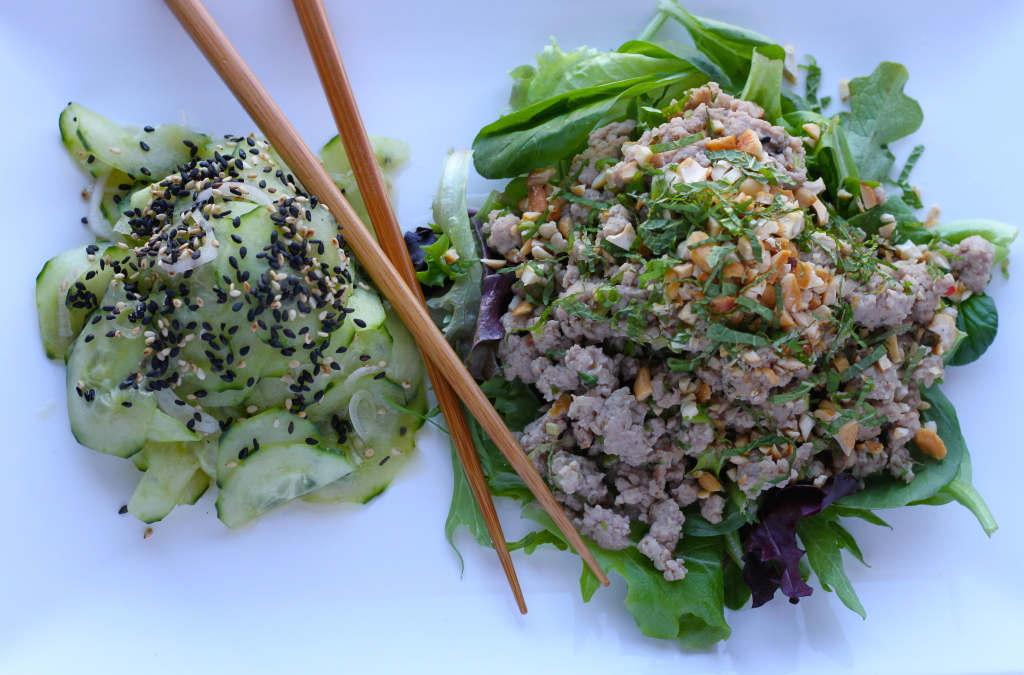 Pork "Larb" with Sesame Cucumber Salad
  serves: 2 as a main course, 4-6 as an appetizer
prep time: 15 minutes
cooking time: 5 minutes
For the Cucumber Salad:
1 English cucumber, peeled and very thinly sliced (on a mandolin is ideal)
1 small shallot, very thinly sliced
1 tablespoon coconut aminos
1 tablespoon toasted sesame oil
1 tablespoon rice or white wine vinegar
1 teaspoon fish sauce
1 teaspoon coconut sugar (simply omit if doing a Whole30 or 21 Day Sugar Detox)
1 tablespoon toasted sesame seeds
In a medium bowl, whisk together the coconut aminos, sesame oil, vinegar, fish sauce and coconut sugar. Add the shallots, cucumber and half of the sesame seeds. Toss to combine. Set aside.
Sprinkle the cucumber salad with the remaining sesame seeds and serve either on the side or piled on top of the pork.
For the Pork:
1 pound pork
1/2 cup minced scallions (about 6-8)
1 tablespoon coconut aminos
1 teaspoon fish sauce
3 Thai bird eye chiles, crushed, or 1/2 teaspoon red pepper flakes
1 tablespoon coconut oil or other high heat oil
1/2 cup toasted cashews or macadamia nuts, minced
small handful of mint leaves, minced
juice of one lime, plus additional wedges for serving, if desired.
In a large bowl, combine the pork, scallions, coconut aminos, fish sauce and crushed chiles. Mix well to combine. A gloved hand is perfect for this task.
Heat a large skillet over high heat and add the oil. Once it's shimmering, add the pork and cook for 4-5 minutes, or until cooked through. Break it up and stir as it cooks, but don't stir more than you have to so it has a chance to brown a bit.
Once the pork is cooked, stir in half of the minced nuts and half of the mint. Squeeze in the juice of one lime over the pork.
Serve the pork over rice, cauliflower rice, in lettuce cups or over greens, sprinkled with the remaining nuts and mint. Serve with lime wedges, if desired.
Pin this recipe:
  
affiliate links in this post help cover some of the cost of running a blog. Thank you for your support!
All of the links on zenbelly.com are for information purposes, however some are affiliate links to books, products or services. Any sponsored posts are clearly labelled as being sponsored content. Some ads on this site are served by ad networks and the advertised products are not necessarily recommended by Zenbelly.