I'm so happy to have Kelly of The Nourishing Home as a special guest today sharing her delectable recipe for grain-free "oatmeal" cookies. It's part of a collection of over 100 irresistible grain-free, starch-free and dairy-free recipes from her new published cookbook – Everyday Grain-Free Baking!
I received an advance copy of Kelly's new book, and am really looking forward to baking from it. The only reason I haven't busted out the baking supplies yet is because I'm trying reeeeeally hard to keep it under control with the sugar this month. Next month, though- it's ON. I think her Ice Cream Cookie Sandwiches will be first on the list.
From breads, biscuits and muffins to savory snacks and decadent treats, you'll find step-by-step instructions, beautiful color photographs and helpful tips & tidbits to make all of your grain-free baking adventures a delicious success! Click here for a sneak peek at Kelly's beautiful new cookbook. And if you're already convinced you need this on your shelf, you can buy it here.
Almost Oatmeal Cookies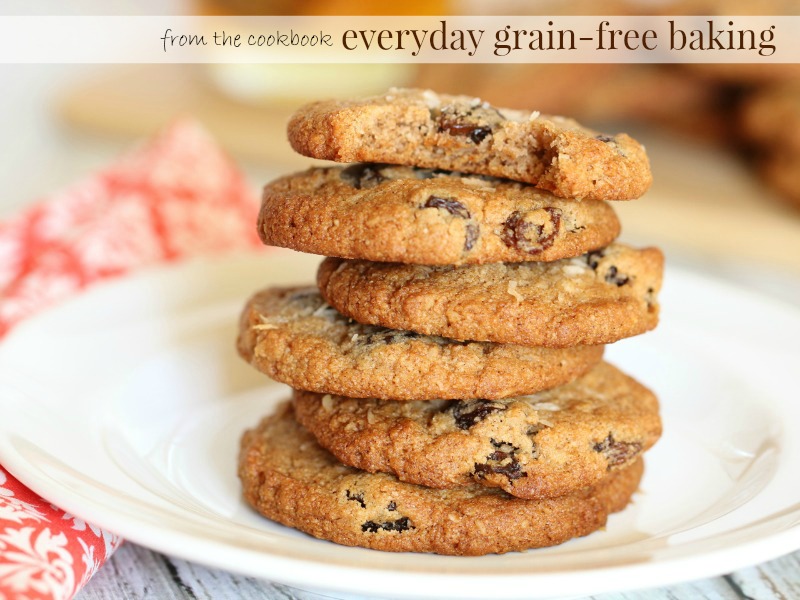 Hi, I'm Kelly from The Nourishing Home. It's such an honor to be a guest at Zenbelly and share one of my favorite cookie recipes with you.
When I began my grain-free journey as a means of finding relief and healing from several chronic autoimmune conditions, I became passionate about finding delicious and healthy ways to transform the familiar favorite comfort foods from my past into delightful grain-free creations that everyone can enjoy – whether or not they're living grain-free.
In fact, as the only grain-free girl in a house full of grain-loving guys, I've got a tough audience to please. And I know I'm not the only one. That's why I've made it my mission to develop easy grain-free recipes that actually taste like the real deal!
To give you a little taste of the scrumptious recipes you'll find within the pages of my new published cookbook, Everyday Grain-Free Baking, I'm excited to share this special favorite with you.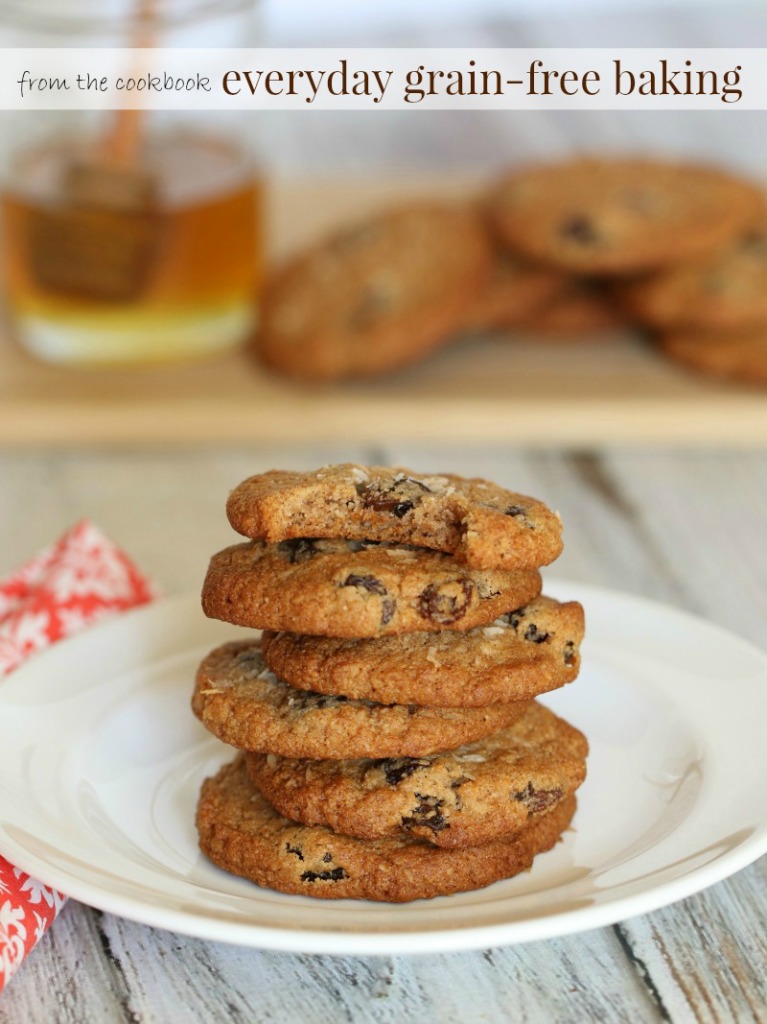 I affectionately call this recipe "Almost Oatmeal" Cookies, because although there isn't a single oat in these beauties, the taste and texture is so reminiscent of their namesake, they're certain to bring a smile to your face! (Especially if you're like me and have been missing oatmeal cookies.)
Unsweetened shredded coconut is the secret behind this cookie's chewy texture, which makes them taste remarkable similar to the classic cookies we grew up enjoying.
So grab a glass of almond milk and get ready for these delightful honey-sweetened treats!
Almost Oatmeal Cookies
Reprinted with permission from Everyday Grain-Free Baking
Yield: 1½ dozen cookies
Ingredients
1 1/4 cup blanched almond flour
1 teaspoon coconut flour
1/4 teaspoon baking soda
1/8 teaspoon salt
2 tablespoons unsalted butter, softened (or palm shortening)
2 tablespoons coconut oil
1/4 cup honey
1 teaspoon vanilla extract
1 3/4 teaspoons ground cinnamon
1/2 cup unsweetened shredded coconut
1/3 cup organic raisins
Instructions
Preheat oven to 350°F. Line a baking sheet with parchment paper. Set aside.
In a small bowl, combine the almond flour, coconut flour, baking soda and salt.
Using a stand mixer or electric hand mixer, mix together the butter (or palm shortening), coconut oil, honey, vanilla and cinnamon until smooth and creamy.
Add the dry ingredients to the wet and mix well to combine. Then add the shredded coconut; continuing to mix until well blended.
Using a rubber spatula, fold in the raisins. Then drop the dough by rounded spoonfuls at least two inches apart onto the parchment-lined baking sheet. Use your fingers to slightly flatten the cookies into rounds.
Bake for 8-10 minutes, until golden brown along edges. Allow the cookies to completely cool on the cookie sheet, as they will be very soft and crumbly when hot.
Once cooled, they transform into the ultimate chewy treat!
All of the links on zenbelly.com are for information purposes, however some are affiliate links to books, products or services. Any sponsored posts are clearly labelled as being sponsored content. Some ads on this site are served by ad networks and the advertised products are not necessarily recommended by Zenbelly.