It's like I don't even know who I am anymore. Somehow, I've managed to obtain multiple heart shaped baking items; a donut pan, cake molds, and candy molds. I blame being a food blogger. I see these things and have visions of cutesy Valentine's Day blog posts and just have to have them.
Well, I put at least one of the above silly items to good use this week. I knew I had to make some kind of decadent chocolatey treat, and chocolate + brown butter + hazelnuts + sea salt just felt right. I went sort of classic candy mode on these; meaning I added a little sugar. I tried with coconut sugar, and it didn't work. I really wanted the hazelnut praline thing going on, so I made a caramel with organic cane sugar, and tossed the toasted hazelnuts in that. The sugar hardens when it cools, and gives the hazelnuts a candy-like feel. When combined with good dark chocolate, brown butter and sea salt, it's pretty much the best kind of Valentine's treat you can imagine.
If you can't stand the thought of using real sugar in these, eliminating that step and simply using toasted chopped hazelnuts will still result in a tasty, chocolatey bite.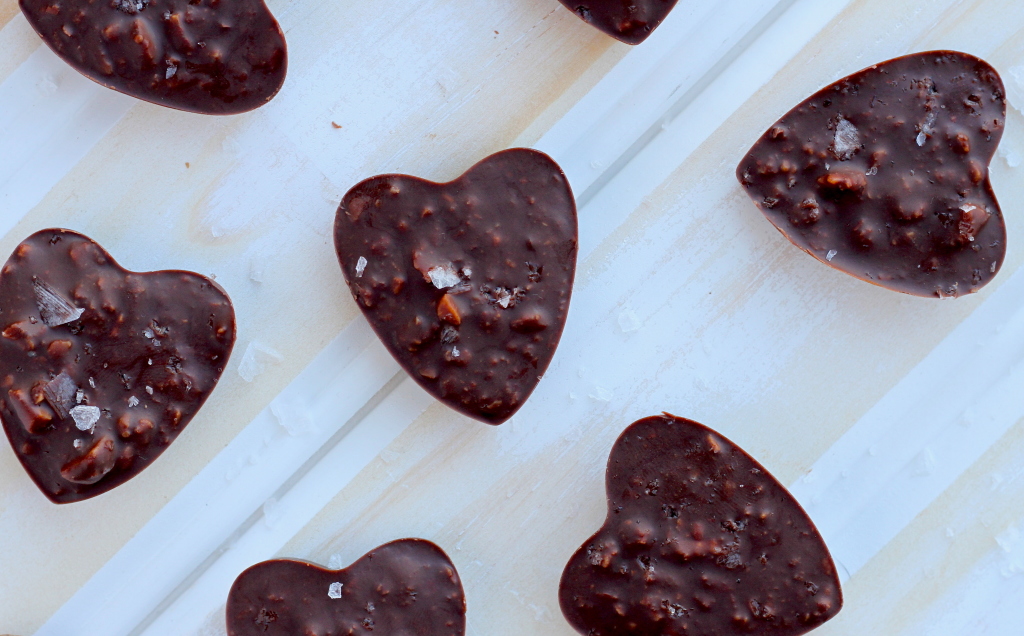 Want to know more about brown butter? Here's what you need to know: You need some. It's called brown butter because it's exactly that: butter that has been cooked until brown, giving it incredible notes of caramel and hazelnut.  Sounds simple enough, right? Well it is, and then it isn't. Making it is a bit of an art, and while I've definitely made some in my own kitchen, I prefer to purchase it from Tin Star Foods. Why?  Two reasons:
1. I know it will taste perfect.
2. I know it will be lactose and casein free.
And guess what?  For the next two weeks, Tin Star Foods is offering a 15% off coupon for Zenbelly subscribers, so get on that list! Click here to sign up.
Hazelnut Brown Butter Chocolate Hearts
cook time: 20 minutes, plus time to chill
makes: 12-16 2 inch chocolates
1/4 cup organic cane sugar
1/2 cup hazelnuts, toasted
1 cup (5 ounces) dark chocolate, chopped, or dark chocolate chips
2 tablespoons brown butter ghee
coarse sea salt, for sprinkling
Combine the sugar and 1 tablespoon water in a small sauce pan and heat over low heat, whisking, until melted. Allow to cook for 10 minutes or so, until it turns a light amber color. Swirl the pan and run a wet pastry brush around the sides of the pan to keep the sugar from crystalizing while it's cooking.
Stir in the hazelnuts and coat with the caramel. Transfer to the prepared baking sheet and allow to cool. (It will be tempting to sneak one of these hazelnuts to taste, but be careful! Hot sugar is very, very hot, and will stick to your fingers. Owie)
While the hazelnuts are cooling, melt the chocolate and brown butter in a double boiler over barely simmering water.
Once cool, and the sugar has hardened, transfer the hazelnuts to a food processor and pulse 6-8 times, or until the hazelnut praline is a somewhere between small chunks and a coarse meal.
Stir the hazelnut meal into the chocolate mixture and stir to combine.
Pour into chocolate molds and sprinkle with a few flakes of sea salt. Place in the refrigerator or freezer until hardened.
These chocolates are best served straight out of the fridge or freezer, since they melt quickly.
*** Not into hearts? You have options. ***
Pin this recipe!
All of the links on zenbelly.com are for information purposes, however some are affiliate links to books, products or services. Any sponsored posts are clearly labelled as being sponsored content. Some ads on this site are served by ad networks and the advertised products are not necessarily recommended by Zenbelly.