This recipe for Butternut Squash Soup is part of my review of the Blentec Designer Series blender. Click the image below to enter!

This simple recipe is a perfect example of how the techniques you use can make a world of difference in the finished product.
If you were to take all of the ingredients in this recipe, throw them in a pot and boil them, you would still have butternut squash soup. It would still be orange and creamy and comforting. But when you roast all of the ingredients until they're caramelized and tender, and then puree them with the broth, you have something that's on a whole different level. It has depth. Complexity. Layers of flavors. By simple roasting the vegetables, you have a soup that can be served as an elegant first course at a dinner party, or in small teacups as hors d'oeuvres, drizzled with truffle oil or cider cream. And you'll still have a simple, humble soup that will warm you to your core on a chilly weeknight.
And then there's the texture; smooth like butta. I've pureed more soups that I can count, and can tell you this: When you puree a soup like this in a high powered blender like a Blendtec, the texture is sublime. I catered a dinner party last weekend, and the second course was sunchoke bisque. The guests raved about it, and asked how I made it. I said "Well, I sauteed the sunchokes with some shallots in butter…" And they cut me off with "right, but how did you puree it? What did you use? It's SO smooth and decadent!"
The difference is in the details.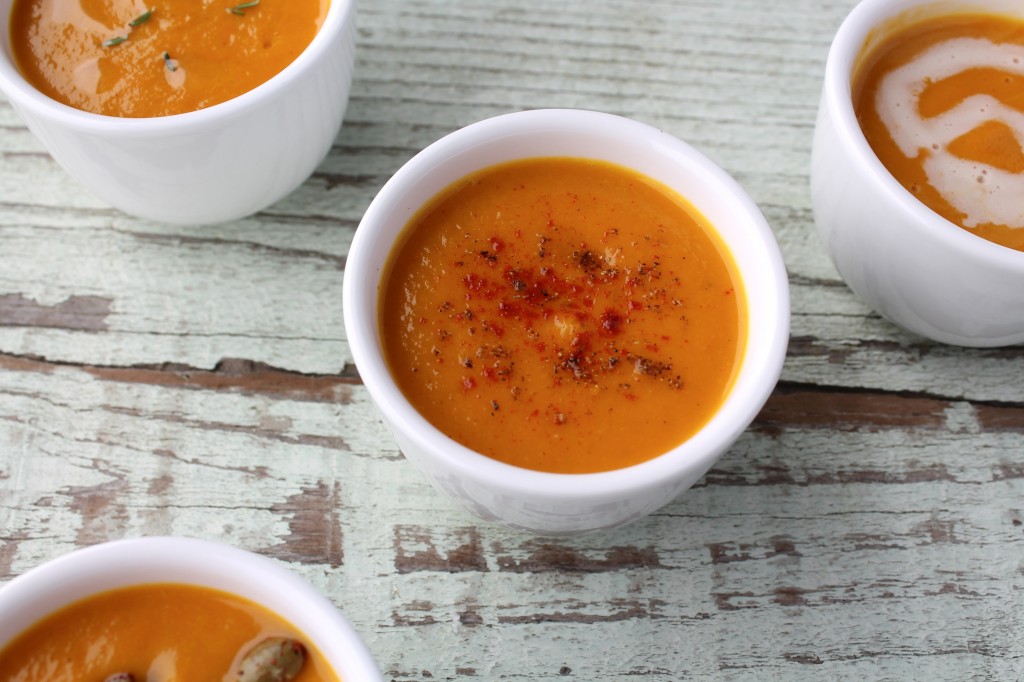 roasted butternut squash soup
1 medium butternut squash, about 3 pounds (or you can use your favorite hard squash)
2 large carrots
1 medium onion
2 tablespoons butter, melted (or coconut oil, or your preferred fat)
1 teaspoon garam masala
1/4 teaspoon ground ginger
1 teaspoon sea salt
6 cups chicken broth, preferably homemade
Preheat your oven to 425
Peel and dice the squash and onions, and dice the carrots.
In a large bowl, toss the diced veggies, butter (or fat), garam masala, ginger, and salt. Transfer to a baking sheet and bake for 45 minutes to an hour, or until tender and caramelized.
Combine the cooked veggies and the broth in a large soup pot and simmer on medium-low for 20 minutes.
Carefully transfer the soup to your blender and puree until very smooth, in batches, if needed.
Serve in tea cups or shot glasses as hors d'oeuvres, with one or a variety of these suggested garnishes, if desired:
a drizzle of truffle oil and a few thyme leaves
a sprinkling of garam masala and smoked paprika or chipotle for some kick
sprinkled with sweet and spicy pumpkin seeds; toss a handful of pumpkin seeds with a pinch of salt, a pinch of cayenne, and a drop of maple syrup. Toast on a parchment lined baking sheet in a 325 oven for 10-15 minutes. Cool completely on parchment.
a swirl or cider cream; boil 1/2 cup apple cider in a small sauce pan until reduced by half, about 5 minutes. Whisk in 1/2 cup coconut cream or sour cream.
Or: Just ladle it into big bowls for dinner, if you want to keep it simple.
This recipe is part of my review of the Blendtec Designer Series Blender. Blendtecv provided the blender with the intention of me reviewing it. I was not compensated for this review, other than being given the blender for review. I was not encouraged by Blendtec to write a positive review.
All of the links on zenbelly.com are for information purposes, however some are affiliate links to books, products or services. Any sponsored posts are clearly labelled as being sponsored content. Some ads on this site are served by ad networks and the advertised products are not necessarily recommended by Zenbelly.