These Salt and Vinegar Smashed Potatoes are giving big Why-Make-Potatoes-Any-Other-Way vibes. Creamy in the center with crispy skins and all the joy of salt and vinegar potato chips, only carbier. And yes, I consider that a good thing!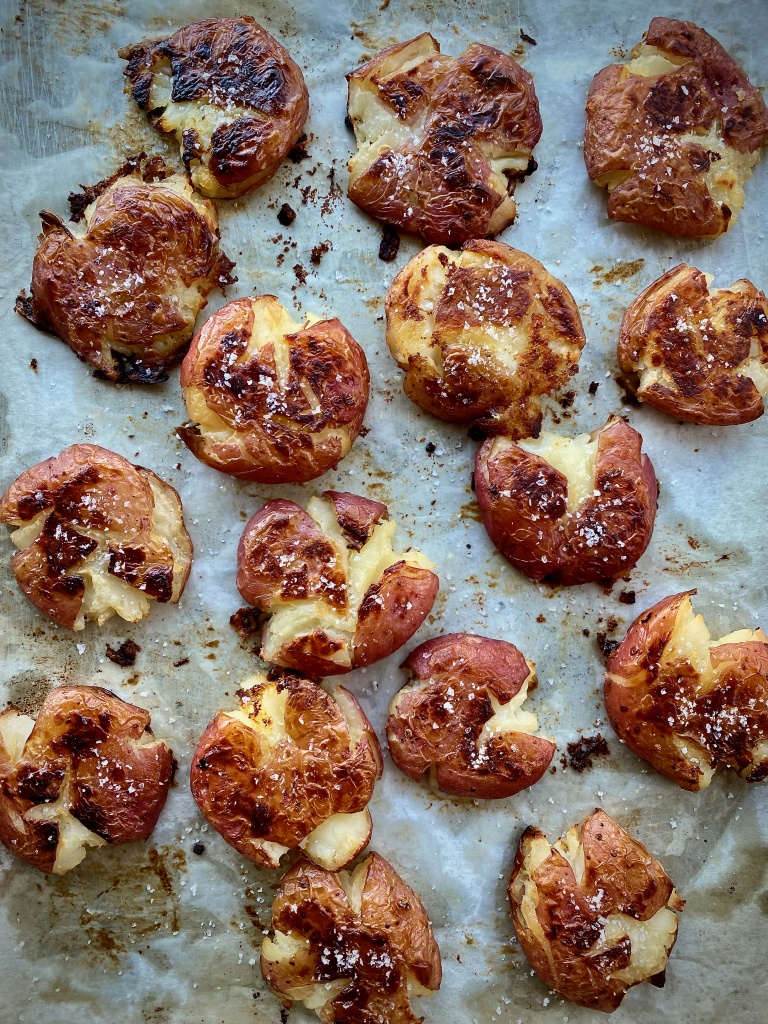 salt and vinegar smashed potatoes are even better than the chips they're inspired by.
Strange fact: I didn't like salt and vinegar potato chips until somewhat recently. Which is strange because I love most vinegar-y things like pickles and mustard and extra tangy vinaigrettes. Something about the salt and vinegar chips though, was just too… much. And then one day I tried them again and wondered what I ever didn't like about them. They're now one of my favorites.
Let's talk about potatoes. First of all: I really love potatoes. They're affordable and accessible and delicious and filling. Is there a more versatile vegetable? Will we ever run out of ways to make them? I don't have nearly enough potato recipes on this site, but consider these salt and vinegar smashed potatoes my promise of more to come.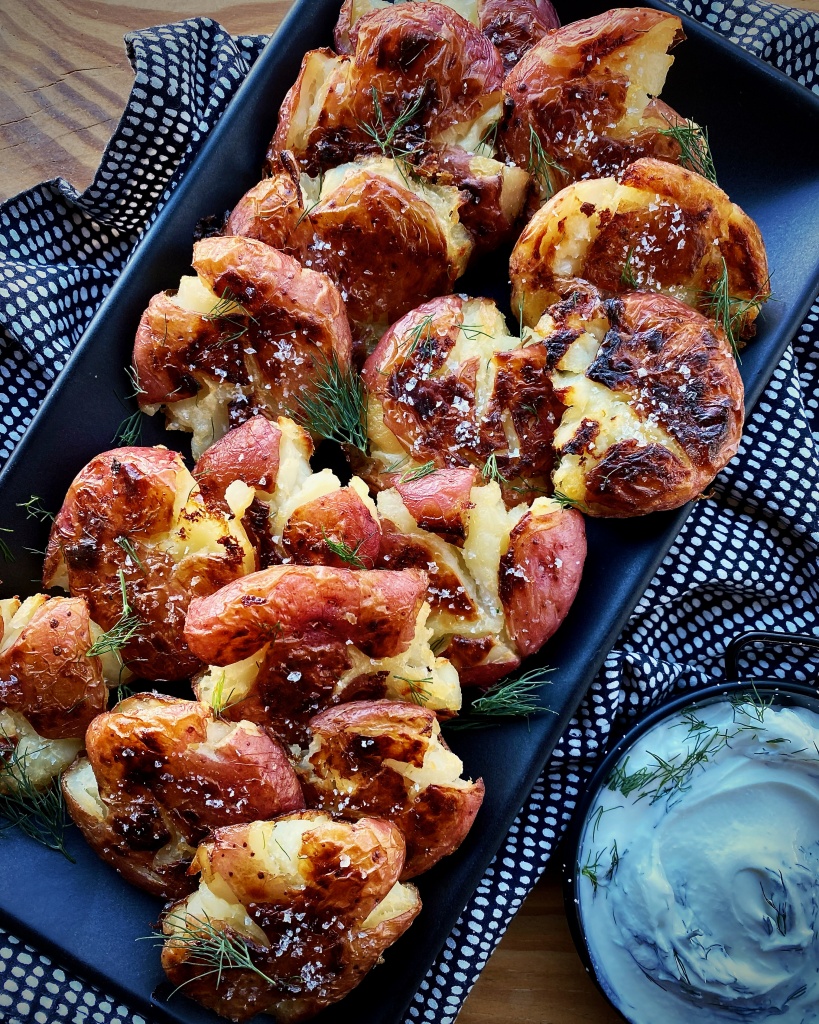 Potatoes have been given a bad rap because they're high in carbs or whatever, but I won't give that hate any more airtime than I already have in this here sentence.
Here's a fun exercise: Say carbs over and over again until the word no longer makes sense. You know how that happens? There's a point where any word starts sounding silly when you repeat it enough. Do that, so you can go about your life without purposely depleting the joy that carbs bring.
Of course if you're on a low carb diet for any medical reason I'm not talking to you, please continue to ignore me and listen to medical professionals. And if you're on a low carb diet and still reading this post, you're probably making these potatoes for someone else which is very nice of you.
These smashed potatoes are cooked twice, which might make you want to abandon the idea of making them. But they're worth it, in my humble opinion. Roasted potatoes are typically so much better when boiled or steamed first; that's how they get the creamy centers. Even when cooking them twice, the whole operation is mostly hands off.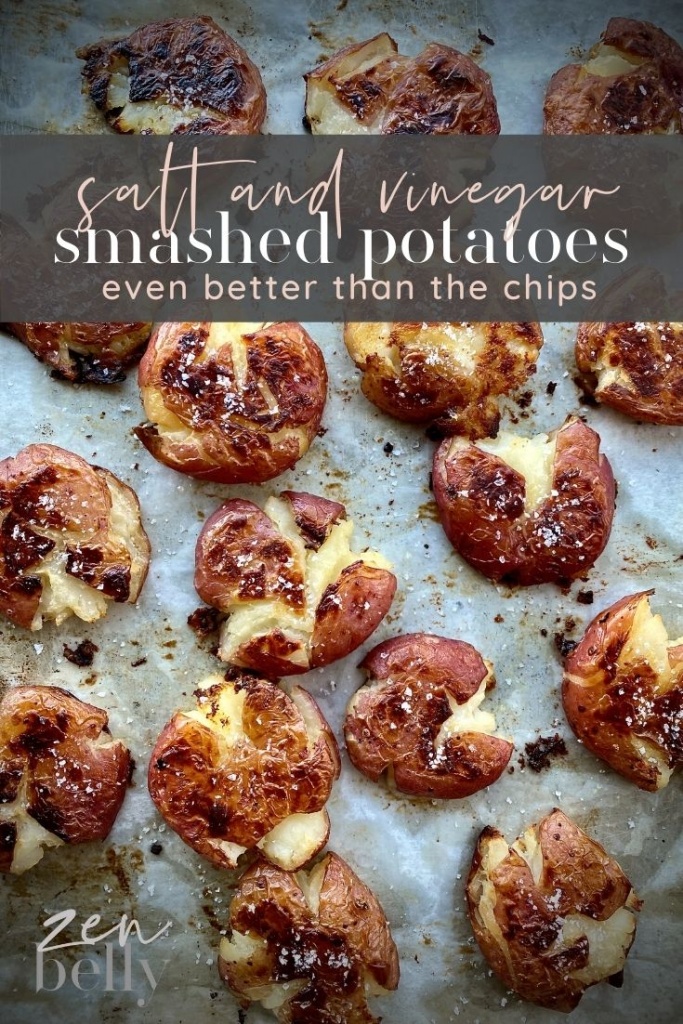 Love learning simple ways of making delicious things? You'll definitely love my cooking classes!
Print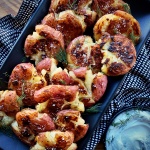 Salt and Vinegar Smashed Potatoes – 4 ingredients = Carby Joy
Author:

zenbelly

Prep Time:

10 minutes

Cook Time:

1 hour

Total Time:

1 hour 10 minutes

Yield:

4 servings

Category:

vegetables
---
2

pounds baby potatoes, red skinned or Yukon gold

1 1/2 cups

white vinegar (more if needed)

1 1/2 cups

water (more if needed) 

1 tablespoon

kosher salt 

3 tablespoons

extra virgin olive oil
flaky salt for sprinkling
sour cream for serving, optional
---
Instructions
Preheat the oven to 425ºF. 
In a medium saucepan, combine the potatoes, vinegar, water, and salt. Add more vinegar and water in equal parts if necessary to cover the potatoes. Cover and bring to a boil over high heat. Cook for 30-40 minutes, or until tender. 
Drain the potatoes and allow to dry (they'll do this on their own in less than a minute since they're hot) Dump them onto a parchment-lined rimmed baking sheet and drizzle with 2 tablespoons of the olive oil. Shake the pan so they're well coated.
Use a small heavy pan or mug to flatten each potato – simply apply pressure downward until the skins burst and the potatoes flatten. 
Roast for 20 minutes, or until they're golden brown on the bottoms and then flip and drizzle with the remaining tablespoon of olive oil. Roast another 10 minutes or until they're crisp on both sides. 
Sprinkle with flaky salt and serve with sour cream, if desired. 
---
Notes
If keeping kosher for Passover, use apple cider vinegar
Keywords: smashed potatoes, salt and vinegar potatoes
All of the links on zenbelly.com are for information purposes, however some are affiliate links to books, products or services. Any sponsored posts are clearly labelled as being sponsored content. Some ads on this site are served by ad networks and the advertised products are not necessarily recommended by Zenbelly.