Several years ago, I brought a sweet corn pudding to Thanksgiving and it's since become a tradition. So when FOND Bone Broth asked if I could create a recipe with their Bouquet Garni Bone Broth, I immediately thought: Savory Corn Pudding. I'm loving how it turned out, and also that there's the added benefit of bone broth thrown in. We could all use a little gut support on a day we eat for sport!
Savory Corn Pudding with Fond Bouquet Garni Bone Broth
This Savory Corn Pudding hits all the comfort food notes: Creamy custard with an umami backbone from onions and bell peppers, and the herbs in the Bouquet Garni Bone Broth really come through in a subtle but lovely way. It's along the same lines as the sweet corn pudding I know and love, but with a greater depth of flavor. And it still has a nice balance of sweetness from the corn and a touch of maple syrup.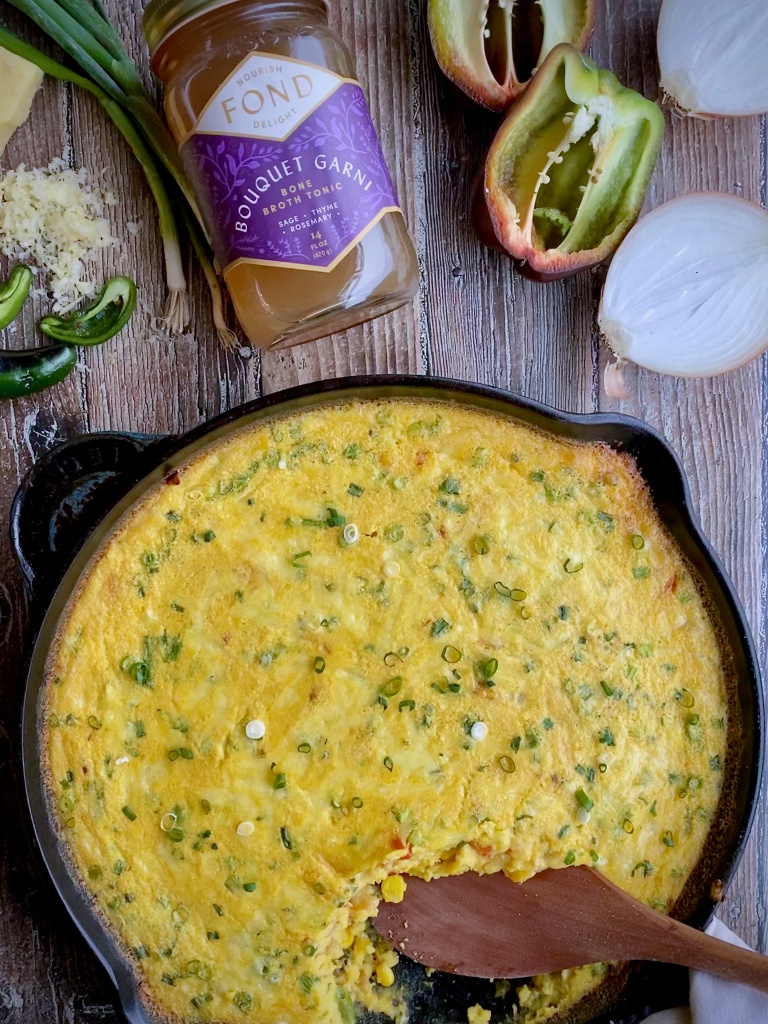 I've tried several flavors of FOND Bone Broth and can honestly say that they've all been fantastic. If you know me, you know I take broth very seriously – it's one of the things I really enjoy making, and I've gotten my method down to a science that produces excellent broth every time. So I don't purchase just any broth, it has to be truly delicious!
FOND Bone Broth crafts bone broth so good, you'll want to sip it every day. Brewed by hand with a completely plastic-free process, FOND uses organic herb infusions for next-level flavor. You truly have never tasted bone broth like this – it's like the fine wine of bone broth. And best of all, it's ready to sip without any added seasonings or ingredients. FOND packages their broth in sustainable glass jars, tests for heavy metals, and uses only free-range chicken and 100% grass-fed and finished beef. They're also woman-founded and women-led!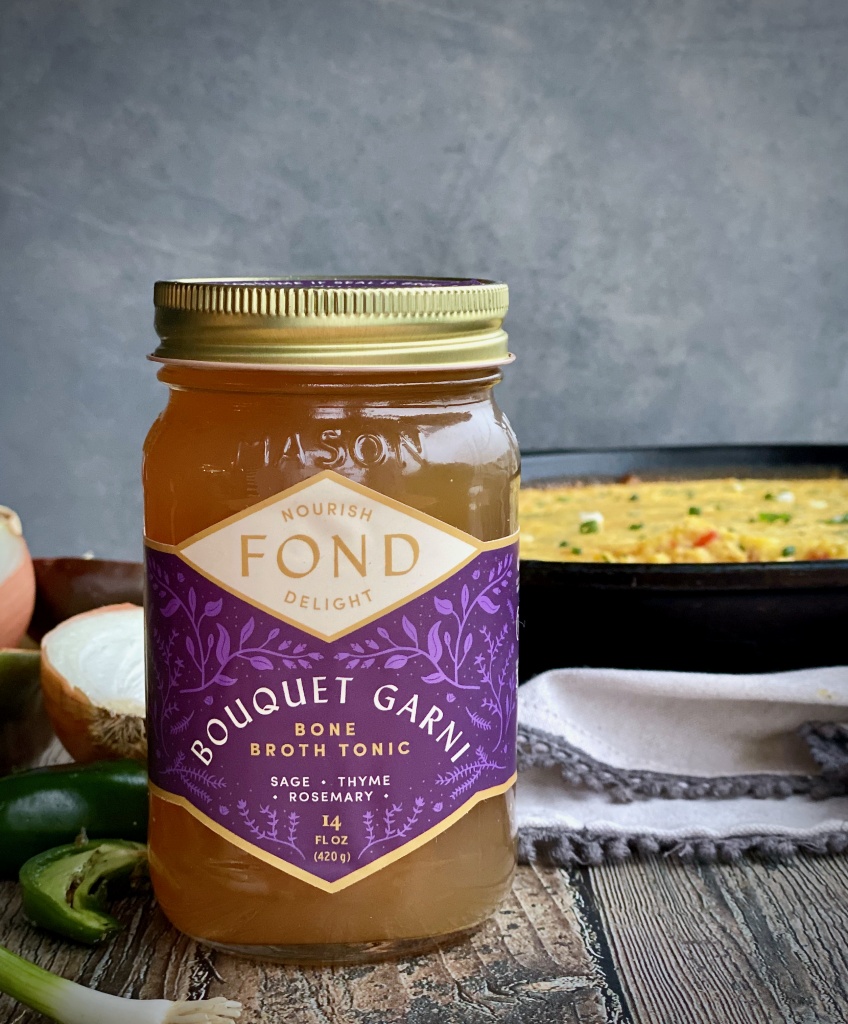 Let's do a little experiment: Imagine you're sipping a mug of bone broth.
Did you make a face? Was it a not so pleasant face? If that's the case, I get it. I also want you to know that it doesn't have to be that way. Broth should be really delicious – seriously! FOND broths are just that – they're so good you will actually look forward to sipping them.
A few more things I love about this company:
It's woman-founded/owned and led.
They test for heavy metals, including lead, arsenic, cadmium and mercury
They have three low FODMAP-friendly bone broths
Broths are made with super high quality ingredients; Redmond Real Salt, free-range chicken, grass fed and finished beef, and organic herb infusions- and you can taste the difference; they are truly delicious enough to sip.
Really, you've got to try it for yourself! FOND has generously given zenbelly readers 20% off to do just that. Just use code ZENBELLY at checkout. Shop here.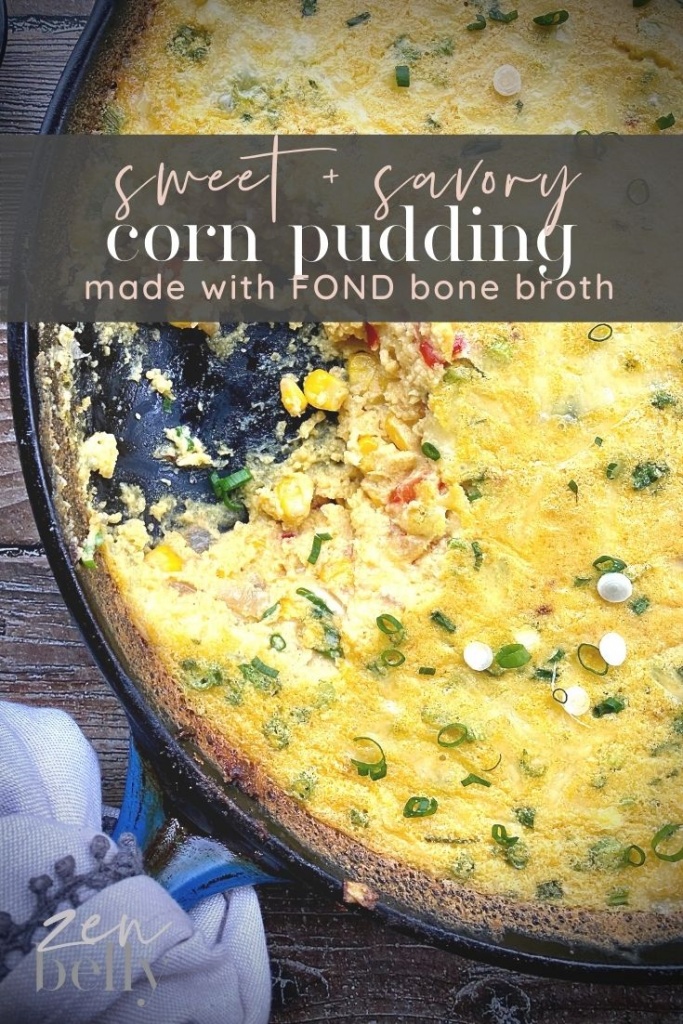 Print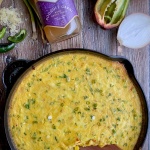 Savory Corn Pudding with Fond Bouquet Garni Bone Broth
Author:

zenbelly

Prep Time:

30 minutes

Cook Time:

30 minutes

Total Time:

1 hour

Yield:

6-8 servings

Category:

vegetables
---
4 tablespoons

butter

1

large onion, small dice

1

medium bell pepper, small dice

1

large jalapeño, minced

1 tablespoon

kosher salt (see note)

1 teaspoon

paprika

4 cups

corn kernels, divided (thawed if frozen)

4

eggs

1

jar Fond Bouquet Garni Bone Broth (2 cups)

1/2 cup

heavy cream

1 tablespoon

maple syrup

1/2 cup

finely ground cornmeal

1/2 cup

diced scallions (4-5 scallions)


1 cup

shredded sharp cheddar cheese
---
Instructions
Preheat the oven to 350

º

F
Heat a large (12-inch) cast iron skillet over medium heat and add the butter. Once it's melted, add the onion, bell pepper, jalapeño, salt, and paprika. Sauté, stirring occasionally, for 8-10 minutes or until softened and starting to brown. Stir in 2 cups of the corn and remove from the heat.
In a blender, purée the remaining 2 cups of corn kernels, eggs, bone broth, heavy cream, maple syrup and cornmeal until smooth.
Stir the puréed mixture into the skillet along with the scallions and cheddar cheese. Carefully transfer to the oven and bake for 25-35 minutes, or until the center is just set – It will take closer to 35 minutes if the skillet cooled before adding the puréed mixture, and closer to 25 if it was still hot – so set your timer based on that.
Allow to cool for 10-15 minutes before serving.


---
Notes
The 1 tablespoon measurement is based on using Diamond Crystal Kosher Salt. If using sea salt or another fine salt, use half the amount.
Make ahead: You can dice all your veggies and store in the fridge for up to 3 days ahead. If making the entire dish ahead of time, undercook slightly so you can reheat without overcooking it. The corn pudding doesn't easily transfer out of the skillet, so if making ahead, it's better to bake in a casserole dish for easier storing and reheating.
Keywords: corn pudding, savory corn pudding
Thank you, FOND Bone Broth, for sponsoring this post!
All of the links on zenbelly.com are for information purposes, however some are affiliate links to books, products or services. Any sponsored posts are clearly labelled as being sponsored content. Some ads on this site are served by ad networks and the advertised products are not necessarily recommended by Zenbelly.